Pulished on Jan. 12, 2023
As one of the leading glass companies in the glassware import and export industry, in addition to regularly carrying out some of our own innovative designs, Garbo will also make some regular inventory according to the best-selling products in the market to meet the requirements of customers who want to assemble multiple products in one container and require fast delivery time, so today we will introduce three hot-selling inventory products of Garbo Glass.
1. 6PCS solid colored green cactus bowl set
This set is one of the best-selling products in our company. It is made of green color and the design idea comes from cactus. It consists of six products and a gift set, including four small bowls, a large bowl, and a plate. This product is very suitable for giving to your friends as a gift, or you can buy this set to be used as family afternoon tea tableware. The packaging of this product is a color box with a plastic handle, which is easy to carry. For this set of products, we often have inventory in the warehouse, so you don't have to worry about the minimum order quantity. We can also make small orders.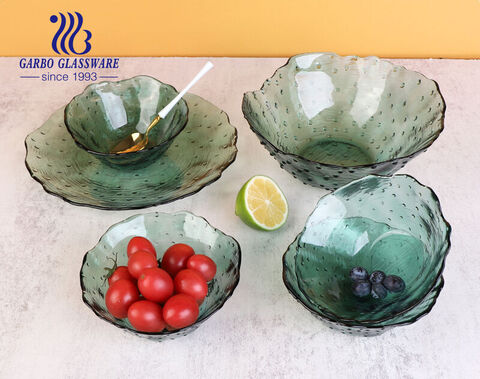 2. 6PCS green solid colored color vertical pattern bowl set

This gift set bowl is also one of the best-selling products, it is made of green pigment, so it will never fade in use and does not have any harmful chemicals, so it can pass food safety tests. This set consists of two small bowls, two water cups, and a large bowl. it is packed in a color box with a plastic handle, so it is very suitable for holiday gifts. As we have a regular production plan for this product, if you confirm the order, we can ship it to you as soon as possible.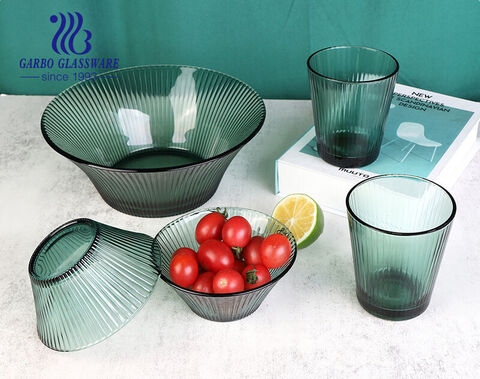 3. Amber ion-plating teapot.
This high-quality teapot is made of high-boron material, so it is very light, and because the high-boron material can withstand large temperature differences and heat-resistant properties, you can use this pot to make tea or coffee. It won't burst because the temperature is too high. The lid of this pot can prevent water from leaking. Because of the silicone ring, it is more leak-proof. You can choose different materials as its lid, such as a wooden lid or bamboo lid. Similarly, we will also make a suitable lid according to your quality requirements. The pot in the picture is amber, which is one of the most popular colors, but we can also customize other colors according to customer requirements, you just need to tell us the color you want, and then we will make the color according to your request. There are many different sizes for you to choose from, and you can choose different sizes according to your own requirements.
These products are some of our popular glassware at present, whether for household use or as holiday gifts, they are very suitable if you are interested in them, welcome to choose and buy them.