Pulished on Apr. 06, 2023
Glass cups for Arabic tea and coffee
Are you a fan of Arabic tea and coffee? Do you enjoy sipping your beverages from stylish, durable, and authentic glass cups? If your answer is yes, then you have come to the right place. We are proud to present our line of glass cups for Arabic tea and coffee, which includes the Cawa glass, Turkish tea glass, original clear version glass, and customized designs. Our products are popular in the Arabic market all the time, and we offer various post-processing options, such as real gold and silver rims, decal printing, and custom molds.
Let us tell you more about our products and why they are perfect for your tea and coffee rituals.
Cawa Glass
The Cawa glass is a traditional glass cup that is popular in the Middle East, especially in the Levant region. It is often used to serve Arabic coffee and tea, and its unique shape and size make it an essential element of Arabic hospitality. Our Cawa glasses are made of high-quality glass, which is durable and heat-resistant. They come in different sizes, depending on your preference, and we can customize them according to your requirements.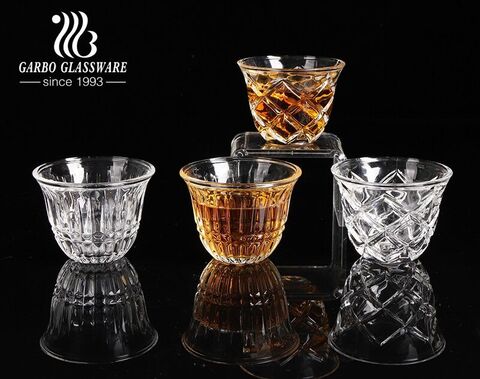 Turkish Tea Glass
The Turkish tea glass is another classic glass cup that is used to serve tea in Turkey and the Arab world. It has a slender shape, a delicate handle, and a transparent body that enhances the tea's color and aroma. Our Turkish tea glasses are made of tempered glass, which is resistant to thermal shocks and scratches. They are available in different sizes and shapes, and we can also add a real gold or silver rim to make them even more elegant.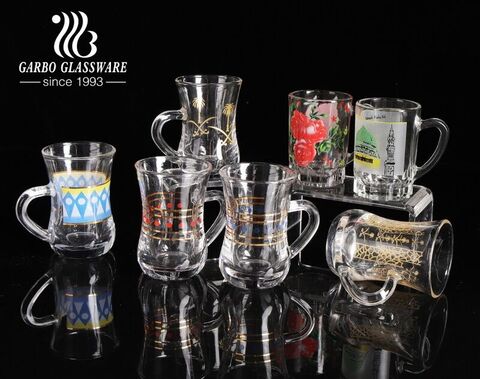 Original Clear Version Glass
If you prefer a more minimalist and modern look, our original clear version glass is the perfect choice. It has a simple yet sophisticated design, with a cylindrical shape and a transparent body that shows off the tea's color and texture. Our clear glasses are made of high-quality borosilicate glass, which is strong and resistant to heat and cold. They are also easy to clean and maintain, making them a practical option for everyday use.
Post Processing with Real Gold Rim and Silver Rim
For those who want to add a touch of luxury and opulence to their glass cups, we offer post-processing with real gold and silver rims. Our skilled artisans can carefully apply a layer of genuine gold or silver on the rim of your glasses, creating a stunning contrast with the clear glass. This option is perfect for special occasions or as a gift for your loved ones.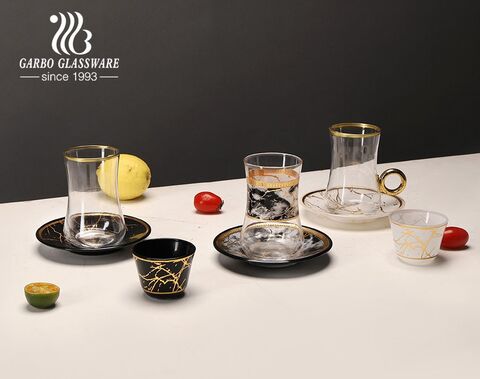 Post Processing with Decal Printings
If you want to add a personal touch to your glass cups, we can also post-process them with decal printing. This technique allows us to print any design or logo on the glass surface, creating a unique and customized product. Whether you want to showcase your brand, your favorite quotes, or your artwork, we can turn your ideas into reality.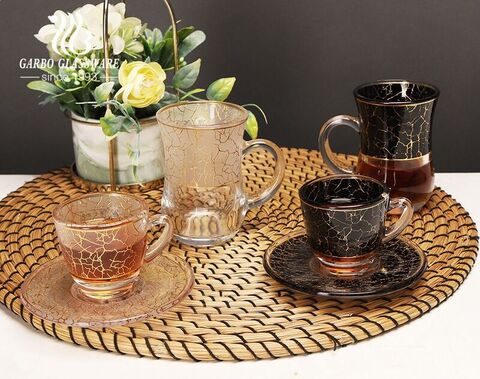 Customized Mold Designs with Large MOQ
Last but not least, we offer customized mold designs for those who want a completely unique and exclusive product. Our experienced designers can create a mold according to your specifications, incorporating any shape, pattern, or texture you desire. This option is perfect for hotels, restaurants, cafes, and other businesses that want to stand out from the crowd. However, please note that customized mold designs require a large minimum order quantity (MOQ) to ensure the best quality and value. In addition to our post-processing options and customized mold designs, we also offer custom packaging methods to ensure that your glass cups arrive in perfect condition. We understand that glass is a delicate material, and shipping it can be challenging, especially if you have large quantities or fragile designs.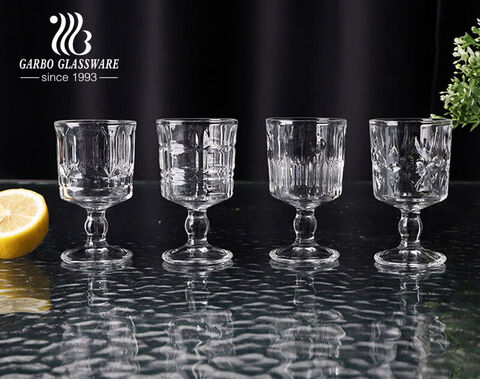 That's why we offer various packaging methods that are tailored to your needs, including individual packaging, bulk packaging, and gift boxes. Our individual packaging includes bubble wrap and foam inserts that protect each glass cup from scratches and impacts. It is ideal for customers who want to resell or distribute our products as a retail item. Our bulk packaging, on the other hand, is designed for large orders that require efficient and secure transportation. We use sturdy cardboard boxes and dividers that separate each glass cup and prevent them from colliding during shipping. It is perfect for wholesale customers who need to transport our products in large quantities.
If you want to give our glass cups as a gift or a special occasion, we also offer gift boxes that add an extra touch of elegance and sophistication. Our gift boxes come in different sizes and styles, and we can customize them with your branding, logo, or message. It is an excellent option for weddings, birthdays, anniversaries, and corporate events.
Furthermore, we can also provide custom packaging solutions for customers who have specific requirements, such as temperature control, moisture protection, or eco-friendly materials. We work closely with our customers to understand their needs and develop packaging solutions that meet their expectations.
Our custom packaging methods ensure that your glass cups are delivered safely and stylishly, regardless of the order size or destination. We take pride in our attention to detail and commitment to quality, and we strive to exceed your expectations every time. Contact us now to learn more about our packaging options and place your order.
Garbo Glassware produces your glass cups for Arabic tea and coffee are the perfect combination of style, quality, and authenticity. Whether you prefer traditional or modern designs, minimalist or luxurious finishes, we have something for everyone. With our post-processing options and customized mold designs, you can create a product that reflects your personality and taste. So, why settle for ordinary cups when you can have extraordinary ones? Order now and elevate your tea and coffee experience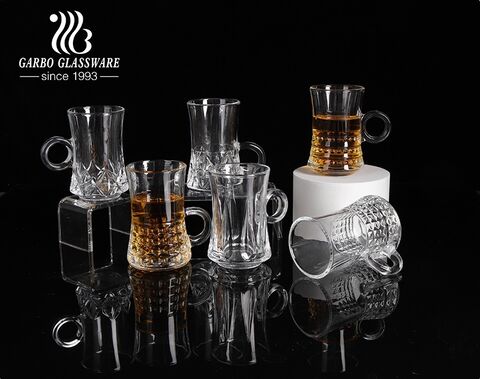 At Garbo Glassware, we specialize in providing high-quality glass cups for tea and coffee to wholesale customers only. We do not accept small quantity orders for personal use, as our focus is on serving businesses that require bulk orders. We understand that some customers may want to purchase our products for personal use, but unfortunately, we are unable to accommodate these requests. Our manufacturing process and pricing structure are optimized for large orders, and we are committed to providing the best value to our wholesale customers.
We work closely with our wholesale customers to understand their needs, provide personalized solutions, and ensure that their orders are delivered on time and in perfect condition. Our glass cups are popular in the Arabic market, and we have a long-standing reputation for quality and reliability.