Pulished on Mar. 13, 2019
How to distinguish crystal goblet or soda lime glass goblet
Many people just know that they need to use a goblet for wine. Most glass materials commonly used in goblets are mostly, but outsiders may only know that the goblets are made of glass, but do you know? There are three different kinds of glass materials. The common glass materials are crystal glass and soda lime glass. There is also a kind of high borosilicate glass, but the goblet is mainly be made by soda lime glass and crystal glass. When buying a goblet, how to distinguish between a crystal goblet and a soda calcium goblet?
1. Price
The price of crystal is more expensive than soda lime glass. The crystal content of the red wine glass determines its quality and price.
2. Definition
The wall of the good wine glass is relatively thin, and the brightness is better. The crystal wine glass can reflect the color of the wine more clearly.
3. Hardness of the cup wall
The crystal red wine glass is stronger than soda lime glass and is more resistant to wear.
4. Refraction
The crystal cup can absorb the luster, so the crystal cup rotates the crystal cup, the crystal cup will have a refraction phenomenon, and the soda lime glass cup is dull and has no refraction.
5. Listen to the sound
Gently tap the cup, the crystal cup can make a crisp and pleasant sound, accompanied by a sly echo. The soda lime glass is the sound of ordinary glass.
6. Touch feel by hand
The crystal cup is still cold in the hand, and the glass feels hot.
7. Measure weight
The weight of the crystal cup is heavier than the soda lime glass cup.
Crystal wine glass photo: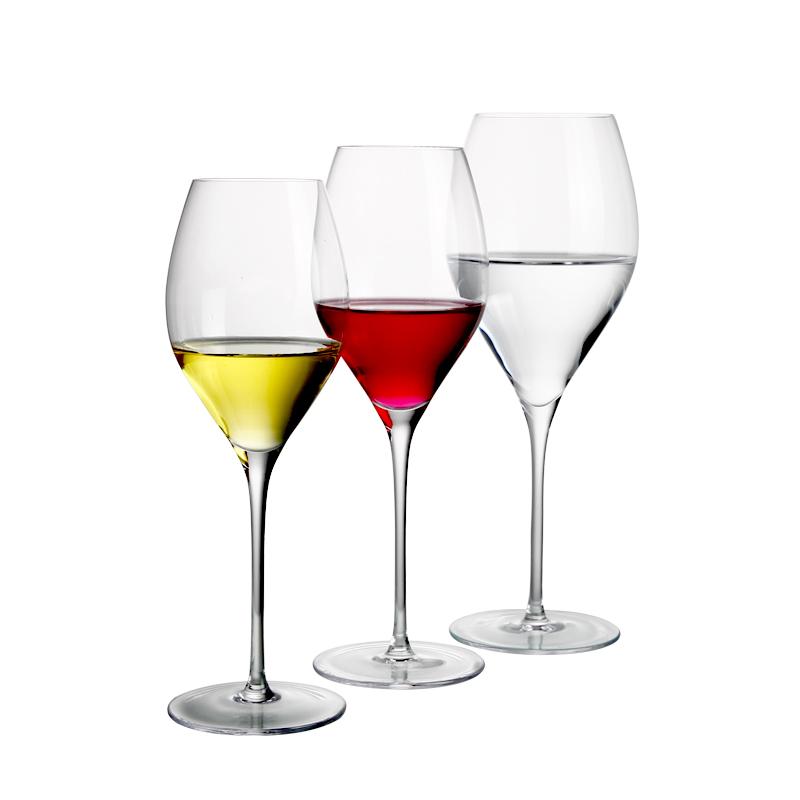 Soda lime wine glass photo: