Pulished on Jul. 11, 2019
The Chinese take their tea seriously. Everyone, from taxi drivers to company presidents, drinks tea every day, all day long. While most everyday tea is just a matter of water sloshed over tea leaves, a true tea aficionado knows there are meticulous details of brewing time, water temperature, quality of water, types of tea pots and cups that make a big difference in the result. And that's after all the care has been taken to grow and ferment the delicate leaves, to blend and so on.Tea is to the Chinese as wine is to the French, as beer is to Germans, as cigars are to Cubans.Characteristics of Heat-resistant Glass Teapot Products
Here will introduce a kind of special tea which get interested by modern, by girls - Scented tea. This kind of tea is made by mixing fragrant flowers in the tea leaves in the course of processing. The flowers commonly used for this purpose are jasmine and magnolia among others. Jasmine tea is a well-known favourite with the northerners of China and with a growing number of foreigners.
The main reason for flavoring or scenting tea is to obtain different blends, styles and flavors, and to create distinctive, enhanced tastes for the classical types of tea. Some producers scent their teas by mixing the Camellia leaves with flower buds and petals, or by layering the tea and flower parts in order to allow the leaves to absorb the fragrances released by flowers. Others prefer to flavor their tea blends with flower extracts and oils, this procedure being a bit simpler. Artificial flavors, which are obtained by altering naturally occurring compounds, can also be used for producing teas with more intense tastes, without affecting the quality of these beverages. To obtain new tea assortments, the flavoring agents are poured or sprayed over the dry Camellia leaves.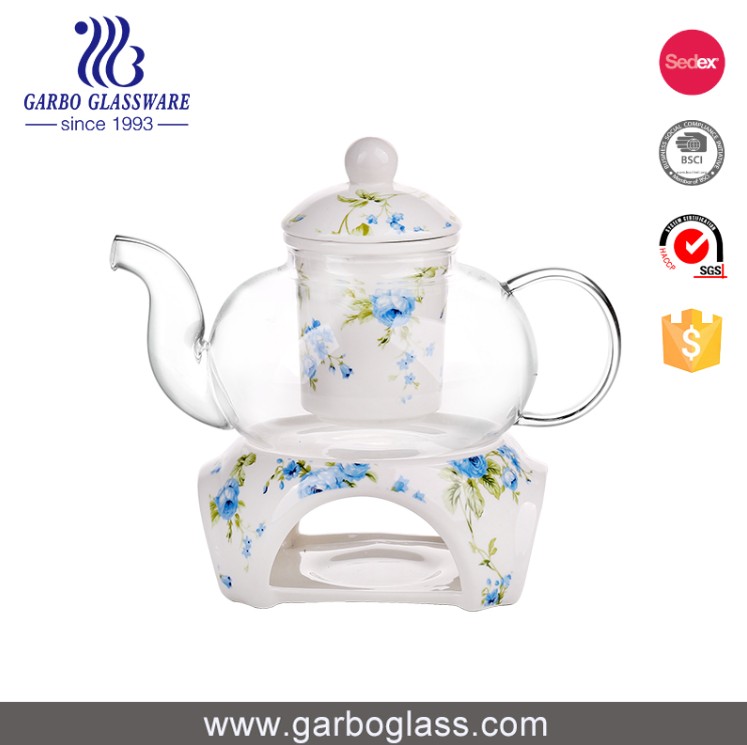 If using glass tea sets, the tea would looks clear and attracting in color, tender and slender in texture and will float around during brewing. When the leaf stretches itself, you can see the whole picture, which is a kind of dynamic artistic appreciation. Especially when brewing famous tea, shining tea sets, vapor in the cup, freshness of the tea, and leaves unfolding will all give you a pleasant feeling and fun. Also, glass is economical, thus welcomed by most customers.

Recently we promote for clients HBG tea pot with ceramic infuser, buying a glass teapot which you can made customized decal. You can also put with a candle warmer as you like. It's good to brew scented tea for a lazy afternoon at weekend. Garbo Glassware is committed to providing for customers with superior quality and competitive prices. If any inquiry of glass tea pot for scented teas, welcome to contact Garbo Team via [email protected]