Pulished on Aug. 19, 2020
Every year, there will be coming out new and nice designs, and will rapidly hit the whole world. So today I am going to show you 3 different kinds of glass cups that are hot selling this year on the internet, and our Garbo is also selling so many quantities of them. These three glass cups include double wall glass cups, hammer style glass cups, and the stemless glass cups.
Double-wall Glass Cups
So first, I am going to show you several double wall glass cups.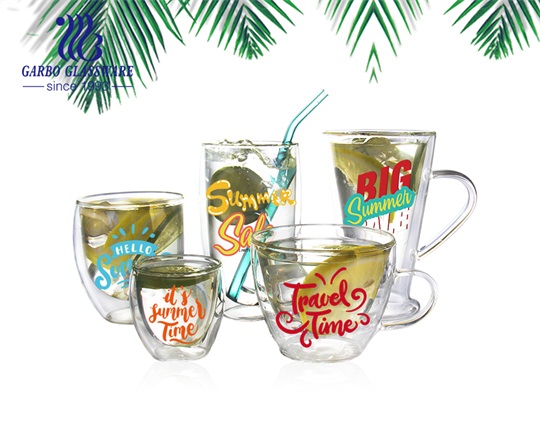 As you see from the pictures, these five shapes of double wall glass cups are very popular in Amazon. You can go to Amazon and search the keyword of double wall glass cups now, then you will find that there are almost these 5 shapes. These are around 100ml to 600ml which can meet your different requests, such as for office use, home use, and your coffee shop or as gifts for your friends and families.
And you can see that we can make different designs on the cups. So if you already have the designs, you can send to us to check. Or if you don`t have your designers, you can tell us your ideas, we have a very professional designer team to make it come true.
Except for the above shapes, there is another very hot one this year. It is about the Christmas style like below picture showed. You can see that this one is a Christmas tree shapes. And it is also with a lid that is snowdrift. This one is very very popular this year, you can see it in every online shop. So do you like this style?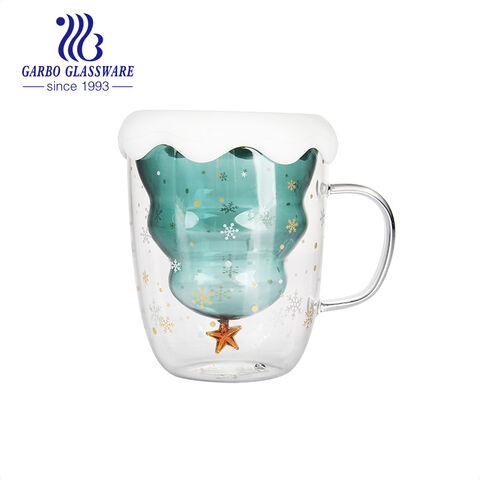 Maybe some people think that the double-wall glass cups can only use to hold and keep the hot tea or coffee warm, actually, it can also keep the iced water and beverage cold.
Hammer Style Glass Cups

The second kind of glass cup that I am going to show you all is the hammer style glass cups.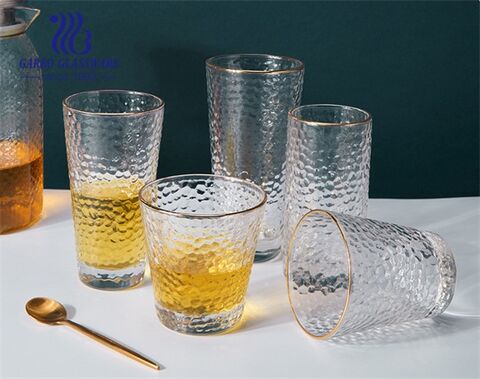 I bet you already see these Japanese style cups or you already have one for your daily drinks now. Because they are really very popular this year. We have 5 different shapes and sizes of them from 280ml to 390ml, and from short to a high ball.
And maybe you already notice that we have 2 different crafts of the clear and gold rim. The gold rim style is also a very popular recent year, many of our customers, no matter the European and American countries, but almost all over the world likes this style. Cuz it looks simple but luxurious.
Except for the cups, we also have the same style of the glass jug. The jug is about 1.7L. This kind of set is very perfect for a family drink, isn`t it? Just imagine it, you and your parents, husband or wife, and your kids are having fun in your garden, this jug is with lemon juice or other beverages. You pour in each cups and everyone loves this juice. Isn`t it so nice for the day?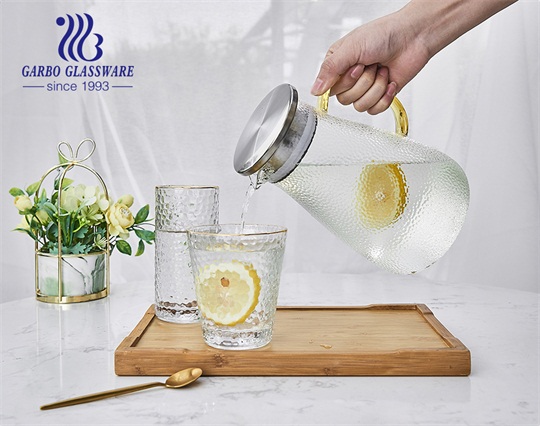 Stemless Glass Cups
The third one is the stemless glass cups like below picture showed.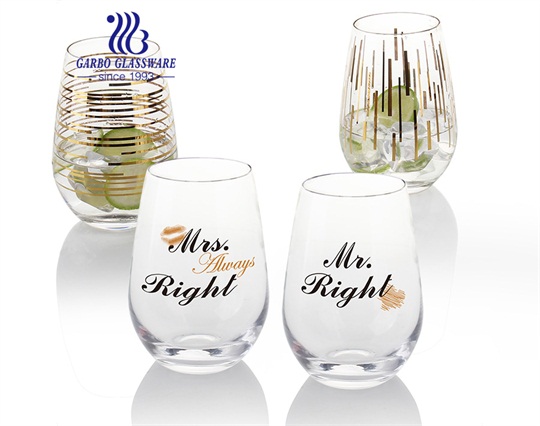 This one is about 510ml. Actually this one is not only popular this year, but it is also popular for so long time.
Many customers like to make designs on it like shown on the cups, it is popular for as a couple gifts for boyfriend or girlfriend. Cuz this one is a nice and perfect size for daily use and for different drinks from water to the beverage. And many peoples are also like to use it for a whisky drink.
So do you like the above items I introduce? Do you already have such glass cups for your daily use? I bet you must have one if you don`t have them yet, I believe you need to have one because these are really very nice for drinks. So if if you want to order them, please leave messages to us, then we can discuss the details.