Pulished on Sep. 11, 2023
At Garbo Glassware, we take immense pride in presenting our latest addition to our premium glassware collection – the GB043009JC Wine Glass. Crafted with precision and elegance, these wine glasses are designed to enhance the wine-drinking experience of connoisseurs and enthusiasts alike.
Key Features:
Superior Design: The GB043009JC Wine Glass boasts a timeless design that seamlessly blends classic aesthetics with modern sophistication. Its slender stem not only adds an air of refinement but also ensures a comfortable grip.

Optimal Size: With a height of 148mm and a base diameter of 75mm, these glasses are the perfect size for serving a generous 466ml pour of your favorite wines. Whether you prefer red, white, or sparkling, these glasses can accommodate all varieties with grace.

Impeccable Clarity: Crafted from high-quality glass, our wine glasses offer unmatched clarity, allowing the wine's color and texture to shine through. This visual presentation adds an extra layer of enjoyment to every sip.

Versatile Usage: The GB043009JC Wine Glass is not limited to wine; it can also be used to serve cocktails, spirits, or any other beverages of your choice. Its versatility makes it an excellent addition to any bar or restaurant.

Easy Maintenance: These glasses are designed to be dishwasher safe, ensuring hassle-free cleaning and maintenance, making them a practical choice for busy establishments.

Customizable Branding: We offer customization options, allowing you to imprint your logo or brand name on these glasses. This personalization can elevate your brand image and make these glasses a perfect addition to your promotional efforts.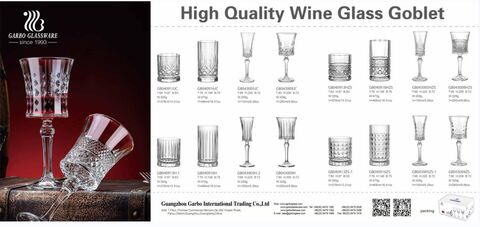 At Garbo Glassware, we understand the importance of providing top-quality glassware to our B2B customers. The GB043009JC Wine Glass is a testament to our commitment to excellence, offering a combination of style, functionality, and durability that is unparalleled in the market.
If you're looking to impress your clientele and elevate your beverage service, the GB043009JC Wine Glass is the perfect choice. Contact us today to place your order or inquire about customization options. Cheers to sophistication and unforgettable moments with our premium wine glasses!