Pulished on Nov. 16, 2020
2020 Garbo new product introduction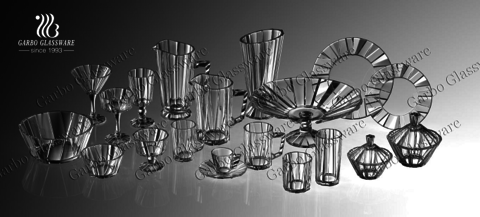 Garbo will focus on developing more than 200 new products in 2020. At the online Canton Fair, our host also introduced these new products in turn, including series products, engraved cups, beer mugs, cups and glass saucer sets, spay color cups, opal glassware and so on.
Next, let us see what products are in it:
1) Glacier series includes miscellaneous pieces of glacier glass, including fruit plate, fruit bowl, fruit bucket, candy jar, dessert plate
2) In addition to miscellaneous items, it also includes beer mugs, cups and saucer sets, whisky cups, juice cups etc.
3) The bowl and plate series includes salad bowls, dinner plates, and more than 30 types
Garbo has developed these new products through research and analysis of various markets. Their different models can match the needs of different markets, and Garbo can also accept different post-processing, such as electroplating, spray color, frosted, laser and so on. If you like these designs, you must contact Garbo. Because these products are independently developed by Garbo, the price is very affordable, and there is no need to reopen the mold, and the production speed is very fast.
In addition to these newly developed products, Garbo also has many classic hot-selling glass products sold to Europe, the United States, South America, and Asia. The hot-selling products and customs in these markets have a certain foundation of understanding, so they can provide more
comprehensive and high-quality services.
Currently we have 4 sample rooms, such as stock product sample room, new product sample room, best-selling product sample room and so on. It contains all daily glass products.
The online Canton Fair has come to a successful conclusion, but Garbo is still with you, and everyone is very welcome to inquire.