Pulished on Dec. 02, 2022
Hello everyone, today our topic is about the opal glassware, opal glassware is more and more commond to every family, it is similar with ceramic but more cheaper and the dinner set can use in microwave which have been tempered. so the opal glass dinner set now are in very hot sale.
Garbo have collect and create many new designs on the opal glass dinner set for the New year 2023, so let check our new design as below:
For the opal glass dinner set , the classical items we have opal glass bowl, opal glass plate, opal glass mug, opal glass cassrole, opal glass jug, and opal glass ashtray, and opal glass spoon. for those item we have many different sizes can choose, such as 4.5inches, 6 inches, 7 inches, 9 inches, 10.5 inches, 12 inches, 14inches. all the classic shape and classic size we all have it . and most inportantly all this item we have it in stock. so the MOQ can be very low and we can ship it right away.
So you can order any sizes and any shape together in one container. so for the new designs, 2023 we focus on the flower decals. because we have professional designer team and strong production team so we have design over 100 decal designs for 2023.
As the sample for the 58pcs opal dinner set, please check below picture,we have make butterfly theme for the 2023 , and this designs will be full printing you can see the middle of the opal glass plate will be full of decal printing, this will make the dinner set looks more luxury, and each plates and bowls we will confirm the decal will be perfectly fit on the round of the shape. even on the cassrole and jug.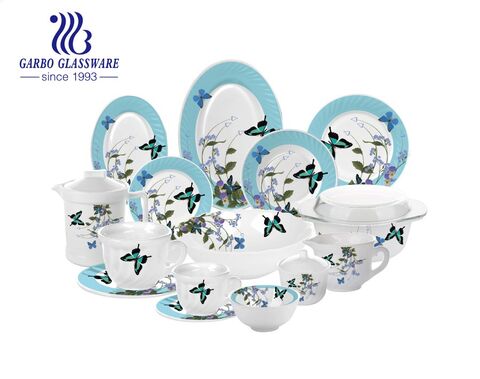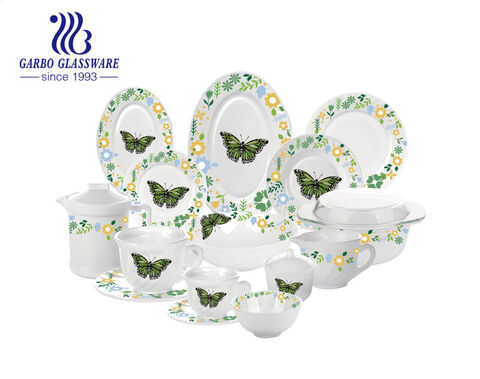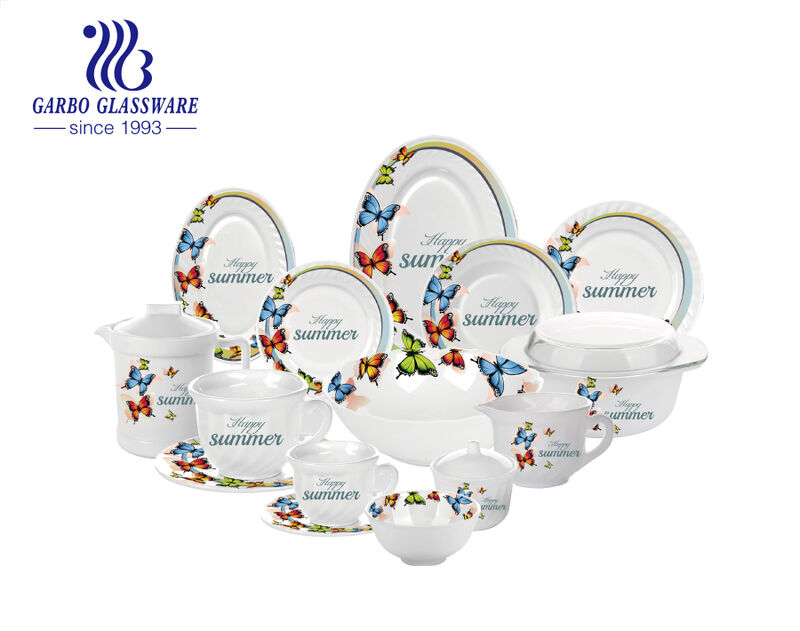 If you don't like the butterfly them we also have very classical tower design and flower theme design which is also full decal printing.and you can see the below picture it can also make it on the 66pcs set square shape. which means, you can use our designs on every opal dinner set or single pieces items.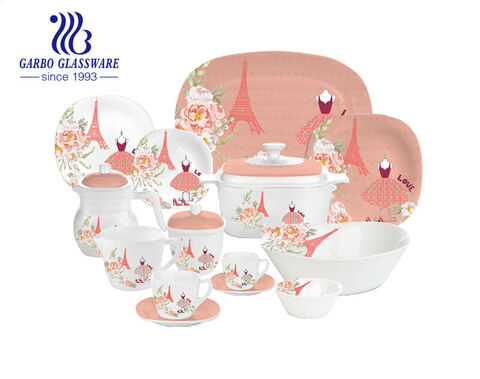 Because of GARBO have flexible production way, so if you have any customization just tell us and we can do it for you. the above new designs will be the popular design in 2023, if any customer want to get more information please contact us.