Pulished on Dec. 05, 2022
Opal glassware dinner set has been one of our top 5 products that we export in recent years, the opal glass dinner set consists of different individual opal glass products with muti sizes like food plates, dinner plates, soup bowls, spoons and teapot etc. The obvious advantage of opal glassware is the cost when it is compared to traditional white ceramic or porcelain dinnerware products, for example a opal glass dinner plate in the same size is always cheaper than a ceramic plate, meanwhile the weight of opal glass is lower to decrease your transportation cost and also import tax for some markets where tax is charged based on weight. Therefore opal glassware is becoming more and more popular in many markets especially those countries with lower GDP.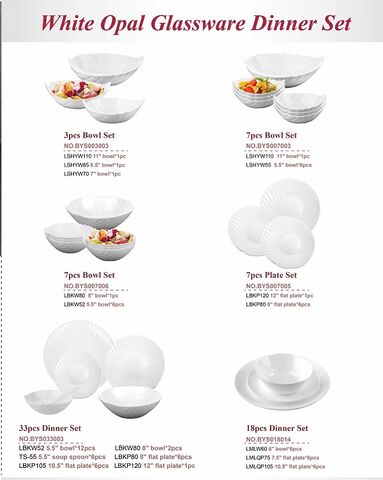 Usually there are 2 types of opal glassware dinner sets by the direct intuitive definition, one is a dinnerware set of dozens and the other is a dinnerware set of about 10 to 20pcs. From our exporting data, a dinnerware set of large number goes to the Arabic world where a single family usually consists of 3 or more generations who live together whilst a dinnerware set of small quantity would be always exported to Europe, Southeast Asia and the America markets where a single family has 3-5 members. In summary, if you are planning to purchase the opal glassware dinner set or tableware set for the first time or as a trial order from us, do not try to focus on the price only but the real products that can be sold in your country or wherever you are planning to resell to. If you have not been aware of it, do contact us for recommendations in order to avoid any mistake before you spend your money.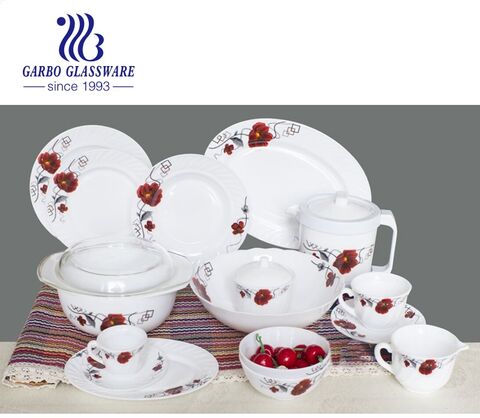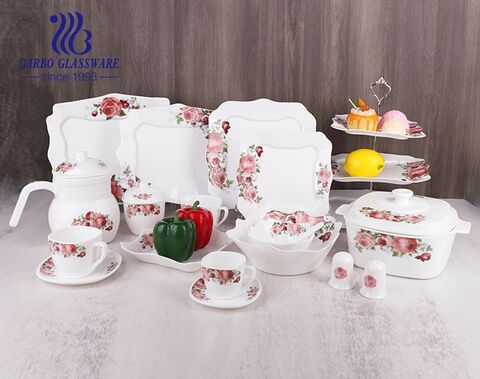 Besides, we have hundreds and thousands of different decal artworks available at your option to use on the opal glassware dinner set if you don't have any idea. Our marketing team are here to recommend the proper ones to your market according to your demand, for example if you want something common but hot sale, then we will pick the one that everyone from your market has purchased. But if you prefer something unique and special, the best solution would be that you design it on your own or tell us your conceptions so that our designing team could take care of rest till you are satisfied.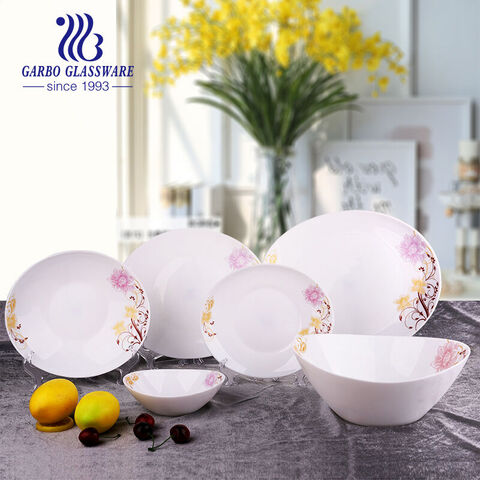 For the Arabic world such as Sudan, Algeria, Tunisia, Egypt and Palestine etc, hot sale large quantity opal glassware dinner sets would always be the 58pcs, 75pcs set which you can have 2 decal printing designs for a container shipment. What can be mixed with 3 decal artworks? These will do as always. For India market, 33pcs dinner set and 18pcs dinner set are fixed as well either in white or black opal glassware. For other markets, 18pcs set and 26pcs set would be the best one to Europe and the America market, but currently white opal glassware seems more popular than black.