Pulished on Aug. 26, 2020
Do you like ceramic?
Do you like ceramic dinnerware to enjoy your dinner with your family?
Recently we have some new items in the ceramic series, and I am really want to share it with you and hope you will like them.
Firstly I want to tell you the different types of ceramic wares there are. Mainly divided into 3 types.
Porcelain
Porcelain is the most common ceramic in our daily life because it's smooth and middle pricing, so many people use it in their homes.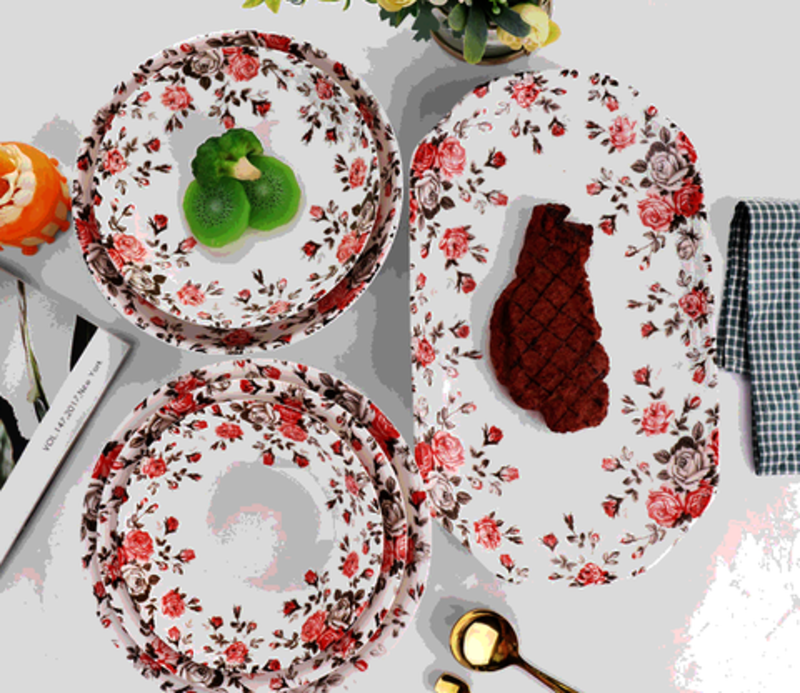 Bone china
Bone china is the highest quality of ceramic, extraordinarily smoothness, and clear and white. What's more, it's really light compared with other styles of ceramics. Many people who are having very high requirements for tableware always like bone china. And when use bone china to make the coffee set, your afternoon tea is very joyful. Many English afternoon tea parties are welcoming bone china set, mug for black tea and coffee, plates for cakes and sweets, and desserts. With the laughter from ladies, a very enjoyable and elegant tea party began.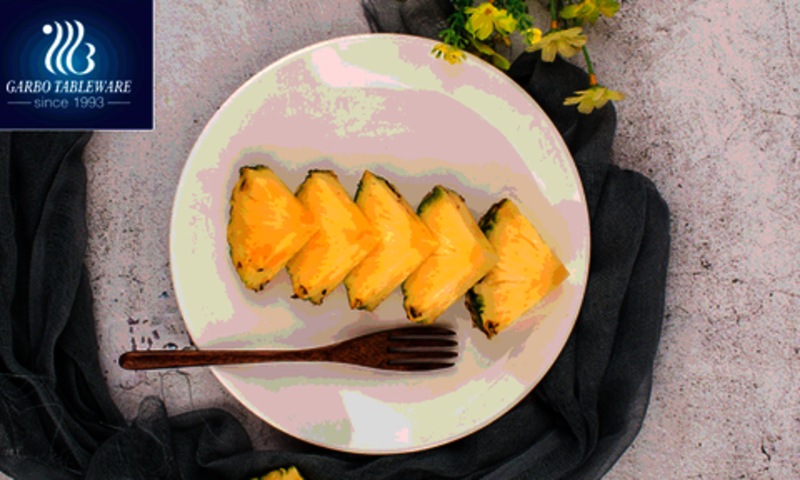 Stoneware
It's also very popular as they are safe and cheap. Stoneware has a character of being very heavy. Crafts would make it to be color glazed or under glazed, and also hand printing, make stoneware very beautiful. You can see the white flowers in the bellow picture, that's painted by the crafts. Very special and different color designs make the stoneware very popular.
And above are the different types for the ceramic.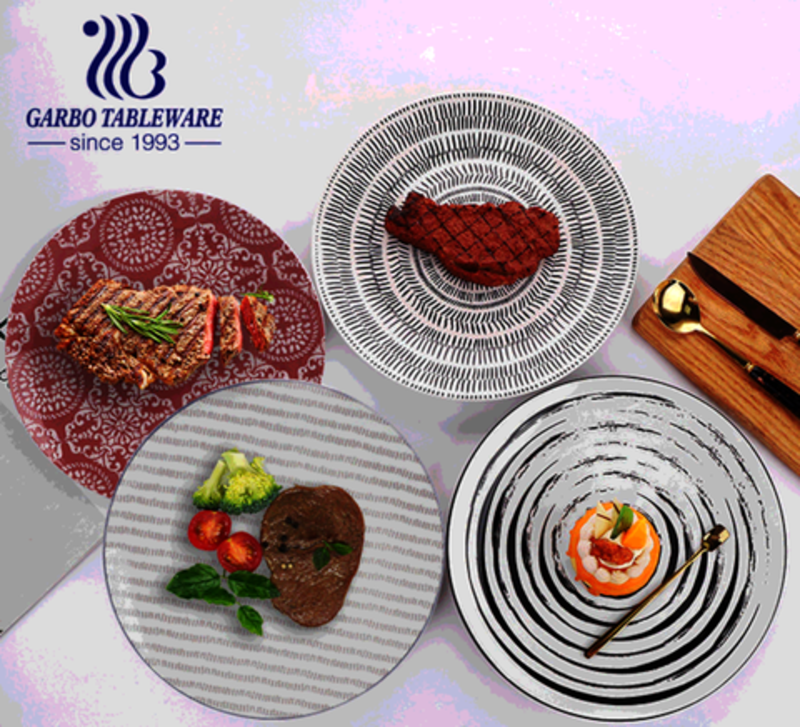 16 PCS Stoneware Dinner Set
As we have sold a lot of the stoneware, we combined a set for hot-selling stoneware items. And came out a promotion for them. This set is a 16-pc set, including 4 mugs, 4 bowls, 4 deep plates, and 4 flat plates. This is a suit match that is very suitable for family use. You see, mugs for coffee, juice or oat milk, bowl for soup, plates for dishes, your dining table atmosphere will be very harmonious and happy. For this set, we have different colors for your choice, navy blue, sky blue, jade green, these three colors are most popular by our customers. If you want sakura pink, lemon yellow, and no matter what colors you like, we can also make it for you.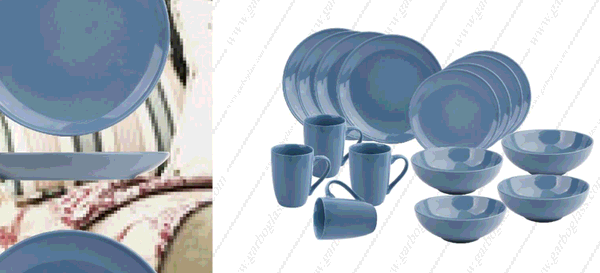 Hand Printing Rainbow Series
And the hand printing series ceramic items. Used many many colors on one single bowl or plate, circle by circle, it seems that the plate or bowl becomes a double rainbow. But it still has theme colors, such as blue, yellow, or orange color. This means the main color on the bowl can be different from your needs. The rainbows series are usually in stock, as it is very hot-selling.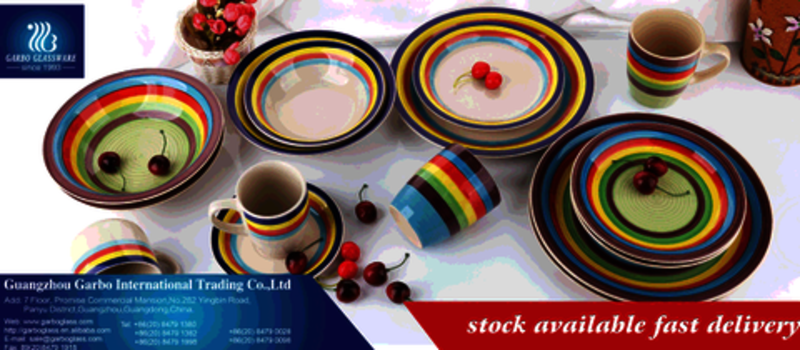 Color Glazed Baking Series
Another one is the color-glazed baking ceramic pans. With different colors and different fruit designs, these ceramic baking pans are very lovely and good-looking. They make me feel like to replace all the other kitchenware and take them home to decorate and change my kitchen, bringing a new atmosphere to my kitchen.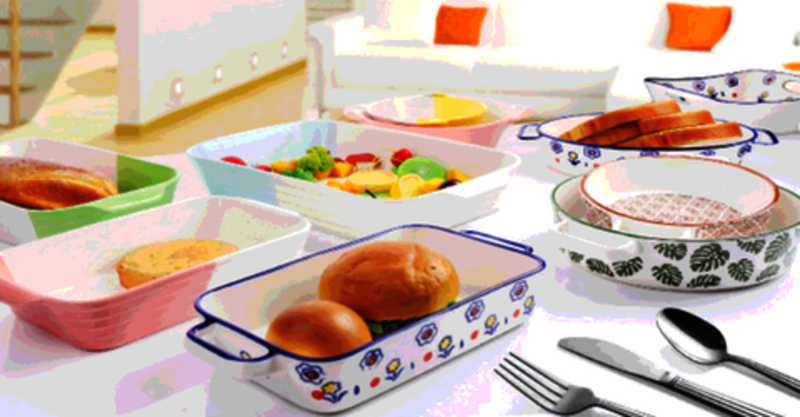 After my introduction for the above ceramic items, do you have any new ideas? Please feel free to tell us your needs and your ideas, we are very glad to hear your comments.
And welcome to ask us for the e-catalogs of the ceramic items above. Garbo is always open to you.