Pulished on May. 12, 2022
Factory Good Quality TAJI Glass Candy Jar For Fruit Candy Cake Service

"GARBO GLASSWARE" is the NO.1 supplier selling glassware in domestic China for about 30 years, we also have a large warehouse in Guangzhou to stock some hot selling products like glass cup, glass candy jar and glass ashtray etc.. so we accept small order quantity. If you have a new business with restaurant or shop, welcome to contact me to make small order of glassware that I can back you up greatly.
What's more, for one design we have many size for you to choose, like the TAJI glass jar below for example that I wanna share for you. And if you wanna some cutlery or ceramic products to match the glassware in a wedding party, we can provide them for you too. Below are the products that I wanna share with you, because those are our hot selling products with two size that you can serve them with candy cake fruit or any food you want.
1. Big TAJI glass candy Jar
The one is the unique design glass candy jar, whose size is top dia: 280mm, bottom dia: 150mm, height : 245mm. With the size you can put cake pizza or beef in it and serve them to your customers, which is a new idea and popular trends for restaurant and hotel service. And many hotel and retaurant wanna custom their logo on the lid to attract the consumers, and fortunately, we can satisfy you very well because we are manufacturer. What's more, we also have other three molds with engraved pattern on the lid to meet the requirement of other customer from Arab, Kazakhstan or Uzbekistan, because those are classic and hot selling pattern in their local supermarket.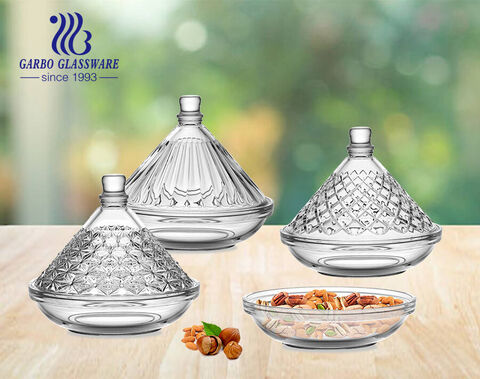 As the biggest supplier in China, we do not make our customer feel disappointed with the quality either. For the big glass candy jar, we custom it with the high white glass material, so that we can get a best quality product and super white glass candy jar for you. Except the quality, we also good at sales service. If you have any questions about the products, please feel free to contact our seller.
2. Smaller Taji glass candy jar set with metal shelf
Beside the big TAJI glass candy jar, we also have smaller size: top dia:122mm, height: 127mm, bottom dia: 122mm. The smaller size of glass candy jar is suitable for candy nut and dessert service when we invite guest to a family party. The high light of the glass candy jar is the metal shelf and decal, which will make the whole design looks more elegant and decor your living room or table very well.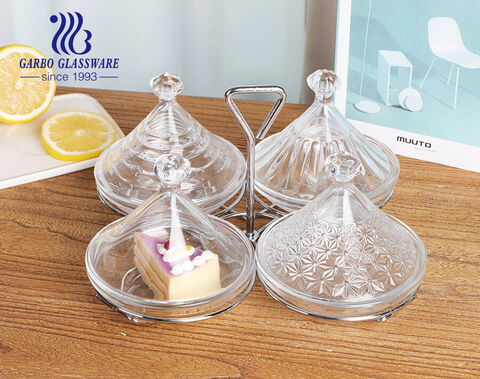 There are also mixed mold that you can ship with 3 designs in a 40HQ container. The size of lid matched the plate exactly, which is a good separation for food and air, and keeps food fresh for longer time.
There are four round metal trays on the shelf to hold the four candy jar firmly, which is perfect for the counter and living room decor. Beside the silver color metal shelf, we also have golden color for you to choose, and we can decal the logo on the lid for you with the plain glass candy jar.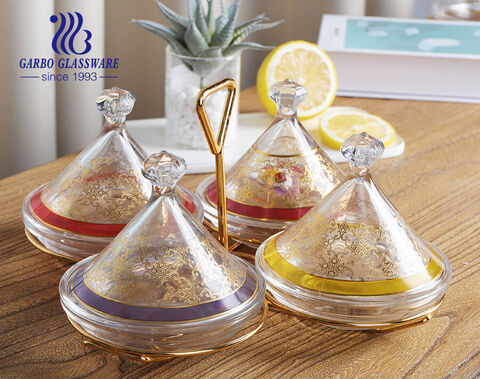 In a word, Garbo is a big glassware factory and we export thousands of containers to all over the world every month, so that we can custom the good products with your own idea and meet your requirement very well. Not only do we have good quality products, but also we have good reputation from all over the world.