Pulished on Dec. 20, 2019
Christmas is coming, you must be very happy and busy in preparation for the decoration, for the table setting or even for the food.
You will enjoy a joyful day with your families, friends, or anyone you loved! In such wonderful day, how about to bring some color glass items to your
Christmas table?
Garbo is one of the best daily glassware suppliers from China, having lots of international quality glass items, like glass tumblers, glass drink set, wine glass or glass bowl set. There are many glass products which are suitable as color decoration.
Here we can see them from the below photos. Let us introduce to you with more details.
1. Pink Colored Handmade Wine Glasses
Such collection will make your table more colors.
It includes water glass-capacity: 16oz
Juice glass-capacity: 12oz
Wine glass-capacity: 10oz
Champagne bowl-capacity:12oz
Flute glass-capacity: 8oz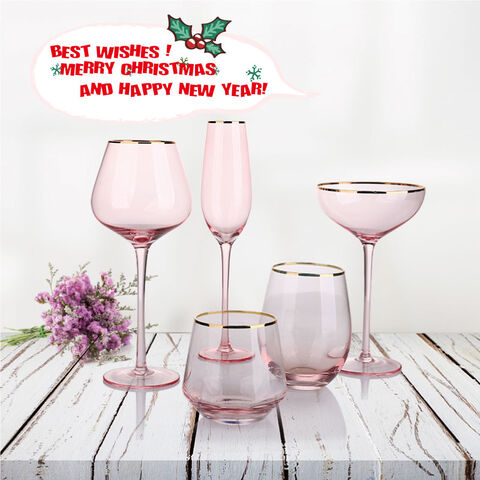 They are all made in pink color and with gold rim, simple but cheerful, packed in 6pcs one gift box, suitable for 6 person's dinner.
Besides the pink collection, there are also E-plated collections. See, the shinning color can from the top, or the bottom, you can mix them too.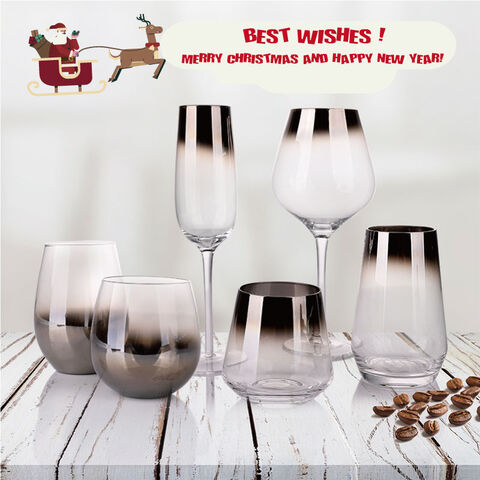 2 Heart shape Hammered snack bowls and plates
Your Christmas dinner should be many snacks or dessert, then you can enjoy them with our hammered snack bowls and plates.
Bowl in heart shape and gold rim, very elegant. They also have different sizes from 500ml to 1200ml to meet any requests.
Hammered design is old fashion idea from European and popular recently. The hammered pattern can be also used in glass tumbler or any glasses you need.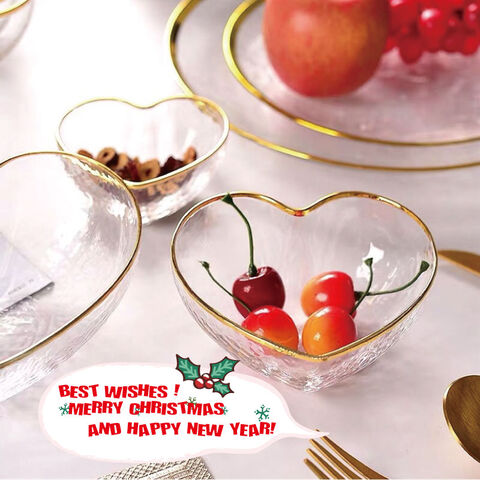 3. Rainbow hand-painted stoneware dinner set
Rainbow hand-painted stoneware is good for your Christmas table setting. With such colorful dinner set, it bring you a good mood during dinner time.
There are many options available like 16pcs dinner set, 24pcs dinner set or 48pcs dinner.
The color can be changed as per your request. And if you dont like stoneware, you can chose opal glass dinner set or ceramic dinner set.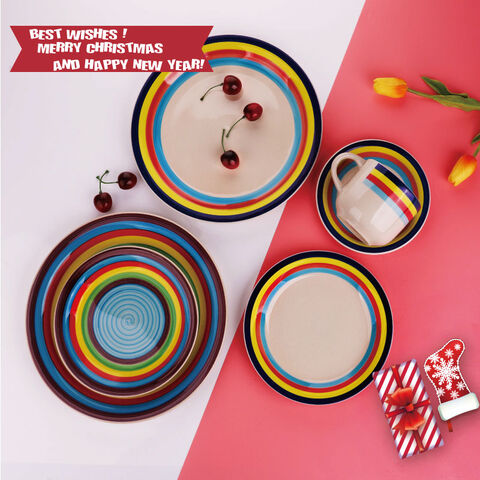 4. Ice-cream cup with color stem
After dinner, you may want some ice-cream. Then our colored stem ice cream cup is your best choice.
The top part is clear in high white quality, will make the ice-cream look more yummy.

Hope you can like above items.
Merry Christmas!