Pulished on Mar. 29, 2019
As a professional glassware supplier in China, Garbo is developing its own core competitive ability from different parts like services, innovation, talents, enterprise culture, branding, and so on. Sitting in an office only cannot meet our request. Business trip is definitely a MUST among them without any doubts.
Business Trip is stressful and tired. We have even made the investment of time and money to make a business trip. But when find something can be helpful for our business relationship with our customers or our services abilities, we view it as an important chance to improve ourselves. Fancy ideas, designs, products or anything we call it NEW, can inspire us.
So our Marketing & Sales Team is always on the way. They have a very tight schedule this year, from Europe to USA to South America. Just to be better!
Now I would like to share with you our business trip in Europe. It started from 9th to 19th Feb, 2019, 11days and 4 countries in total. They are Germany, Poland, Czech and Hungary. The timetable is as below: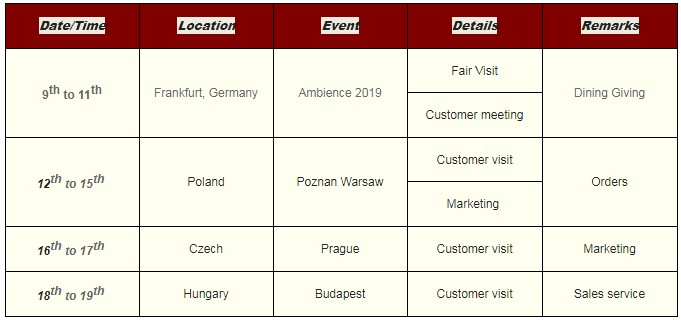 What we do this time?
We create new business relationship in Messe Frankfurt Center.
We have face-to-face meetings with our customers in their offices, showrooms, warehouses to show that it is a relationship we value.
We visit their workshops to know how they work and how we can service better for them.
We check the markets to get more ideas which items are popular and what we need to do in order to support our customers with new and right products.
We study the local factories to realize the difference between us and learn more from them.
What are our rewards this time?
There are many famous brands in Ambiente 2019 like ARC, LIBBEY, ZEHER, BOHEMIA CRYSTAL, DECOVER, CERVE, RONA, RIEDEL, SPIEGELAU and VIDIVI. We exchange business card and hope to have a good cooperation from here.
Visit them in person instead of phone, email, Skype to build more strong business relationship. It is good to know each other in this way and earn more trusts in further cooperation.
It helps us discover that the real condition in foreign area. We may need to make stronger package, small carton or something more suitable for them.
To check local market is very important for R&D. We explore the shops, stores, and super markets and make notes. It is surely we will use them for new OEM designs.
What we will do next?
After back to office, we will analysis the full trip and make a report. Sharing it with Design team and Sales team, the main purpose is to be better. We are trying our best to achieve the win-win situation!
Better glassware better life!