Pulished on Sep. 03, 2022
Time is fast, the first half of the year has passed, and the brand new 2023 will be ushered in just a few months. I believe that many wholesalers are already arranging glassware items for Christmas or Spring Festival, so what product do you choose?
I reviewed the best-selling glasses of GARBO in the first half of the year. You can get a reference in this article. Maybe you can buy the best-selling items for Christmas or Spring Festival based on this article. Let's introduce the products. .
The first one is a very cute item, a double wall high borosilicate glass mug with a cat pattern. This material is heat-resistant and can hold boiling water, hot drinks, etc. The wall of the cup is relatively thin, and the double-layer design can insulate heat. The design is very cute Popular, not only can be made into a kitten style, but also into a bear, when you fill it with milk, the pattern that appears is like a polar bear, so this cup sells very well, if you need to use it as For Christmas, it can also be designed in the shape of elk, Santa Claus, etc.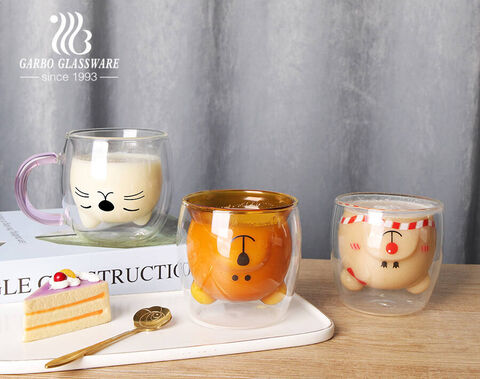 The second one is a product that can be used with the high borosilicate glass mug introduced above. It is also a kettle made of the same high borosilicate material, so this kettle can also be used to hold boiling water, hot drinks, etc. The glass is clear and transparent, and the wall is relatively thin. Not bulky at all, the spout has a 304SS stainless steel filter, including a bamboo lid, the product can pass food-grade testing, and there are multiple capacities to choose from, 1L/1.8/L/2L, etc.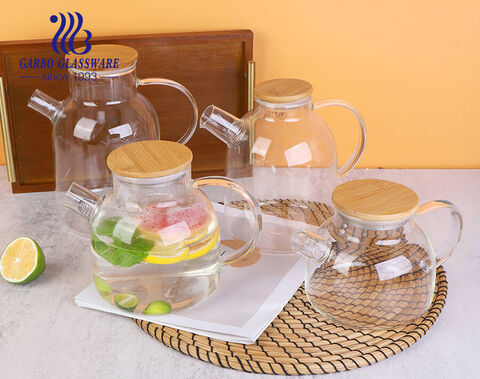 The third best-selling product is the glass goblet made of soda lime glass. Recently, the more popular style is the post-processing technology of adding Ion plating, which can be made into rainbow colors, smoky grey, amber color, light blue, after adding colors, the cup becomes It looks better, so this cup sells well, the important thing is that the technology of Ion plating will not fade, and it can also pass the food grade test, which is very popular among customers.
Do you like any of the above styles? If so, please consult us as soon as possible to prepare in advance for the upcoming Christmas and Spring Festival.