Pulished on Jun. 18, 2020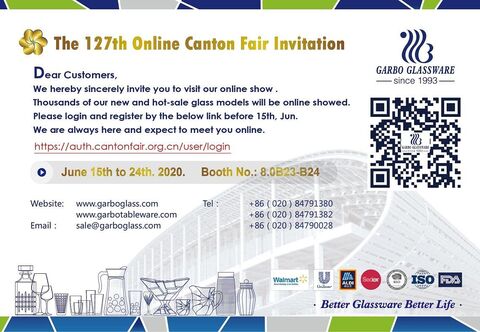 Due to the influence of COVID-19, the original Canton Fair in April was postponed to June and moved from offline to online. The holding time was from June 15 to June 24. Many domestic exhibitors have thus become one-on-one broadcasters, providing online live broadcasts to buyers at home and abroad. Since most companies have no experience in online live broadcasting and faced with the new platform of online Canton Fair, many aspects are at a loss. Whether it is the equipment or the deployment of live broadcast personnel, you need to learn from all aspects.
Wholesale glassware suppliers- Guangzhou Garbo International Trading Co., Ltd. is also a member of the online live broadcast. Since the company received the Canton Fair and changed it to the third day of the Canton Fair, we have changed from ignorant to basic proficiency. The employees are nervous about the first live broadcast. Until now, everyone can basically deal with it calmly, and we are learning and summarizing every step. We grouped the company's salesmen to take charge of live broadcasts in different time periods. Our live broadcast time is from 10 am to 0 pm China time. If you are interested, you can enter the Canton Fair to search Guangzhou Garbo International Trading Co., Ltd., our booth numbers are 8.0B23, 8.0B24. Or you can click the link in the below picture to enter our Canton Fair live broadcast. You are welcome to watch our live broadcast, we will bring you a comprehensive professional company and product explanation.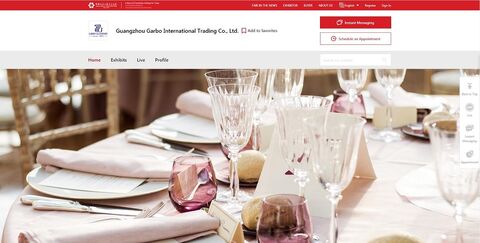 In addition to the staffing of the anchor, we are also very attentive to the hardware equipment. But fortunately, our company has already had experience in shooting product videos and company videos, so we have already prepared the basic equipment. In addition, we already have a professional design team, so we also have some professional equipment. For example, spotlights, radio receivers, etc., we have already prepared two company mobile phones even before this, originally intended for shooting product videos, etc.
We have specially arranged a live broadcast room for this Canton Fair. In addition to the above-mentioned equipment, we have also specially customized the exhibition board, so that our live broadcast room looks more professional.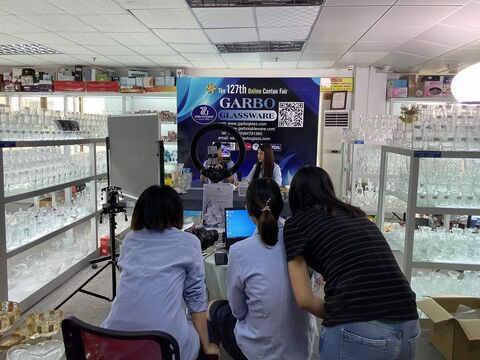 In addition to the Canton Fair platform, we have also opened live broadcasts on Facebook simultaneously. You can click the link below to follow us to get real-time live broadcasts and usual product company information push.
https://www.facebook.com/garbo.glass
Garbo is your best choice to do the glassware business. We are specializing in developing, designing, producing and marketing, is a large-scale enterprise which integrates industry and trade of household glassware. Founded in 1993, Garbo has years of advanced experience in marketing and quality control, excellent brand management, and established supply chain. It keeps real-time interactions with glassware manufactures at home and abroad for a long time and becomes an ODM, OEM strategic partner of many top factories. It now has a strong and efficient system of supplying and marketing and logistic storage.