Pulished on Feb. 26, 2021
Opal glass is a healthy, non-toxic, heat-resistant glass material. The surface of plates and bowls made of opal glass is very smooth and the color is white and self looks just like ceramic tableware. But compared with ceramicware, the opal glassware is lighter, making the opal glass tableware more and more popular in the market in recent years. We not only have a lot of shapes and pattern designs, but we can also do decals, gold lines, ion electroplating, and other processing on the plain opal glass surface according to customers' needs. At the same time, the white and black tableware sets of opal glass are also widely loved by different countries. All of them are packed in a strong color gift carton. Today I will briefly introduce some popular opal glass dinnerware sets for your reference.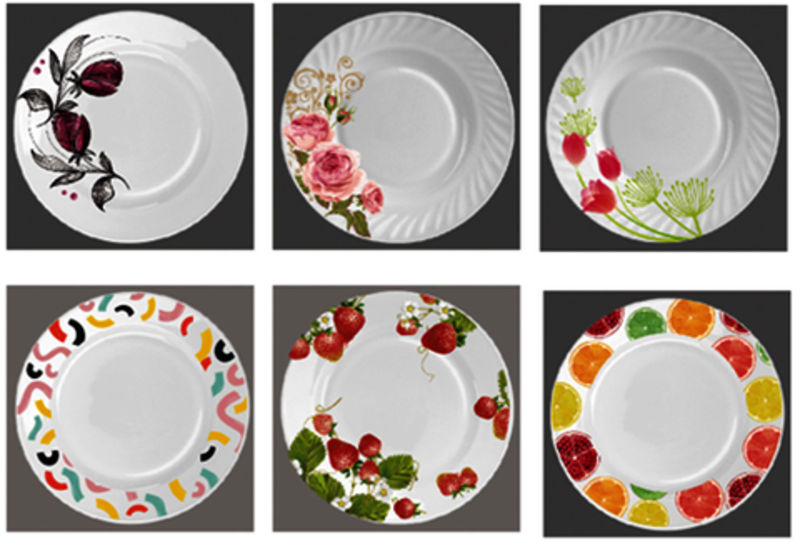 10 PCS TEA DRINKING SET
A 4 persons' tea party is most common among best friends. So this is a wonderful set which enables your friends to enjoy tea time together.
Set combination:
1.5L Tea pot 1+1pcs
185ml Cup+Saucer 4+4pcs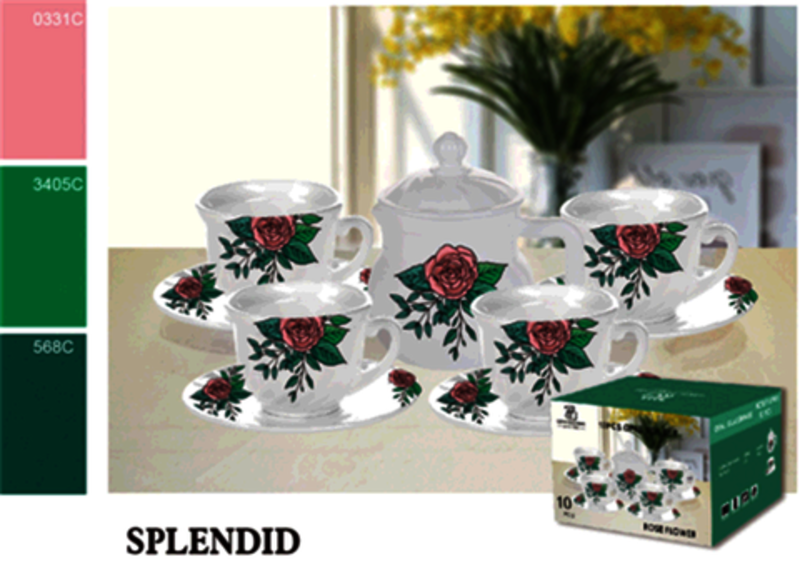 19 PCS DINNER SET
This set is very suitable for small families. Using your favorite flatware sets, the dinner time would be very amazingly happy.
Set combination:
7" bowl 6pcs
10" bowl 1pcs
7" dinner plate 6pcs
9" dinner plate 6pcs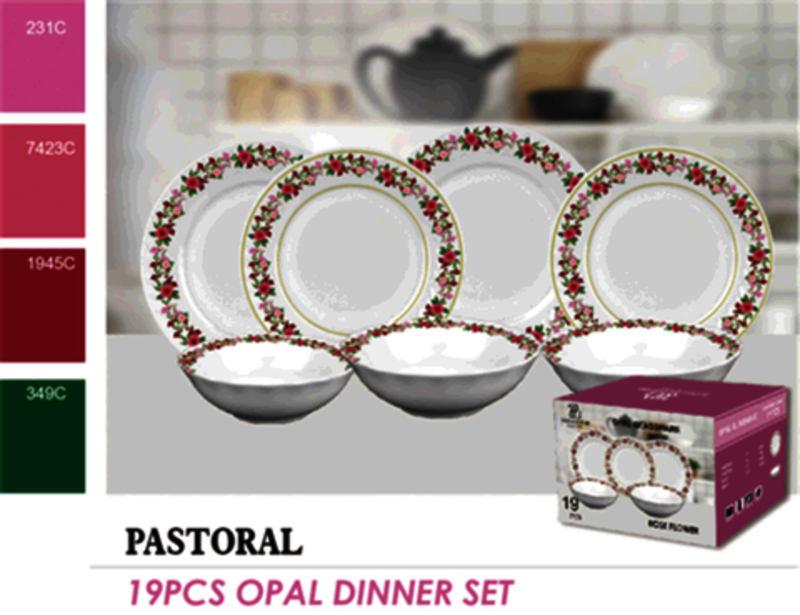 26PCS SQUARE(ROUND-EDGE) DINNER SET
Set combination:
8.5" square flat palte 6pcs
11.5" square flat palte 6pcs
6" square cereal bowl 6pcs
7" square salad bowl 6pcs
10" square soup bowl 1pc
14" retangular fish plate 1pc
This set is a new dinner set, which is very welcome by customers who like gold lines and full decals. With simple and gentle looks high-end and elegant with gold line.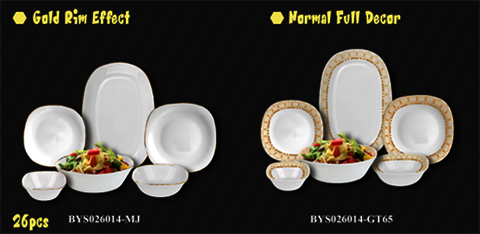 33 PCS DINNER SET: WHITE AND BLACK
In the beginning, the 33 pcs combination is only for the white opal dinner set, but there is a customer who wants to change white opal into black opal in this set. Fortunately, the 33 pcs black opal dinner set becomes very popular with Indian customers, now it gradually more and more popular with customers from other markets.
Set combination:
14" Oval plate 1pc
10.5" Dinner plate 6pc
7.5" Side plate 6pc
9" Salad bowl 2pcs
7" Soup bowl 6pcs
5"Serving bowl 6pcs
Spoon 6pcs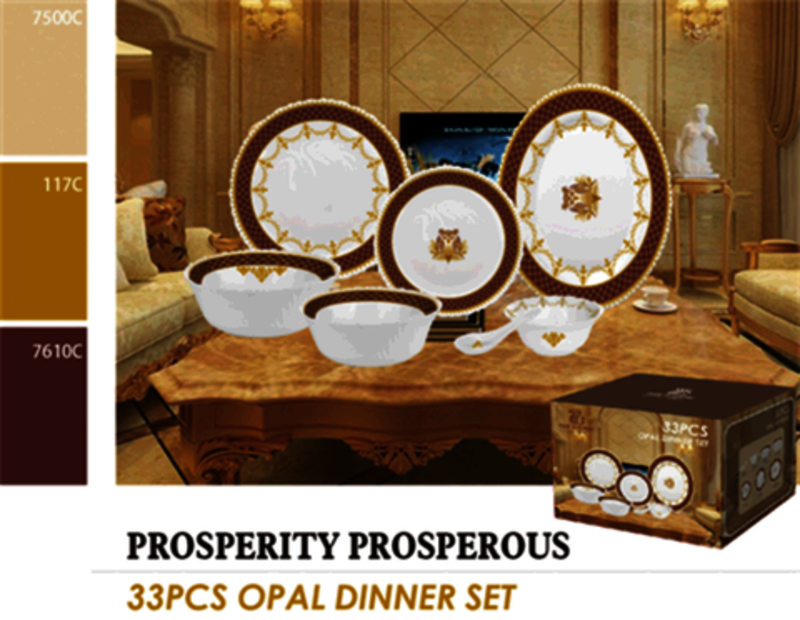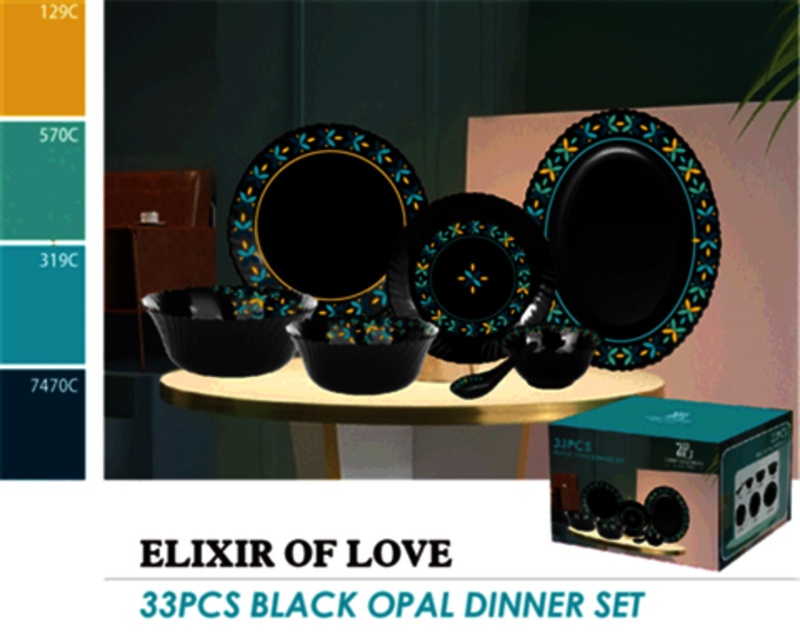 33 PCS ION-PLATING DINNER SET
Compared with the 33 pcs black opal dinner set, the 33 pcs white opal dinner set is not so popular. Therefore, in order to provide customers with more choices, we designed the 33 pcs white opal dinner set with ion plating. It looks elegant and luxurious, food-safe, will not fade, and can be used with confidence.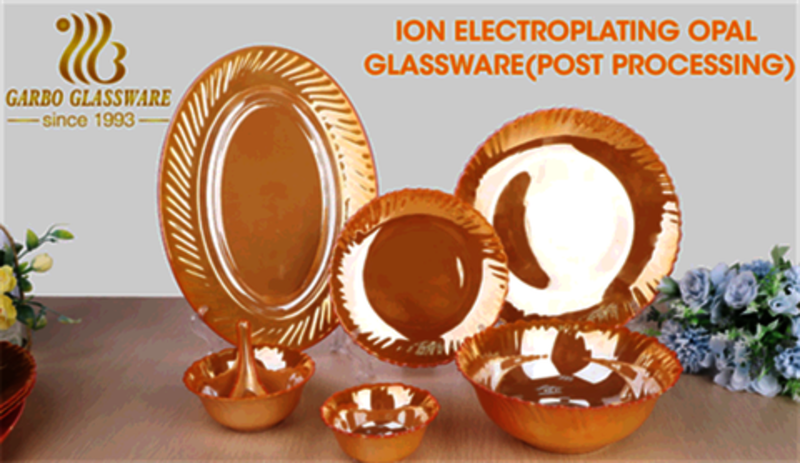 58 PCS WHITE OPAL DINNER SET
The 58 pcs white opal dinner set is the most classic collocation and definitely the best-selling item in all our best-selling tableware sets. Widely loved by customers from different countries. When you don't know what opal glass tableware set you want to sell, research your market and you will find that it will definitely be there.
Set combination:
6" cereal bowl 6pcs
8.5" dessert palte 6pcs
9" soup plate 6pcs
10.5" dinner palte 6pcs
14" fish plate 2pcs
10" spining square bowl 2pcs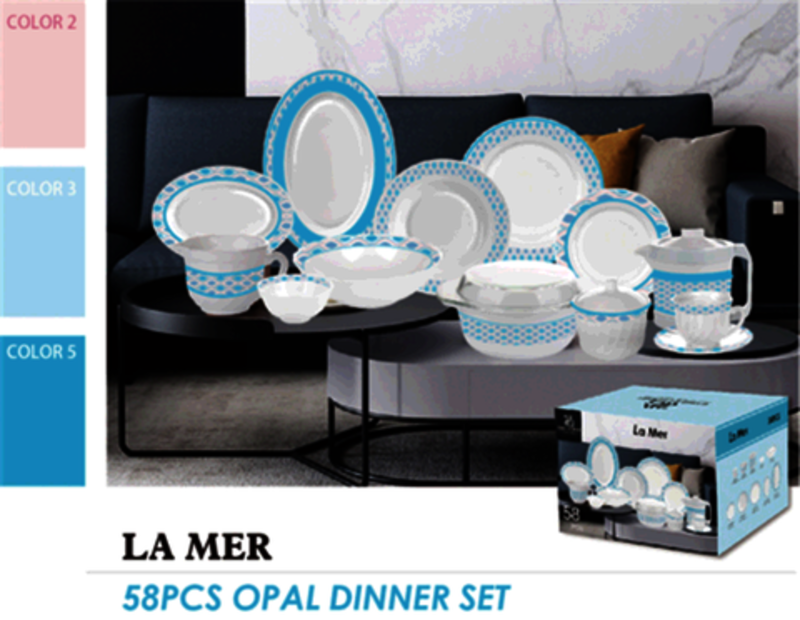 NEW: 58 PCS WHITE&BLACK MIXING DINNER SET
Recently, black opal and white opal glass dinner sets with square convex corners have also become more popular in the Middle East market. We also tried to mix black and white to assemble the set. It looks special and energetic. If you like, please contact us for the quotation list.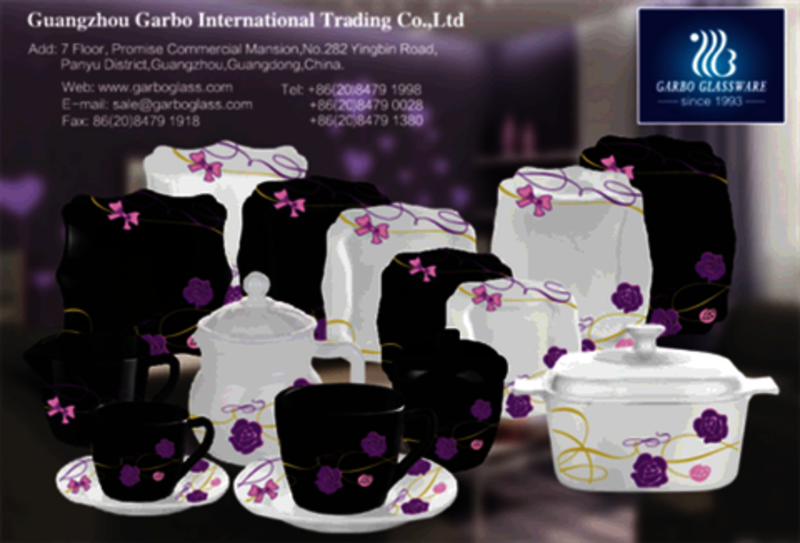 Our opal glass tableware set can be freely matched, and you can make your favorite design decals. If you don't have a design draft, you can tell us your market and your favorite colors and elements. Our experienced design team can also do what you like The elements help you design floral paper. If you need a large quantity, then we can provide you with a more favorable price. We look forward to working with you.