Pulished on Jun. 15, 2022
With access to thousands of different styles, ranging from ranging from glass cup, glass mug, glass bowl, glass jug, glass stemware, glass plate, glass candy jar,glass vase, glass bottle the Garbo team has selected the most stylish, functional and popular drinkware ranges for you to choose from.
We work closely with our factories to ensure we only stock the best quality glassware, at competitive prices. With new designs added frequently, we can help you to find the right glassware for your business, brand, home bar or event.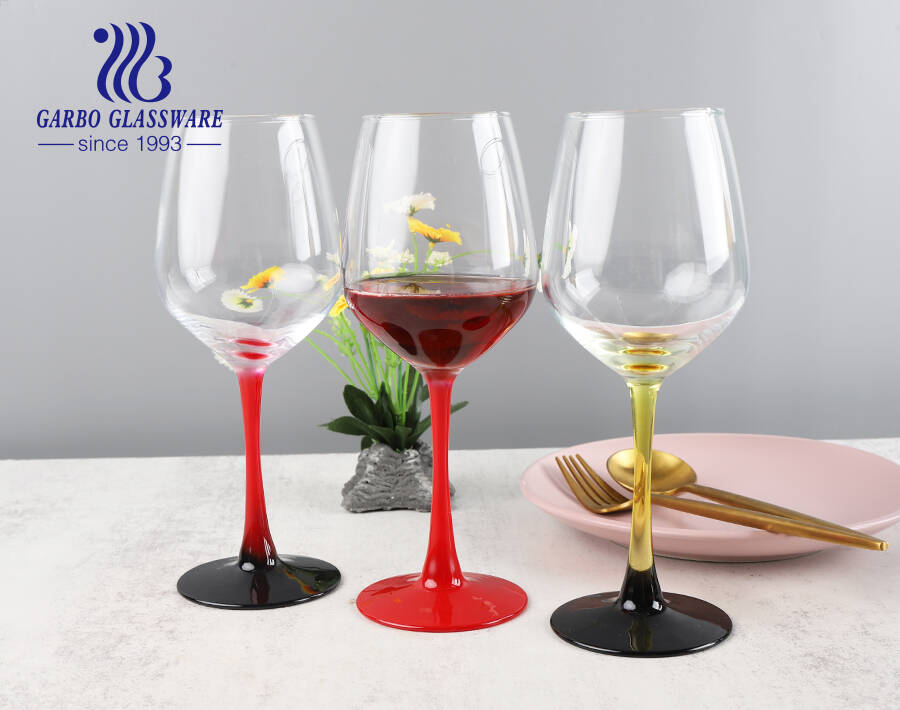 Glass stemware can perform many tasks, from keeping wine and juice colder for longer toawakening the complext flavours and aromas of alcoholic beverages. The right glass can take an ordinary drink and turn it into something more special and satisfying. Here we have the classic wine glass stemware with 345ml capacity, 62mm top diameter, 210mm height and 74mm bottom diameter. with a wide stomach It is perfect for preserving the delicacy of white wine and red wine glasses. The thin and long stem will make all the occasions more high-end.
And showed in the picture, we can add red and black sprayed color on the stem and base, besides these 2 colors, other colors are also welcomed by us. Customers can advice the pantone colors number, then we will bring it to the glass.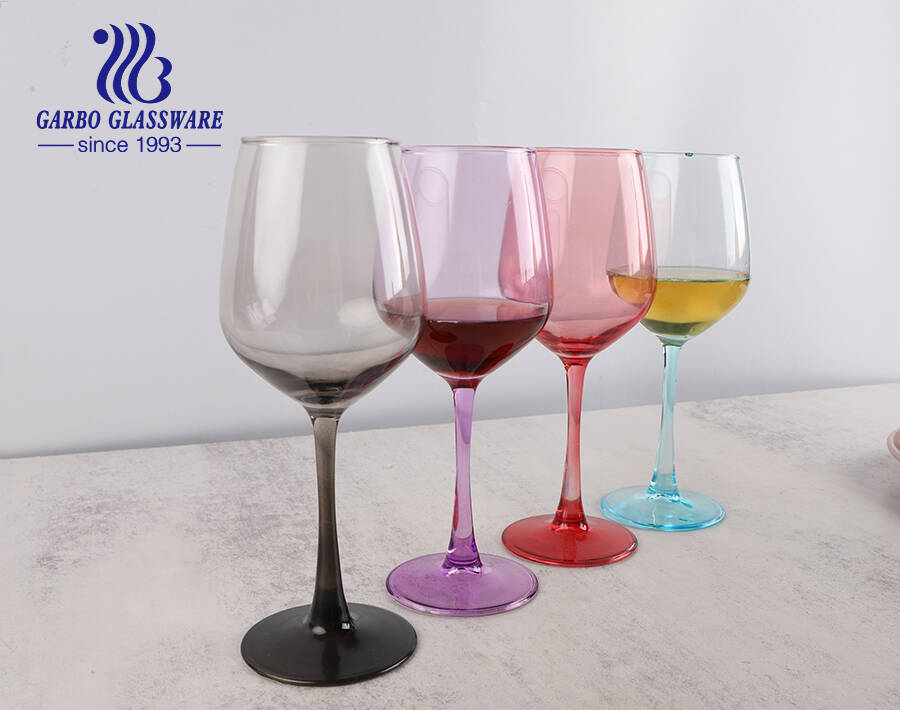 Black, purple red and blue color mixed together look also very gorgeous. Pls see the sample pictures we showed here. These 4 glasses are also added with spraying color, but a little bit different. Here the color surrounds the whole glass, which bring new visual feeling.
For a 4 member family,this combination could be very nice choice. Supermarket, hotel or gift store,souvenir store can also purchase. For this colored glass it is a very good choice to use window color box, in this way customers can see the designs from the box window in supermarket and stores.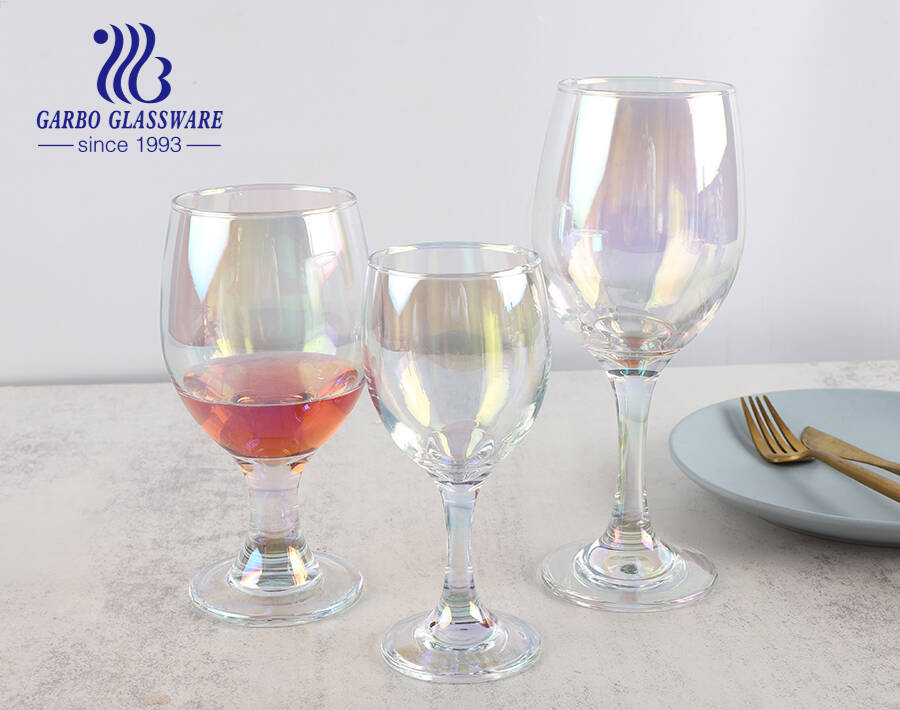 This bright and shinny effect is another post-processing, which we call as ino plating, and customers may notice the color looks like rainbow. This is the most beautiful ion- plating color, factory can also do other simple color effect, like brown color as below picture, blue, pink, red and so on.
What is the difference between sprayed color and ion-plating color? From visual feeling, ion-plating is more bright and reflective. The price for ion-plating will also be more expensive. And both of these 2 effect can pass food grade test. If customers need samples to distinguish them better, pls contact us to get.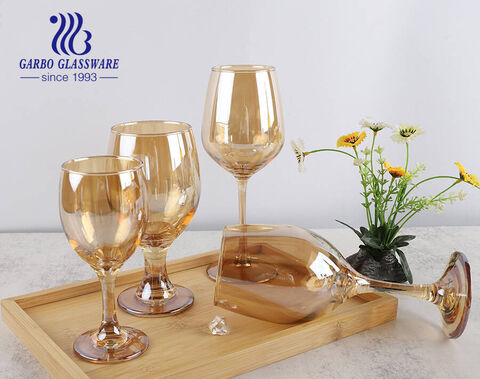 This brown ion plating color looks more vintage and ancient, it is popular in middle east market.
We have all the clear wine glass shapes in stock, besides the spraying and ion plating colors we showed here, any other craft like frosty, hand drawing, laser logo are welcomed. Small MOQ with 1000-2000pcs is acceptable. We have the big warehouse cover area of 15000 square metres, which can help you mix container with different items.
Garbo team have got all of the glassware you need to bring big profit in your business.