Pulished on Jun. 11, 2022
Hello everyone, our monthly promotion column has not been launched for a long time. Are there readers following our column? Hope you like the products we promote in this column. Today, I would like to introduce you to skull shape series glassware. It includes ordinary glasses, carafe, decanters, etc. There are ordinary soda lime glass materials and borosilicate materials. Come watch it with me if you're interested. If you like it, please like and bookmark our website.
First of all, as usual, let's take a look at this general publicity map. There are really many different categories of glass products, right? Next, I will introduce them to you one by one.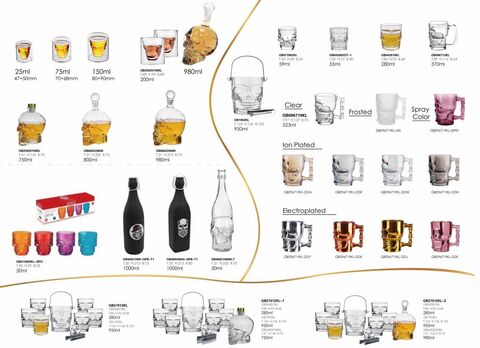 The first is the series of borosilicate materials. This is a double wall glass cup. From the picture you can see that it consists of two parts, the inner layer is in the shape of a skull and the outer layer is smooth glass. Due to the particularity of the material, the double wall glass cup looks very high-end. At the same time, you should also notice that we have different sizes, which is also convenient for use in different occasions. Also, you can see that we have glass decanters in the shape of skulls, also in different sizes. These styles can also be combined into different sets accordingly.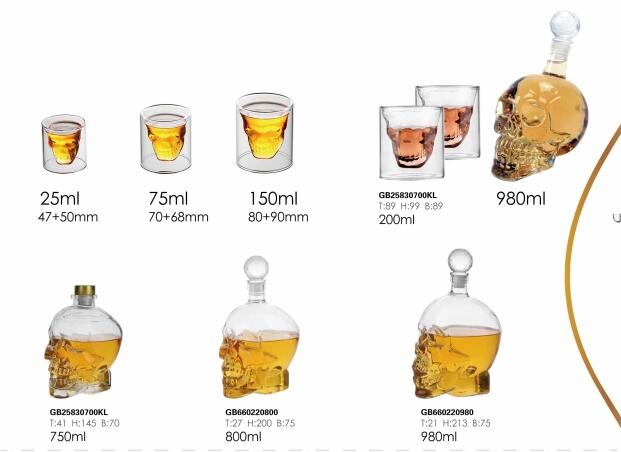 Then we look at the following part of the spirit glass and glass tumbler series. Likewise, we also have different sizes. We can also make different colors according to customer requirements, not only the effect in the picture, we can make various effects according to the requirements of different customers.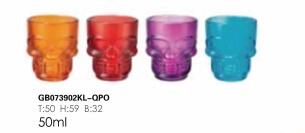 Next we come to the most important part, which is also our best selling skull product, the skull beer mug. Many of our clients love this design and also like to do different designs on it.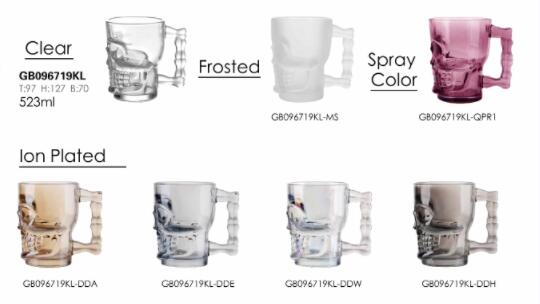 This part is the effect of spray color and ion plating.

This part is the effect of electroplating.
They all look great, right?
And then there's our glass bottle. Not only do we have skull shaped water bottles, we can also make skull designs on ordinary glass. Great, right?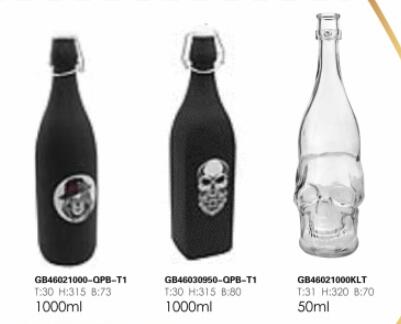 And finally our suit part. As you can see from the picture, we can make a set of glass and ice bucket, and we can also make a set of glass and decanter. These are all products that our customers have purchased. It is also quite a bestseller.
Well, that's it for today's introduction. If you are interested, please leave us a message or contact us directly, we will serve you wholeheartedly. See you next time.