Pulished on Sep. 08, 2021
Hello everyone, welcome to our weekly promotion column. I wonder if there are any customers who have been paying attention to our column? If so, what do you think of the articles in this column? If you have any comments, please leave a message to us and I will try my best to correct it. At the same time, if you have any products or topics you want to know about, please leave a message to us.
Today, I would like to introduce some of the more popular borosilicate storage tanks. When it comes to boron materials, what do you think of first? Is it the double wall glass coffee cups with various shapes, or the storage tank I want to introduce to you this time? Maybe you haven't touched borosilicate glassware, so you may not know what these two are. But that's okay. After my introduction today, I think you should know something about borosilicate storage tanks.
First of all, I mentioned borosilicate glassware. I think some customers will think about the difference between this material and ordinary glass. The following is Wikipedia's explanation of it, you can take a look. Borosilicate glass is a type of glass with silica and boron trioxide as the main glass-forming constituents. Borosilicate glasses are known for having very low coefficients of thermal expansion (≈3 × 10−6 K−1 at 20 °C), making them more resistant to thermal shock than any other common glass. Such glass is subjected to less thermal stress and can withstand temperature differentials without fracturing of about 165 °C (297 °F).[1] It is commonly used for the construction of reagent bottles and flasks as well as lighting, electronics and cookware.
So the difference between Borosilicate glass and ordinary glass is that the former is a high-temperature resistant material and can be filled with hot water, while the latter theoretically cannot be filled with hot water, but can only be filled with water at ordinary temperature. In addition, Borosilicate glass is generally lighter and thinner than ordinary glass.
Next, I would like to introduce to you a borosilicate glass storage jar that is especially popular with customers. As usual, let's take a look at this promotion map first. First of all you should pay attention to the size. That's right, we have 4 different sizes, from 500ml to 1500ml, different sizes to meet your different needs. For example, 500ml can be used to hold some nuts or small things, and 1500ml can be used to hold pasta or other longer foods. In addition, you should also notice that this storage tank also has a round cork, which is also a detail that customers like. While isolating the air, it also adds a touch of detail to the entire glass, making it more unique .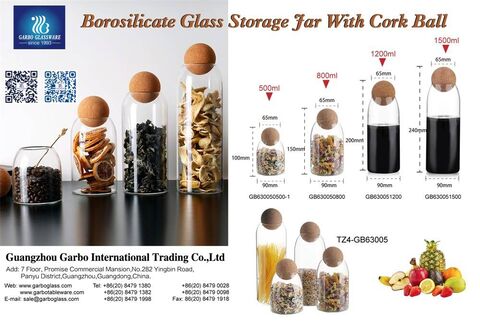 In addition to the storage tank introduced above, we also have other storage tanks, such as the following styles, which are relatively popular. If you have any demand for glass products, welcome to browse, or email us, or even call us. We will provide you with professional services.