Pulished on Nov. 04, 2021
Hello everyone, this weekly promotion column hasn't seen you for a long time. I wonder if anyone is missing this column? Today I will introduce to you some of our recent promotion of glass cups, because it has been too long to meet with you, I would like to introduce you a little more of our new products and hot-selling products, including different styles of new cups, high Foot cup and a relatively special Middle Eastern teacup. If you are interested, just follow me to continue watching.
1. Arabic Style Cawa Tea Glass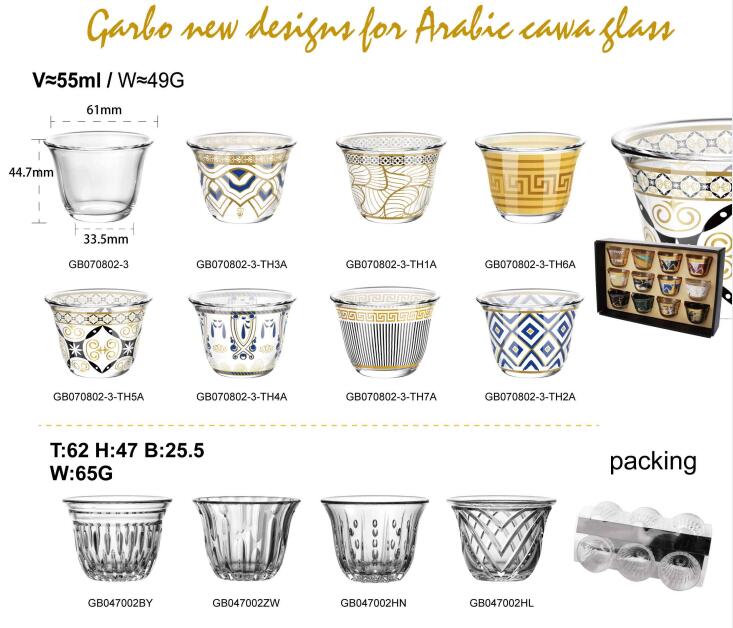 First of all, let's take a look at this promotion map. The 60ml capacity is also suitable for most Middle Eastern style teacups. As you can see from the picture, we have made two different designs for this shape of the teacup. One is a smooth and plain cup, on which you can make decals. From the picture, you can see that we can make different designs and different colors. These designs should be very suitable for the needs of customers in the Middle East market, because these are also designs designed by our design department based on market needs and customer surveys. They are very luxurious. What do you think? The other is the same shape, but has a different texture design on the cup. You can see that we currently have four different patterns. Generally speaking, the MOQ of such a cup is 40HQ, which is about 150,000 pcs. If it is an ordinary cup, one style will cost 150,000 pcs. But we have made 4 designs and adopted the concept of mixed mould. The machine can produce 4 patterns at the same time, so for customers, a cabinet has 4 patterns to meet the different needs of customers. The same quantity basis Give the market more choices. For customers in the Middle East, this style is generally used for tea. And you can see the gift box package we can make, very luxury.
2. The new glass handle cup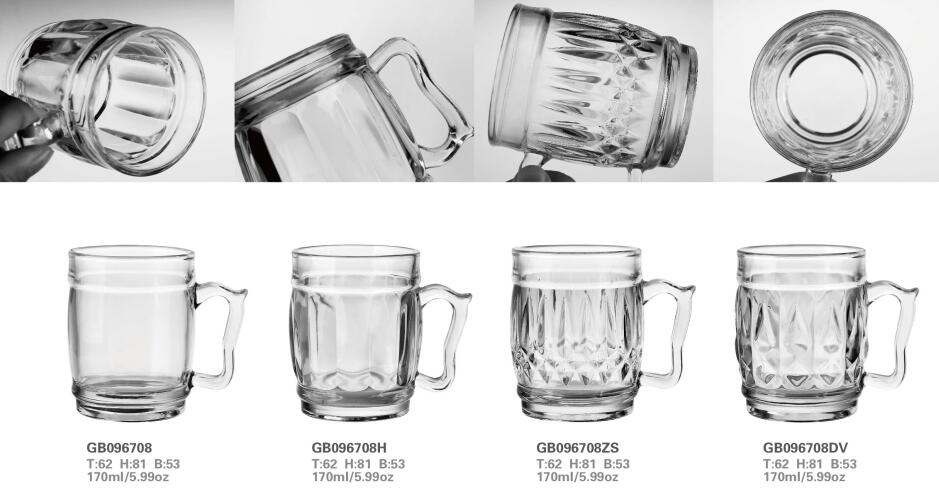 Let's take a look at the promotion map first, and see the detailed size and the appearance of the cup. The capacity of 170ml is not too big or too small. Drinking tea, fruit juice and the like is also suitable for daily drinking. Have you noticed that this style of cup is different from ordinary ones? Is it very special? From the design of the cup to the design of the handle is special. From the perspective of the cup, does it look like a glass bottle? Because of the design of the cup, it looks like a lid can be added. In addition, the irregularity of the cup body from top to bottom increases the viewing degree of this cup. Do you like this design? Like the Middle Eastern style cups above, this cup is also based on the concept of mixed molds. Based on the MOQ being a 40HQ, it gives the market and customers more choices. The four patterns are also developed based on market research, and are not designed blindly.
3. New style embossed wine goblet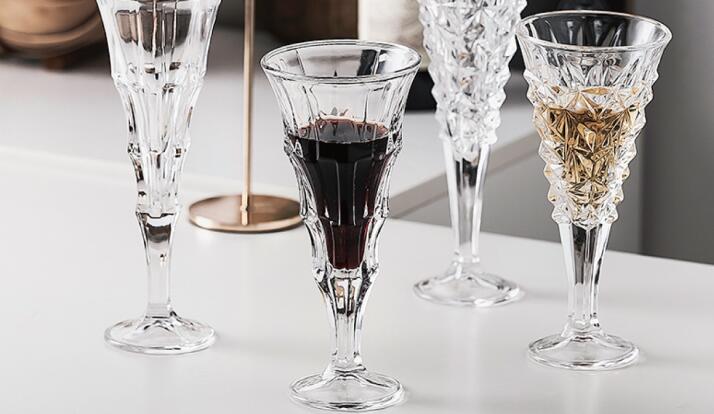 Speaking of goblet, your first impression may be the kind of thin and light cup for drinking red wine, or the very hot-selling color product in recent years. If you are buying this kind of color product, You must know what I'm talking about. What I want to introduce this time is different from ordinary goblet. The first is the shape. The whole design of the cup is different from the ordinary goblet. It adopts a design with a large body and thin legs, but a smooth design from head to toe. On this basis, different designs can be made on the cup body. From the picture you can see that we have five different patterns. This style of goblet seems to be more popular in the South American market, because we have always been selling this kind of cup, but now we have developed 5 new texture designs. So if you need to do your own design, we can also meet you, of course, MOQ still has requirements. But for these five designs, we can accept small quantity to order, because they are in stocks. Isn't it good?
Well, the above is the new product of our company that I want to introduce to you this time. If you are interested, please leave a message or send your request directly to our mailbox, we will serve you wholeheartedly. Welcome to continue to pay attention to this column, I will provide you with more new product information of our GARBO.