Pulished on Dec. 07, 2019
Do you eat breakfast in the morning? Do we have to eat breakfast? "Breakfast" is to break the fast, and we always consider that breakfast is in the morning. However, you may not feel hungry when you get up in the morning. Then we will think about if we really need "breakfast" at all?
According to the research a few decades ago, the researcher considers it is necessary to have breakfast. But now, people change this mind. To have breakfast or not, it is subject to your own condition.
There is no doubt that the first meal is good for our health when you grow up, it will maintain keeping blood sugar and insulin levels stable, activate brain cells, help to improve the memory and Indirectly improve academic performance.
If you get up early but without breakfast, you will feel hungry before lunch, which will make you eat more calories, you may gain weight. Anyway, there are always different opinions about having breakfast or not. But if you want to have a good breakfast, I can share some of my receipt which is very simple and nutritious.
Yogurt smoothie
Material: 1/2 cup yogurt, 1 cup milk, 1 banana, 6 strawberry, 100g crispy oatmeal, sugar or not, Blender.
Mix yogurt, milk, banana, strawberry then blend away. A few minutes later, you will get a flavorful milkshake. Do you just put it into a simple bowl? No, pour it into a decorative bowl will help you to enjoy your breakfast most, not monotonous.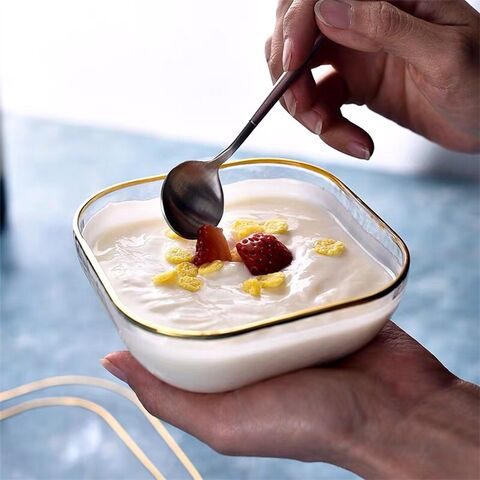 Try Garbo glassware's new gift decorative gold rim bowl, the heart shape, square shape, with modern luxury visual enjoyment.
After you pour it into Garbo glass gold rim bowl, put some nuts on the smoothie, done. And don't forget whole-wheat bread. Then a low-calorie breakfast is ready. And start your beautiful day from a good meal.