Pulished on Mar. 15, 2020
Glass cup can be seen in our daily life everywhere. Compare with plastic cups, paper cups, ceramic cups. The glass is relatively eco-friendly and healthy, easy to clean and convenient, the price is appropriate , is suitable for drinking in family daily life.For glass cup , many friend should had heard or used solid color cups.
1. What is ordinary glass cup
Ordinary glass cup, Usually composed of silicon, sodium, calcium and other materials. It's called Soda lime glass. It does not contain organic chemicals in the process of firing glass cup and is safe and healthy for human body.
2. What is solid color cup
In addition to the transparent glass, there are colored glass cups, which are called colored glasses. In the smelting of glass, Compound of transition elements such as cobalt (Co), manganese (Mn), nickel (Ni), iron (Fe), copper (Cu), etc. Coloring by selective absorption of visible light, The last color you see is red, orange, yellow, green, cyan, blue, violet,these metallic elements are toxic.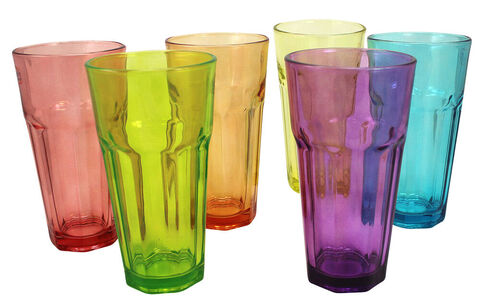 3.Is solid color glass safe?
Cobalt, manganese, nickel, iron, copper and so on, these elements look like toxic substances, but they react with silicate, so it is very stable, 100 degrees boiling water is impossible to break it down, so we can be safe to use.