Pulished on Jul. 20, 2022
It is very important to have three meals a day. There is a saying in China: people take food as their heaven. A rich and nutritious breakfast can make people full of motivation to start a day of work, study and life; A delicious lunch can remove the fatigue and irritability caused by all kinds of trivial matters in the morning; a warm dinner can start a relaxed and happy evening entertainment time.
What Can Change Your Meals A Day and make it pleasant and different from others? The dishes itself is of course very important. Except it, we can also spend some time to prepare decorative and special tableware. Here Garbo Glassware will show something to you.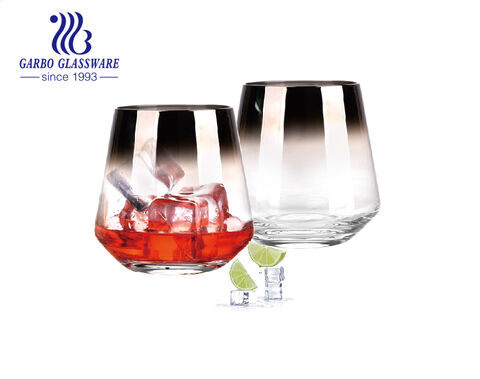 .
When we eat with family, date with friends and have parties, This wine glass above to match with dishes. We can use it for wine, juice and whisky drinking. Checking the top half , there is shinny black color. Factory do it with electro-plating post prcessing craft. Except black color, gold and silver color is also no problem technically. What is features of this craft? It makes the glass more shinny and high-end. And with this post-processing, customers don't need to worry about the safety. It can pass the european and american food grade test. Looking at this 420ml glass on the table, the food becomes more charming and delicious. The capacity of this stemless glass is also very suitable for using , washing ans storage. In addition, we have below champagne glass with stem with the same craft.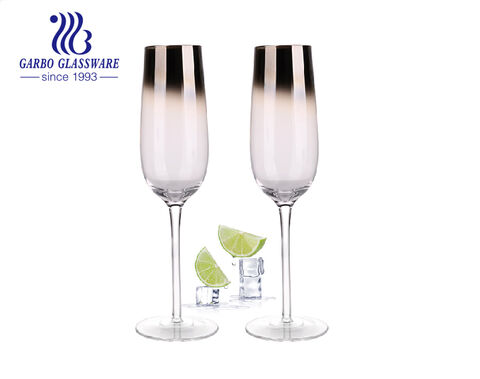 This classical champagne goblet design combined with the luxury black plating effect is hot selling in high-end markets all over the worlds. We have many customers who purchase for wedding hosting, they love this serie very much. How will they usually order? They will not order many quantity for each type, normally 2000-5000pcs and mix other products in the same container. This is our advantage, because all the glasses here are produced with handmade craft, in this case, factory will not request big MOQ. Although with small quantity, we can still customize package for customers.All kinds of different export packages are available, such as bulk pack, brown box pack, window box pack, color box pack, PVC box pack, polyfoam pack, pallet pack, etc. We can also do the packing as per you requirement.
This goblet is with 270ml volume, 48mm top diameter, 70mm bottom diameter and 250mm height.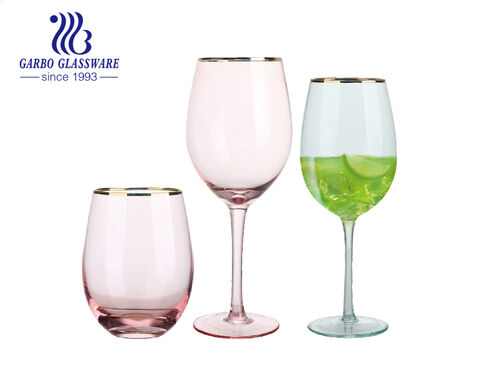 Here comes three different shapes wine glass with gold rim. For gold rim, we have 2 options: fake gold and real gold. What is the difference? Fake gold is not that shinny as real gold, but will be cheaper than real gold rim. If you want to see the difference, pls contact us and we will show you the pictures and videos. If needed, we can also offer samples for free. We can offer many options and different products, Our Postprocessing: printing,decal, spray color, frosty, gold plating, hand-drawing etc. With professional designer team, we can help design and open new mould based on your requirement.
Don't hesitate to contact us, Garbo is a team with creative minds and high-grade service.