Pulished on Jun. 04, 2019
Last month, Luckin Coffee succeeded in being listed by Nasdaq. Coffee lovers must be familiar with this new brand. However as a new company (established in 2017), it's not easy for Luckin to break through and known by public because Starbucks has already taken up more than 50% market share. Customers can take a free first drinking and have discounts for the drinking until they get used to Luckin Coffee maybe.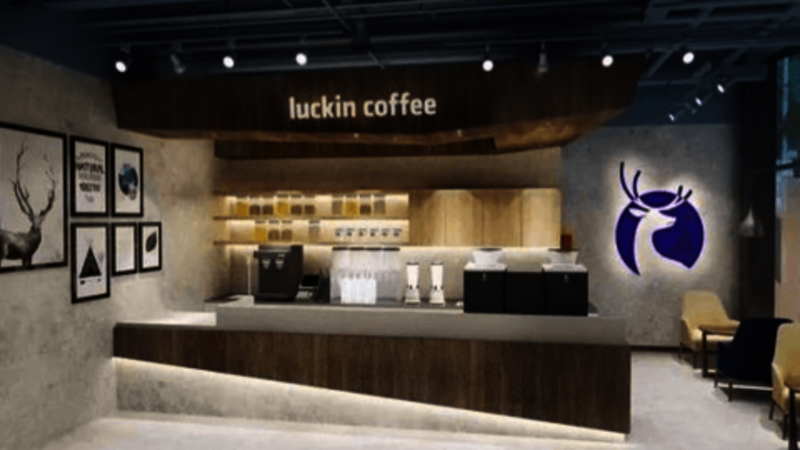 When asked with same prices which shop to choose, Luckin or Starbucks and why, many customers answered with their reasons like the taste and convenience, however to our surprise, packages also. If taking out, they care about the packages. But if dine in the shop, they care about the coffee cups.
So as a coffee lover, how to choose a coffee cup to have a better experience ? Below rules are for your reference.
Material
We can easily see ceramic cups, glass cups and plastic cups in the market. Different materials certainly affect the flavor of a coffee and coffee itself. A good cup helps perfectly present the flavor of the coffee while an unsuitable cup will ruin a coffee.
1. Porcelain cup: It is the most common coffee utensils in which white porcelain and bone china are included. It features with smooth surface, light texture and soft color. The glaze can be designed in different colors and patterns.And especially the bone china, it is light and thin. Porcelain cups are the most widely used coffee cups. For fine coffee, white porcelain cup is the best option to observe the color concentration of coffee liquid.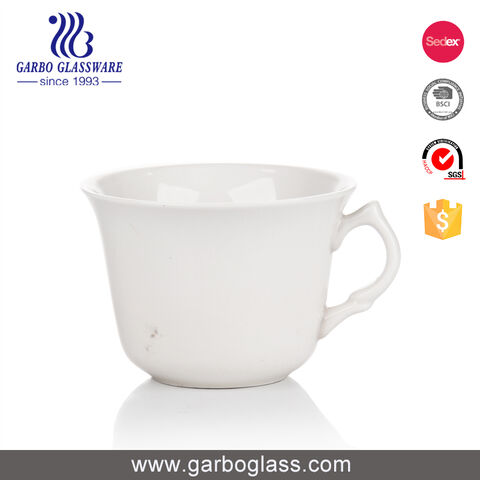 2. Pottery cup: It is made of clay, with rough surface and strong texture compared to porcelain cup.It's the favorite of coffee players who pursue culture and history. The disadvantage is that dirt can easy to adhere to the cup surface, which is not easy to clean.
3. Glass cup: it is transparent. Double-wall glass cup has better insulation effect. It's good to present the layers of espresso, latte, macchiato and other fancy coffee.
4. Plastic cup: The coffee temperature is usually high. When drinking coffee with plastic cup or paper cup, the smell of the cup will probably destroy the original taste of coffee and affect its flavor. Plastic materials contain harmful substances which can be released while drinking hot coffee. It is not good and do harm to environment.
The shape of mouth
There are two types of coffee cups according to the shape of mouth, wide-mouth cup and straight-mouth cup. You can feel different flavors under these two kinds of coffee cups even with the same materials. The shape of the mouth affects the first contact with coffee, which determines which flavor is the first to be intimate with you.
1. Wide mouth cup: The cup expands to the outside, whose mouth is relatively open. This shape allows to taste wider flavor, so your tongue can feel the full flavor of the coffee, especially the acid flavor.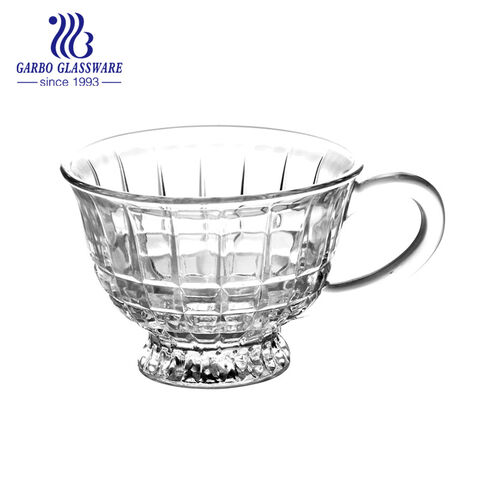 2. Straight mouth cup: Its mouth is perpendicular to the tabletop, in which the coffee is more concentrated while you drink. You can directly contact the sweet zone and the middle zone, so the taste is more balanced.
Cup wall thickness
Coffee cups are with thick or thin wall.
1. Thick wall: with good insulation effect, it's suitable for latte, cappuccino or other fancy coffee.
2. Thin wall: with more delicate entrance touch, it's suitable for single items to feel different flavors of the coffee under different temperatures, from hot to cold.
The amount of coffee
1. Small coffee cups under 100 ml: mostly used for Italian espresso, such as Espresso.
2. 200ml coffee cup: mostly used for single coffee.
3. Large coffee cup more than 300 ml: used to hold fancy coffee with thick milk foam, such as latte.
No matter how to choose coffee cups, according to material, cup mouth or wall, don't forget to warm the cup before drinking. If the cup is cool, it will affect the taste of the coffee, of course, except ice coffee.
The pleasure of tasting coffee, except for the coffee itself, the overall beauty is also important. A delicate engraved coffee cup and saucer, carrying rich hand-made coffee, with a piece of dessert, what a wonderful moment it is !