Pulished on Sep. 01, 2022
Latest global popular ribbed glass beverage dispensers from Garbo Glassware
Glad to announce our vertical stripe ribbed glassware series have been finally launched recently by full range from regular highball glass cups to the latest beverage juice dispensers, and we have got massive reviews and inquiries from worldwide clients right after our ultimate promotion emails with price details and advertising post on Facebook not long ago. Our colleagues were also publishing the catalogue pages on Wechat and other social media APPs, then all of our colleagues turned up to be busy with sending quotation details straight away to everyone.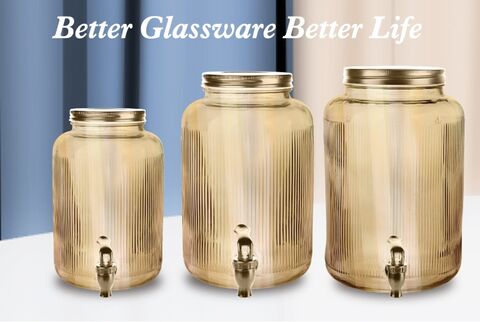 Ribbed glass juice dispenser is not our exclusive design but we've summarized 3 main strongest advantages from all of those various reviews sent by global clients who have already received their goods, by the way the initial promotion was just launched on late June and our first buyers mainly from South America like Brazil and Chile and other markets like India and Europe are currently busy with repeat purchase orders, which is out of our marketing expectation in a way. Since all clients who purchased these juice beverage dispensers are responding enthusiastically, there must be some reasons.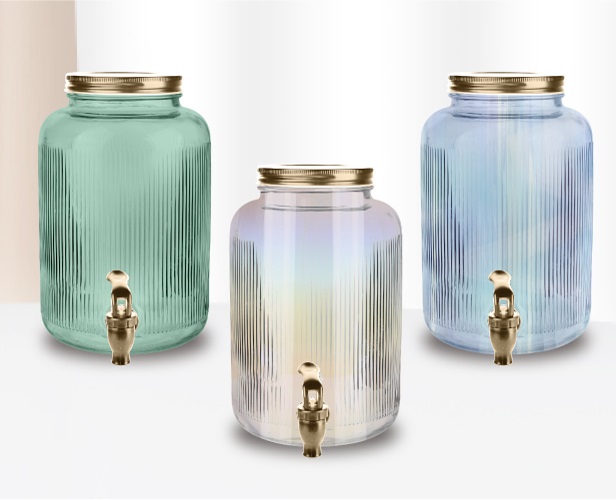 1, Garbo Glassware factory own the full range moulds on different sizes, but we highly recommend these regular and hot sale 3 sizes for this series of ribbed juice glass dispensers according to our current exporting data but the most significant reference would be inquiries from our global clients, they are respectively 4L/6L/8L. Instead of individual glass dispenser, we also offer twins version by associating 2 in a bigger holder but technically speaking we recommend 4L or smaller version otherwise the twins version seem too big on tabletop. By the way, we also provide multi options on the holder, tap and lid, such as original version and coloured version.
2, Very small MOQ will do for this series! Most of our clients are engaging glassware and tableware wholesale or chain supermarket business, the quantity 3000pcs of each single size even seems not to reach their purchase budget. Therefore, they planned to order 3-5 containers in total covering all sizes we promoted as even a 40ft container basically loads just the MOQ due to the glass dispenser size issue. Meanwhile, our clients who could not afford MOQ had a great chance to join this massive production schedule to cover all sizes, which is always the most attractive advantage from Garbo Glassware on whatever product we are promoting.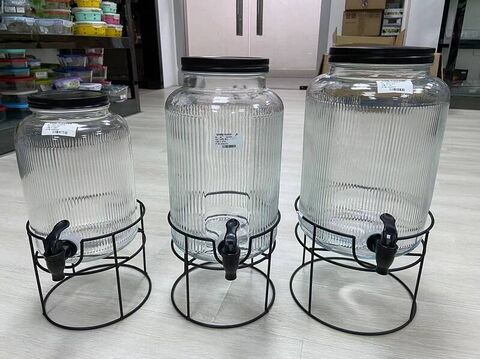 3, The vertical stripe ribbed glassware product has been being popular in worldwide markets since last year or even earlier, no matter where you come from and there's a chance to resell this glass juice tank. Garbo Glassware are not just offering transparent version, but also our regular post processing versions. Spray colour version on the glass juice container can be customised into any pantone you name based on its original MOQ, whilst ion electroplating colours are usually just from our standard ones, including grey/blue/iridescent/amber/gold/pink/green. That would make it more competitive on product variety!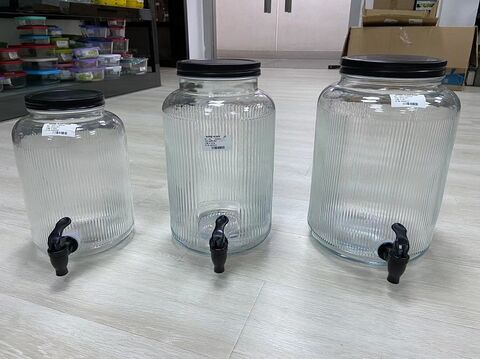 As always, our clients can trust Garbo Glassware on product quality control for these glass beverage dispensers, at the same time on the accessories which aren't made by us due to our supply chain.