Pulished on Feb. 16, 2022
Garbo's products have been advancing with the development of the market, and even some of our products have led the trend of the market, because our designers have always been paying attention to the development of international trends.
The plated plate I recommend to you today was inspired by a designer friend's wedding. He said that the wedding at that time was very romantic, with flowers, candles, and a table scape. The only one defect was the plate on the table. After he came back, he came up with the shape and color of the plate that matched the color of the wedding at that time, which achieved the perfect effect in his consciousness. And the plate has been our classic and hot selling one.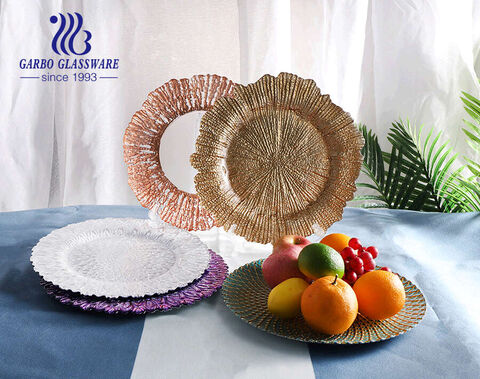 The shape of the plate is a bit irregular, and the edage is even like the shape of a branch. The color of electroplating is also romantic, it can be gold, silver, white, yellow or any other color you can imagine that fits the wedding scene at that time. Our professional designer can help you to draw it and our factory will custom it for you.
Although this plate looks irregular, the surface is very smooth, which will save washing liquid for you, so you don't have to worry about washing at all. What's more, it is also dishwasher safe for cleaning, or you can just wash it with a wet cloth.