Pulished on Feb. 24, 2022
"GARBO GLASSWARE" is the NO.1 supplier selling glassware in domestic China for about 30 years, you may please check our web site: www.garboglass.com
We have our own factory and the biggest warehouse in China. so that you can buy small quantity and ship immediately. What's more, we also have our saler team, designer team and factory team to meet your requirement from enquiry to shipping. So not only our design but also our products are populare and hot selling all over the world.
The products I wanna share with you is our classic and elegant design plate. The plate is very popular in middle-east and korea with the high-end appearence, and the design is attractive with the H shape and classic middle-east pattern. What's more, the real gold rim edge can catch our eyes very easily because it is the highlight of the whole design. So that we export hundreds of containers to middle-east country every month.
If you have your own hotel or restaurant, the design is very suitable for you that you can put them on the counter with some snack as the table scape.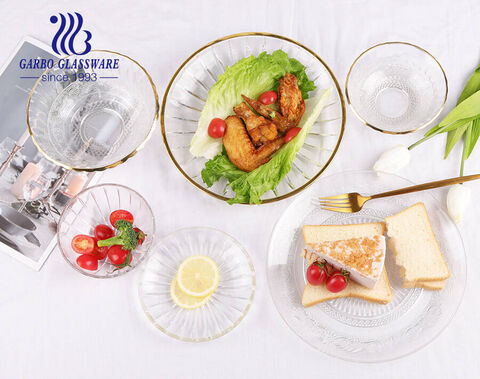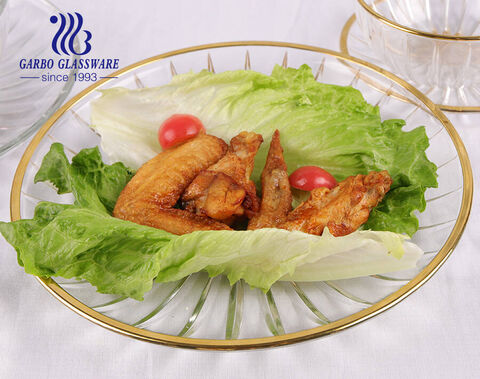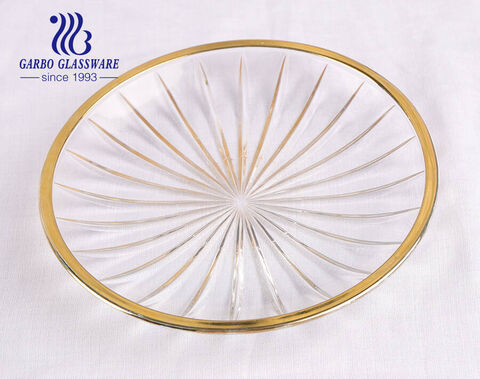 Except the glass plate, we also have design of glass bowl that you can used it for soup salad rice and any other dinner service. The design of glass bowl is also easy to wash as the same as glass plate, because the surface is smooth that you can wash it with damp cloth. The design of glass bowl is luxury and exquiste one that you can use them at any important events, such as wedding, birthday party, business banquet and anniversary.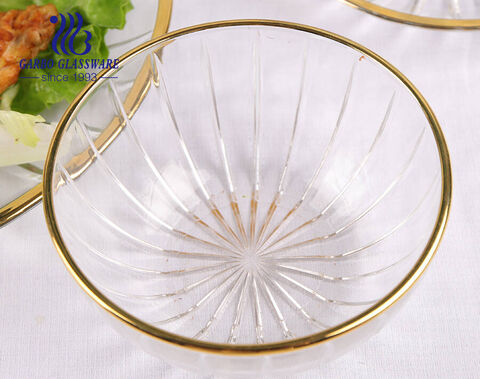 Beside the post-processing design of plates and bowls, we also have the plain one. For factories, they will custom the plain plates and bowls first and then post-processing with real gold rim. So what we see the gold rim edged bowls and plates are come from the post-processing of the plain one.