Pulished on May. 28, 2022
"GARBO GLASSWARE" is one of the biggest supplier of glassware in China for about 30 years. There is a larger warehouse over 15000 meter square in Guangzhou to stock some hot selling products like glass tumbler, glass storage jar and glass decanter etc.. therefore, we hot welcome the trial order quantity for the first cooperation. If you run a new business with gift shop or supermarket, Garbo will be your best and honest supplier with best quality and factory price.
Garbo is a mature team with sales department, design department, marketing department, network department and factory team. From pre-sale to after-sale, we will provide the best service for you. For the quality, there is the word from one of our new customer when he received the samples ' We have receipt the samples, after checking they are all well done. Important is that the glass doesn't have any sharp edges, no splinters and that the weight and size is exactly the same'. Therefore, Garbo can satisfy our customers in terms of quality and service.
In this article, I wanna share you with one of our wine/whisk decanter for some customers who love drinking.
1. Wine/whisky decanter with different design on glass
The size of wine decanter is hot selling one for European and American market whose size is top dia: 70mm, bottom dia: 170mm, volume : 1000mm. From the picture below you can see that there are hammer/vertical strip/spiral pattern/transparent designs on the glass, but if you have your own idea with unique or different shape, we can help you custom a sample for you to confirm it first and then continue the mass production.
The design of glass decanter looks very white due to the material we used. We always custom the glass decanter with best material, because decanters are the clothes for red wine, which must be gorgeous and high-end. The aim that our designer custom a larger size on bottom is to make the aroma of red wine dissipate faster, which will taste purer and better. The slanted mouth will be more convinient for you to pour red wine.
Except the glass decanter, we also wine goblet to matche the decanter exactly, like 6 cups + 1 decanter, or 4 cups + 1 decanter in a color box. Mostly, our customer prefers 1 wine glass decanter with 6 goblets set and ship to England, America, France etc..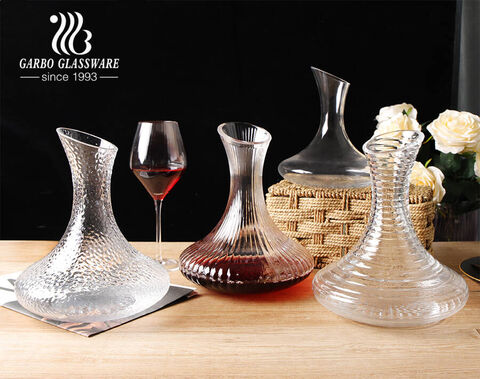 However, beside the transparent design, we can custome post-processing on the glass decanter and goblet for you, which will make the whole design looks more elegant and high-end.
2. The post-processing of glass decanter
For the post-processing design, we can ion-plating or charger design for you.
Ion plating: The decanter of whole design will look like the rainbowl when we ion plating on it (the pic one left side below), which will be very shining and an excellent design for price. The design is very suitable for the wedding party, camping and banquet party. Fro some customers who run a hotel for wedding, this glass decanter design will be a good choice for you, because it can serve the guest and high light the table and surrounding. The design is very popular in European and American market that we export hundreds of container every month.
Charging design: The design of charging one will have a deep color (the pic one right side below), which is more shining then the ion plating one. The design of charging design is a hot selling products in Middle-east market.