Pulished on Jun. 18, 2022
Luxury Koi Fish design glass cup
Guangzhou Garbo is one of the largest suppliers in China, and our products sell well all over the world. We have a very professional design team, who always keep an eyes on the fashion trend and even be the leader of fashion. We also have a large warehouse and accept small orders when you run a new business. In addition to our designs, if you have your own idea or have your own designs, please feel free to contact me so that our designer will help you draw out and custom the sample for you first.
Recently, There is a very popular design of glass cup has emerged in the Asian market, which is koi fish design. As we all know that koi is the symbol of good Fortune in China. Many people want to get more fortune When it is New Year festival or when they have some important exams, they will go to the temple or touch something that symbolizes good luck, because they think that it will bring them good luck. Therefore, according to the culture of the market, we designed and promoted a koi fish product. The picture below is a koi fish glass cup design.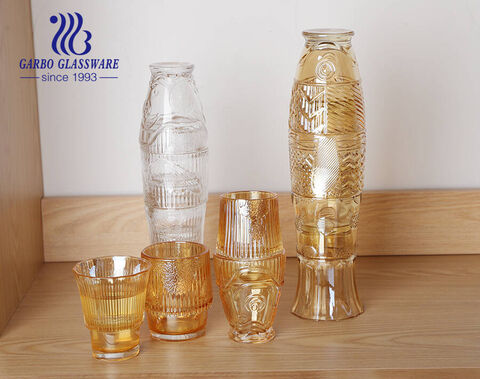 From the below of glass cup, we can see that the rim of the cup is very smooth, and the engraved pattern is very clear, which make the whole design looks more like a koi fish. If you look at it carefully, you can see that each cup is engraved with different pattern so you don't mix them up when you're not using them and it's easier for you to stack up. This cup is made of very high-quality glass materials, so you can feel that this cup looks very shining and high white under the sunshine. In order make the cup stack up and stand firmly on the counter, the designer enhanced the glass bottom, so you can stack them up in the kitchen, living room, counter or party, When you're not using the cups, which will save a lot of space. Although we engraved the pattern on the glass cup, it's also very smooth and very easy to clean, and you can put it in the dishwasher, which requires little washing liquid. If you run a gift shop in an Asian market, this glass is perfect for you to stock, because koi is the symbol of good luck and are very popular in Asian markets.

The design of the glass set can be used for many important events such as birthday parties, Christmas gifts, housewarming gifts, New Year gifts or other special events, because this glass not only can be used as a daily service of water,juice, milk or other beverages, but also Perfect for camping, party, picnics, etc.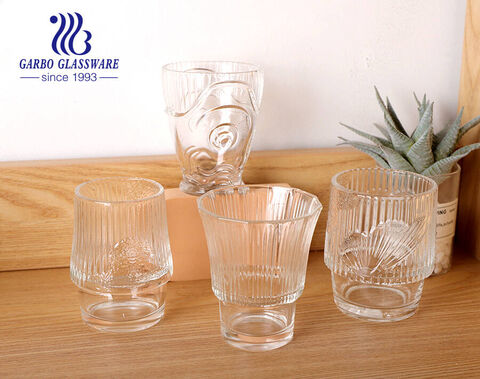 In addition to clear koi fish glass set, we also have amber color design. Many customers prefer amber color because this color looks more beautiful and noble. For the amber color, we use the ion plating post-processing method to custom it, which will not fade away after long time. Ion-plated colors are also dishwasher safe.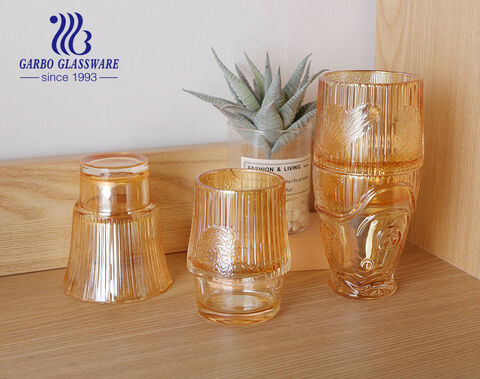 The luxurious koi fish design is very attractive and when you put them on the table, it will attract many customers to make consumption. What's more, glass sets are ideal gifts for friends or relatives on special festival like New Years, birthdays or housewarming parties.
In addition to koi fish design glass cup, we have many other styles for you to choose. If you are a new store, we will be your good partner, because we have a lot of stock products for you to choose and back you up greatly.