Pulished on Jan. 14, 2021
When it comes to a new bottle of wine, there's one important step between corkage and enjoying a glass: decanting. When you want to taste wine in joy and happiness with your family or friends, whether it is any place or party, the decanter is a very good wine partner. To be honest, the decanter is indeed born for wine. To decant wine means pouring slowly the wine from the original bottle into a different container, without disturbing the sediment at the bottom of the bottle. Wine decanter designs are mostly swan, cornett, duck, and standard decanters, which come in small, medium, and large sizes.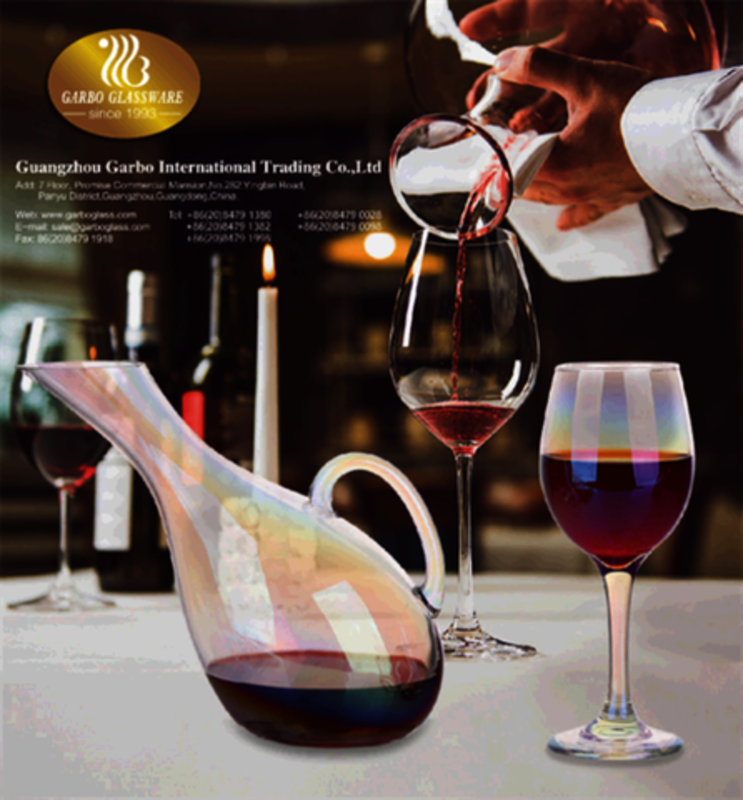 As you know, we are an experienced exporting and manufacturing company of glassware. To offer more choices to customers, besides separate decanter, we also have set. And now we new design decanter sets with 4 or 6 glass wine goblets with ion plating design, which shows rainbow color.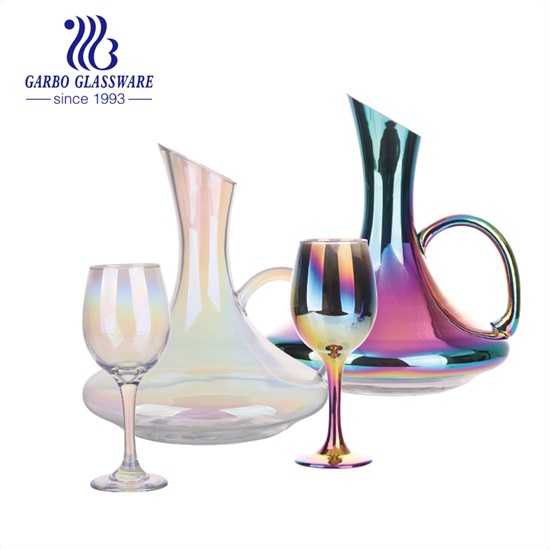 High Quality Glass
Our decanters and wine goblets are made of very high clear crystal glass which is safe and harmless being environment-friendly and safe-using items to any room or kitchen with a modern and elegant design. Impressing your guests and friends, amplify the ambiance and enhance the purity, aroma, and taste of your favorite red or white wine with our wine pourer. They are perfect for all kinds of wine, like Merlot, Cabernet, Pinot Noir, port, and other bottles of wine.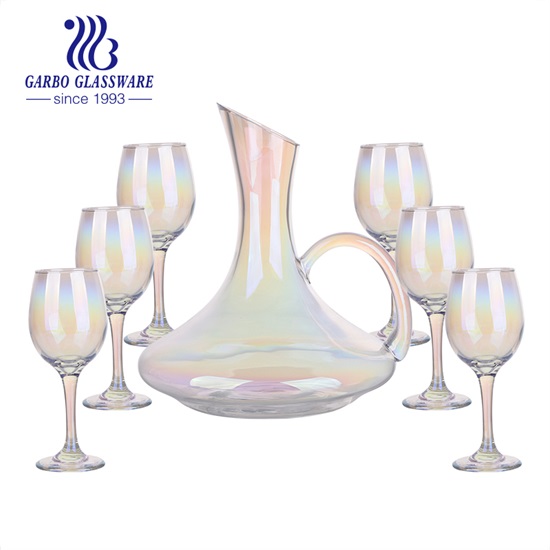 Provide your Wine with its Own Chateau
To set free your wine from the grasp of an air restricting bottle by letting it flow into our elegant crystal wine decanter. Decanting the wine from the bottle to oxygenate the wine and releases its rich aroma and flavor.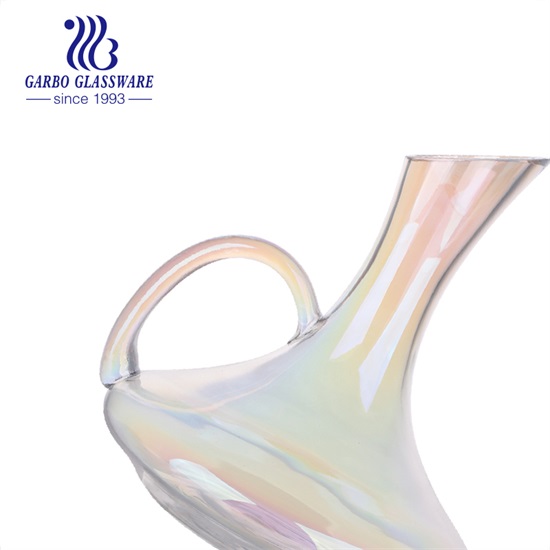 Perfect for a Standard Bottle
The volume for the glass decanter is pointless, what really matters is how much breathable surface area a bottle of wine is exposed to in the carafe. When an entire bottle of wine is poured, the wine reaches the widest diameter on the glass decanter, which allows for maximum aeration. So that's why decanters is a wine accessory for a wine lover like you.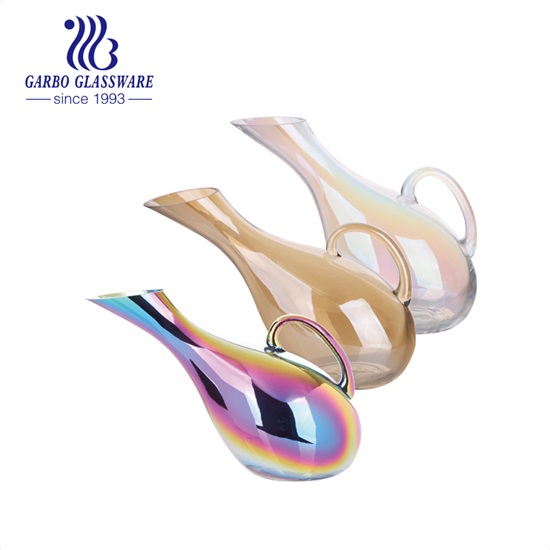 Special Colors
After making the clear glass to be ion plating, they can show different colors, grey, blue, amber, etc. This time we have made them be rainbow color, which looks really elegant and nice. I know you may have a question to ask me: Are they safe? Don't worry. Glassware with ion plating would never fade, and they can pass FDA, etc, and also good for dishwasher machine.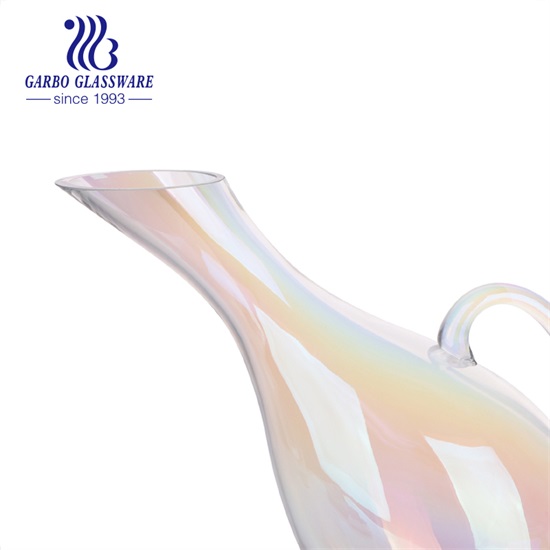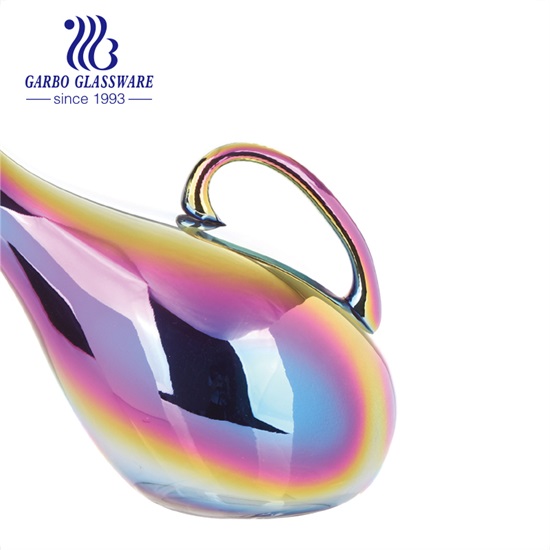 Free Matches: Makes the Perfect Present
Our wine tasting set is very flexible. No matter you like any decanters, any designs of wine goblets, they can all make into a set. So they can be a great gift item to sell in your souvenir and gift shops. They are suitable for customers to send to any "wineholic" friends when they are celebrating weddings, or birthdays.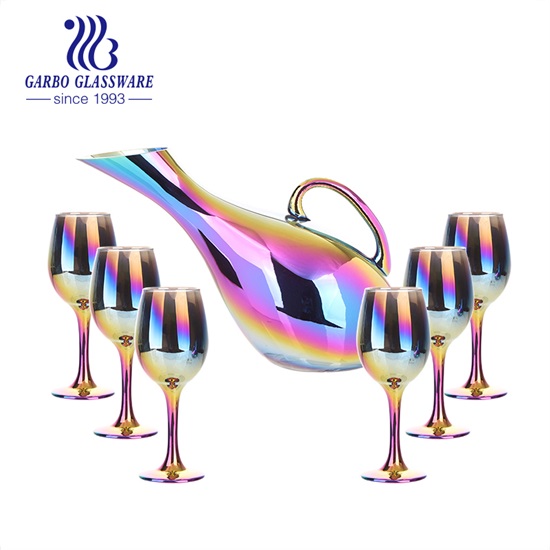 If you like them, you can send us an email or call us.
Welcome to your inquiries.