Pulished on Nov. 19, 2022
Garbo company is one of the biggest export companies for glassware items based in China. We have a professional design team, so we promote new glassware item designs to our customers. High borosilicate glassware items are one of the hottest sales glassware items in our company. This kind of glassware item can burden high temperatures and also can This article will introduce some of our new designs for high borosilicate glassware items to you. Here below are some of our new designs.

Decal single-wall glass cup produced by Garbo Anhui Factory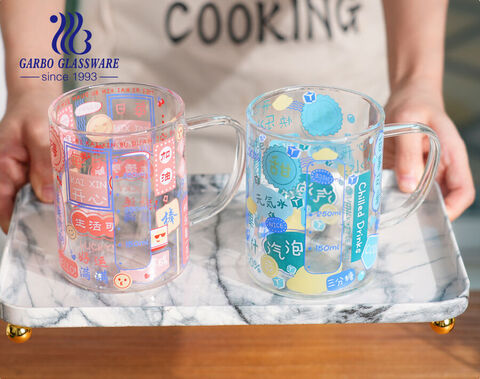 1. This is a single-wall glass cup kind, we have two kinds of high borosilicate glass cups for you to choose from. One is a single-wall glass cup and another is a double-wall glass cup. You can select from two kinds based on your own needs. In this cup, you can find that there is fish in the middle. When you pour water into this glass cup, this will be more decorative and beautiful. We can also customize other different molds or animals in the glass cup. If you want a colored borosilicate glass cup, this is also available. This kind of glass cup is very suitable to be as a gift for your friends or your family members.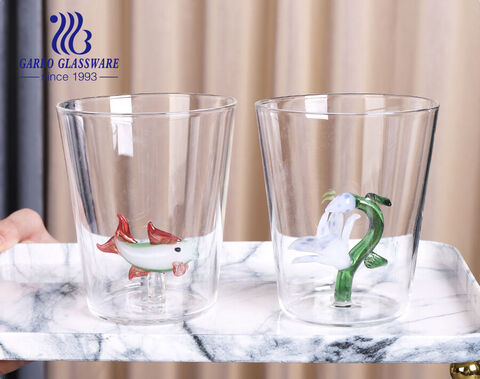 Single-wall Glass Mug with Volcano Bottom Produced by Garbo Shandong Factory
2. This is a single-wall glass mug with a colored handle. The unique feature of this glass mug is in the bottom of the mug and you can find there is a volcano at the bottom. When you pour the water into this glass mug. It will look more beautiful. You can drink your water with happiness. By the way, you can also choose your own liked colors for this glass mug. We can also do customized designs based on your idea,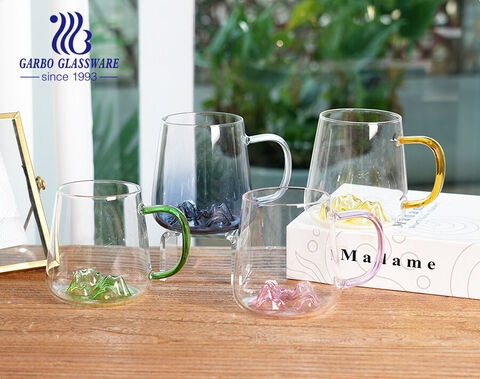 Cute Single Wall Glass Mug for Festivals
3. In the next month, there will be many important festivals such as Christmas and new year. This glass mug is very suitable to be a gift for such important festivals. Because the surface of this glass mug is plain surface. So we can customize some different and interesting patterns or words. The MOQ for each design is just 3000pcs. So if you are a retailer or have an online shop, you can also purchase this in your shop to be sold. It will be one of the best seller.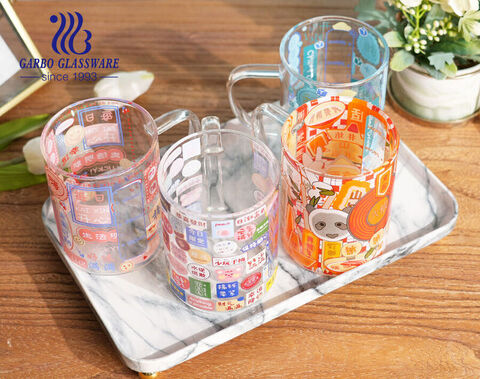 We have so many high-borosilicate designs. The designs in the article are just part of our designs. We develop different designs each month and help our customers to win the market. If you are interested in our items, you can contacrt us to get more details, we have many designs for you to select from.