Pulished on Sep. 28, 2020


Why they are amazing?
The designs of the glass cups are very simple but very wonderful.
The wall of the cup is very thin, crystal clear, but the bottom is very thick. This obvious contrast makes people feel very shocked. The volume of this cup is 275ml, which is medium in size. It is very suitable for a variety of beverages.

It can be said that with this glass in hand, you have all the drinks. You can use it to drink different drinks. Every beverage and every color presents a different beauty.
Perhaps the beauty of these glasses is more than just how beautiful they look. Their beauty is also shown in the details. Pour wine or other colored beverages into the glass, and slowly turn the glass, you will find that looking at these glasses from different angles, they show the details of different mountains. It is equivalent to observing a globe like a mountain. I think the biggest reason is that these glass cups are slowly hand-made by the workers one by one, so their details are so detailed and natural.

How's the experience while using?
Whether it's out of happiness or something sad, you might want to drink some alcohol. So when you pour whiskey into these glasses, the amber color of the whiskey makes the mountain at the bottom of the glass an orange sky, which is very beautiful. So when you are in a happy mood, you must enjoy watching the beautiful scenery of the beautiful world that is shown to you in the cup. When you are depressed and dare to bring unhappiness, the hazy and beautiful scenery at the bottom of this cup will make you feel healed and can make you temporarily forget the unhappy things and focus on the scenery at the bottom of this cup.

Ice burg designs
I believe that many people have seen what the mountains look like. Few people should know that if these glasses are made of glacier patterns, it may be a different kind of beauty. The same is handmade by workers, and you can see different scenery at 360°. You feel like watching the spectacular scenery of a circle of icebergs.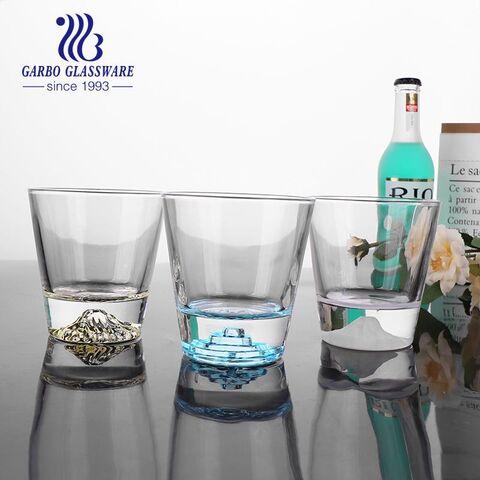 Processing with different colors
A transparent cup may require a colored drink to show its beauty and specialness.
But our designers feel that when you drink colorless beverages such as lemon juice and soda, you may not be able to feel the specialty of these glass cups. So our designer has a very good idea, that is to spray different colors of paint on the bottom. This way you can drink vodka or lemonade without feeling monotonous. The point is that you can choose any Pantone color you like!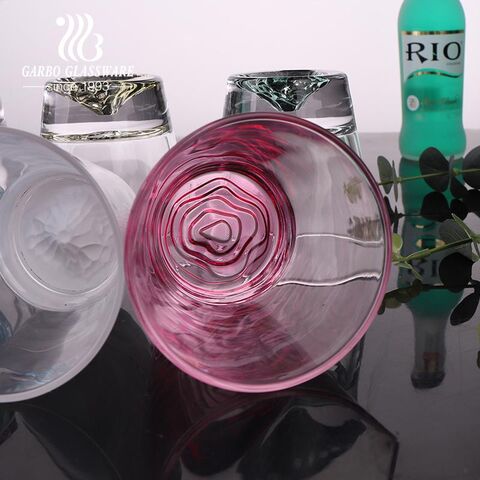 Wonderful gift items
Don't you think these special cups are particularly suitable as a gift? If I receive a gift like this from a friend, I will definitely be very happy. And if it were my favorite color, I would definitely be happier!
So, are you moving to?
Welcome to call Garbo or send us an e-mail to inquire about these cups. We always welcome your inquiry!