Pulished on Jul. 31, 2019
The art of embossed glassware
Maybe you don't know anything about an embossed glassware or perhaps you've never heard about this word. But believe it or not, you must have one in your home or at least you've used it. So what is embossed glassware? It's just simply as what it says, which literally defines that there must be some sort of embossed pattern on its glass appearance.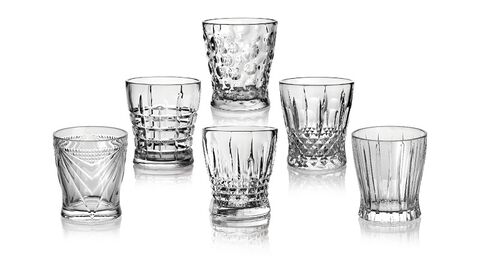 Why do we emboss the glassware? First of all, we need to change a bit on the plain clear glass which has been used popularly since glass cup was invented. Moreover, we want to target at consumers from every market in the world by embossing different patterns on the glass to match different cultural preference. Especially some embossing designs make the glassware much more luxury, profitable and valuable compared to its plain clear version which has same size and quality. Secondly, embossed glassware is considered as the result of global economy recession. Glassware factory requests MOQ in a huge quantity for a glassware mould which only outputs one design of product, but if we change the craft a bit, we can sell several designs based on the same mould and MOQ.
What glassware do we usually emboss? Basically it is just glass drinkware or barware, including cup, ice bucket and glass pitcher. Or very large size decorative table glassware, such as glass fruit bowl, plate and jar. For embossed glassware, we usually use or recommend clients to use colour box for packaging.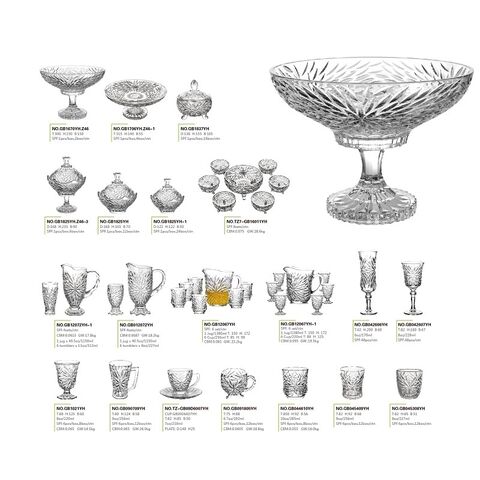 How about emboss glassware? I'd say it is absolutely perfect for every market worldwide because you can customize your own pattern designs on the glassware according to your own market, usually a batch of manufacturing-the MOQ accepts 3-4 different but similar designs. Besides, we Garbo Glassware has our professional designing team, we launch new designs annually on our own mould of cups, ice buckets and pitchers. Now we've just launched our latest embossed glassware products for the 2019 autumn Canton Fair, we look forward to having your inquiry!