Pulished on Nov. 22, 2019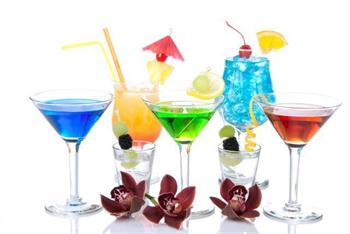 Today, cocktail become very popular in our daily life. The quality of the wine and the skill of the bartender is the key of the cocktail. And the glass cup is also one of the important factors for the success of cocktail make-up.
Different styles of cocktail glass cups will convey different flavors, colors, tastes.
Cocktails are mainly divided into 2 parts: short drinks and long drinks. Short drinkis means those which its alcohol degree is high, and small size of glass cup would be more suitable; But for long drinks, use corin straight or goblet is OK. There are totally three basic specifications for drinking Cocktail, one is the common round tall cocktail glass, its standard capacity of 90ml; another tall glass for large cocktails, which capacity is about 120ml to 150ml. And the standard capacity of the inverted triangle cup is 50ml. As you see, the Cocktails are not only colorful, but also the cocktail glass cups are diverse and distinctive
Old fashioned glass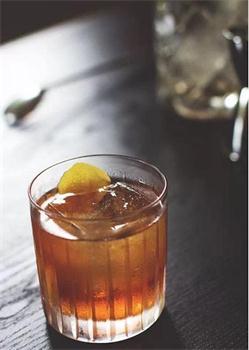 Suitable for short drink cocktail, and will add ice when drinking. For cocktails: Negroni, Gimlet, White Russian Cocktail, and also the Old Fashioned!
A cup of wine, not only is the color of the wine, but the pursuit of art and beauty, is the careful taste of life and love.And wine cup serves as the carrier of all these, more crucial.
Martini Glass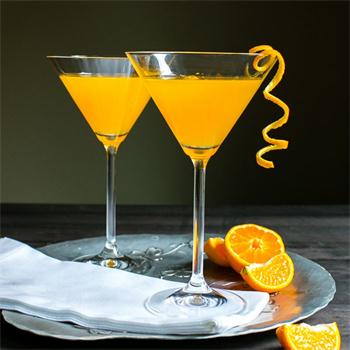 Martini Glass is the most common cocktail glass cup,So it's often referred to directly as a "cocktail glass". Capacity usually to be 5-10 ounces and can be used for any type of martini cocktail.It also can be used for a variety of high-alcohol small cocktails, from Cosmopolitan, Manhattan to Sidecar.
Margarita Glass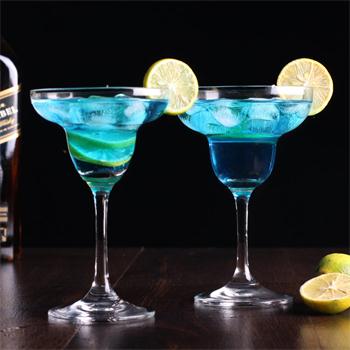 Margarita Glass, is designed specifically for tequila based margaritas, it is slightly larger than a martini cocktail glass and usually holds 10-15 ounces of wine.It is characterized by a high handle, a small bottom and a large top;The top edge is usually decorated with salt, lime slices or other garnish.It can be used with many cocktails, like the Daiquiri.
Hurricane Glass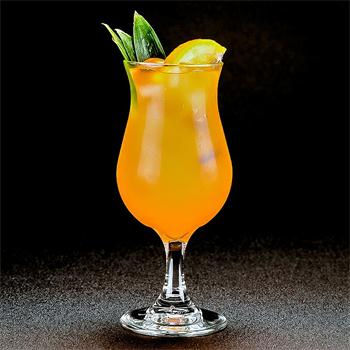 Its feature is a short handle and a long body, shaped like a hurricane lamp.With a capacity of 16-20 ounces, it is ideal for all kinds of tropical frozen drinks. For example,Tequila Sunrise will use this glass cup for containing
Collins glass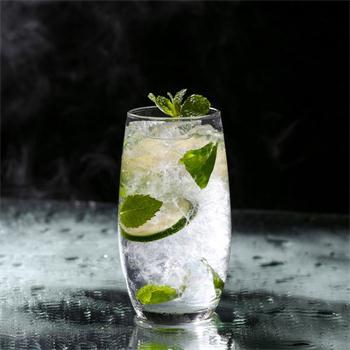 There are also another name for it, called Tall Highball Glass. Volume usually to be 10-14 ounces. Singapore Sling Cocktail will use this glass cup
Flute wine glass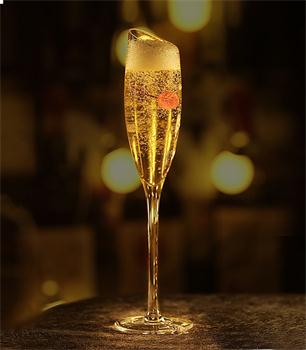 This kind of cup is mostly used for those the cocktail that is based on sparkling wine, such as Cremant, Prosecco, Champagne. Slender cup body, can more highlight the meticulous bubble. The diamond bit is used for polishing the bottom of the glass, which The number of bubbles will increase when use the diamond drill which are special for making wine, and then let them rise slowly along the inside of glass cup.
But what we should know is that Ice cubes can not be added to a flute cup. But we can place the cup in the freezer for 10 minutes before using.
Leisure time in the bar to drink cocktails, different wine match with different glass cup, to add different color in our life.