Pulished on Dec. 10, 2021
Clear glassware products are considered to be the most healthy products for daily drinking use.

Here introduce you to some best-selling glass mugs in different countries.
1st
Glass tea mug in middle east countries
Garbo new design transparent glass tea mug with handle 5.5-ounce coffee cup clear teacups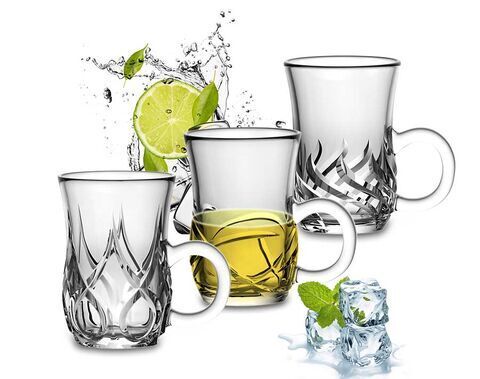 Description:
Garbo's new design on the traditional Turkish glass mug, there are 12 designs in total, and you can mix any 4 designs at a production.
These glass mugs are all about 160ml, equal to around 5.5oz.
Not only with the design, but we also create. If you can have your own idea, we can make it for real for you if you can pay the mold cost or have a big order.
The mug with this shape is popular in middle east countries and Turkey, so it owns another name Turkish Teacup.
How can we create so much design? Because we have a very professional designer team. No matter the design on the cup, package box design...all can be made.
The regular and common way to pack these products is 12pcs laying in a universe box, or 6pcs standing in a box, but these are all up to you.
Check more designs, contact Emma's email: [email protected]
2nd
Popular Glass coffee mug in Europe
9oz Irish coffee cups glass cup with handle stock glass mugs with stand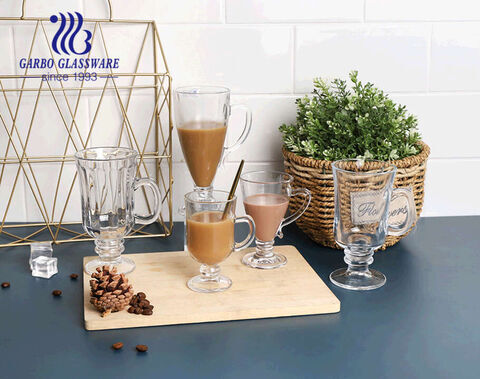 Description:
The glass coffee cups in the picture are in different sizes, which are about 5oz to 9oz. And the most classic cup is called the Irish coffee cup, they all with feet. This design makes them look more luxurious and nice.
These glass mugs are very perfect to use for coffee, tea, milk, and any other drinks you like. And all with high white glass material, which with high quality to meet the Europe Standard.
You can find different items from Garbo Glassware. We have traditional items, creative items, fashion items for your choice. Provide goods with different quality range to meet different customers' demands. Trust Garbo, we will always be your partners.