Pulished on Nov. 27, 2020
As we all know, the sunflower pattern is very popular in Arabic countries. This is not only related to the region but also related to their culture. Arabic country is one of the biggest countries that consume glassware products. They do not just buy the normal glassware products used in daily life such as glass cups, glass mugs, glass ashtray, glass vases, and they are also in favor to buy miscellaneous items such as glass footed plates, glass bowl sets, glass pitcher sets. These miscellaneous items also are used in home decoration. Because the Arabic countries is a big market and they prefer the sunflower pattern. So Garbo has developed the sunflower series including different kinds of products. This article aims to introduce some different kinds of products about this series to you.
1.Glass footed plate:
All of the glass footed plate is made of high-white soda-lime glass. So this is very transparent and clear just like crystal. The upper part is the glass bowl full of engraved sunflower pattern. The difference between the footed bowl is mainly in the upper part. Some are in round shape, some are in the square shape and some are in an octagon shape. Here below are the pictures you can see: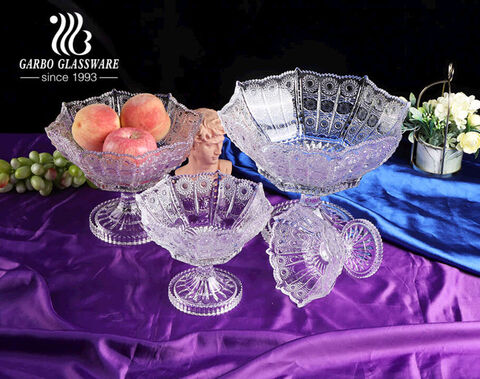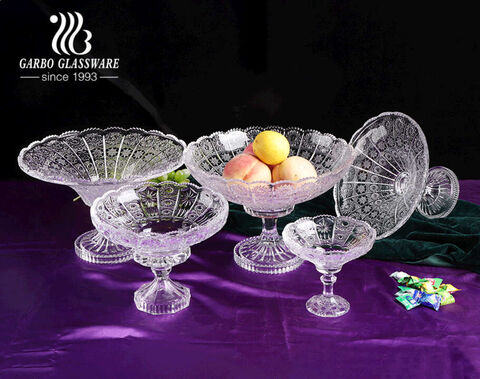 2.Glass Tumbler
The tumbler is also made of high-white quality soda-lime glass. Actually, this series all is made of high-white glass material. There are several kinds of tumblers for your choices. All of these tumblers are engraved sunflower design. So you can choose them to form a set with the water drinking jug. You can use this tumbler for water drinking, tea, and juice.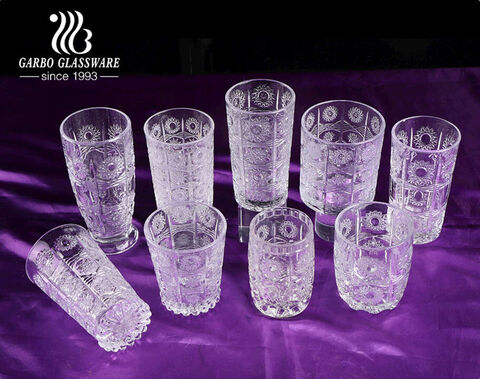 3.Glass cups and saucers:
This is very suitable to drink tea or coffee with a small spoon. Always we pack 6pcs cups and 6pcs saucers in one gift box. This package is very popular in the middle east market. Also, you can print your own logo or brand name in the package.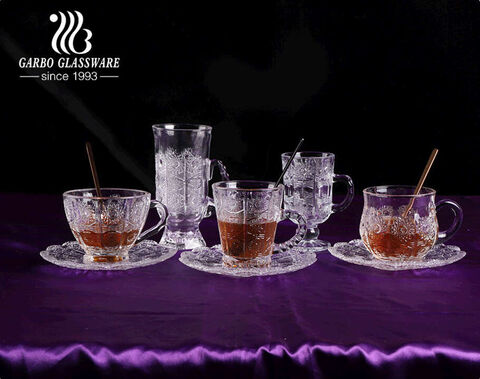 4.Water drinking jug set:
Because most Arabic countries are very hot. So the glass jug is a very important item in their daily life. The water drinking jus set is also very popular in the Arabic market. Because they can drink cold water, beverage, or tea with their family member. The sunflower series water drinking jug has combined the jug with the popular sunflower ingredient.