Pulished on Aug. 22, 2019
Why is glass lunch boxes work better than plastic ones?
In this article, we will introduce the common product, glass lunch box. When we are in the supermarket, we may face the situation of chosing the glass ones or the plastic ones. Today, we will make a list of the advantages of glass lunch box.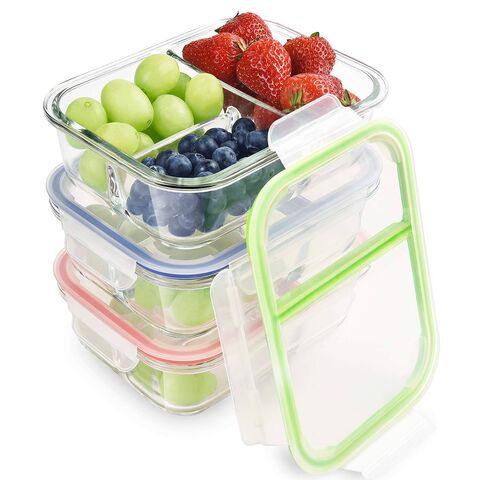 1) Glass lunch box has better sealing and preservation properties. To keep the food fresh is better and is safer to use.
2) Health and safety: The box body is made of high-borosilicate heat-resistant glass, the cover is made of high-grade PP, imported silicone material, without mercury, lead, cadmium (such as heavy metals), PVC and other harmful substances, which is harmless to the human body. It is green environmental protection products.The glass lunch box is made of borosilicate glass and the lid is made of food grade material.It does not contain toxins that may cause harm to the human body. It is a green health product.The glass lunch box made of borosilicate glass is very safe to use. If the glass lunch box is made of high boron material, the instantaneous temperature difference can reach more than 120℃.
3) In the long-term high temperature or low temperature environment, as high as 120℃, as low as -20℃, can be used safely.It also can be used in a dishwasher and is easy to clean.
4) Not easy to leave odor, it is easy to remove odor.No matter how hard it is to clean or how smelly the food is, it is easy to remove and doesn't leave a bad smell.It is safe and hygienic to use.
5) The appearance is simple and high-grade, borosilicate glass lunch box, box body is transparent, can clearly see the food in the box.And it's easy to carry.
6) Borosilicate glass lunch box can be used to store food, many women will use glass lunch box to store cosmetics.In short, it can store all kinds of suitable food and articles, which can be used for a wide range of purposes.It can also be used in ovens, dishwashers and refrigerators.
Our products:
Garbo glass lunch box can match all above advantages, there are 3 shapes, round, square and retangular. Our glass lunch box includes polished ones and decals ones, also can be with the devided comparments. Besides, our glass lunch box contains various capacities for your chosing. If you are interested in our products, please feel free to contact us!