Pulished on Aug. 16, 2019
If you want to import Alibaba wholesale glassware from China, then this article will teach you how to use Alibaba in the right way so that you won't suffer losses.
However, you need to be prepared before you start looking for suppliers of china glassware. Therefore, I strongly suggest you look at this strategy first.
Alibaba is one of the largest Asian B2B websites in the world, so it is most suitable for us to find glassware suppliers. There are many sellers on Alibaba, so you must know what need to import .
What glassware depends on your thoughts and your local market.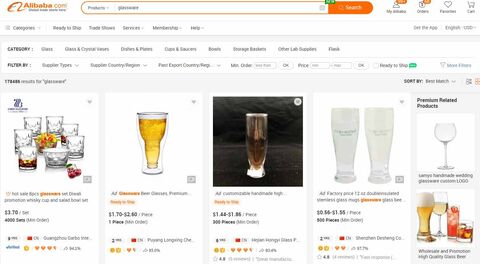 Tip # 1: Never assume anything
When communicating with suppliers, no assumptions should be made about product availability.
I have tried many times to sell me products that are not displayed on its website. In contrast, I also require product samples that are displayed online but are no longer provided by suppliers.
In general, suppliers' websites are not up-to-date, and some suppliers are better than others in maintaining their online products. I even have an example, after paying the sample, the supplier came back to report
Tell me, 6 of the 9 samples ordered have been discontinued.
Do not assume that something is available or unavailable. Please be sure to inquire and confirm before ordering, especially pay for any samples.
Tips for Questions:
Are there any new glassware products or designs currently not displayed online?
Has the glassware displayed online been discontinued or no longer available?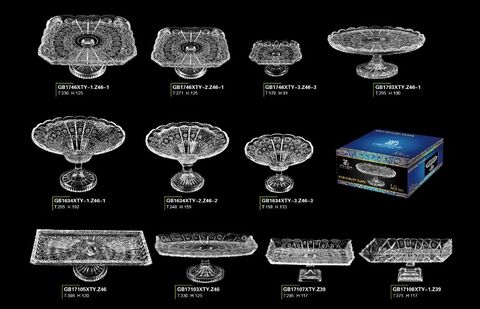 Tip # 2: Don't be afraid to communicate with suppliers
Most of the suppliers I have dealt with have responded in a quick and friendly way, which has strengthened the importance of building relationships. Although in a few cases suppliers seem to respond slowly, most suppliers
Both are eager to participate in dialogue, answer questions and discuss samples.
In most cases, their English writing skills are very good. Their ability to send and receive e-mail exceeded my expectations. In addition, please make sure it is free of charge and not excessive. For example: "I am
Looking at your catalog and noticing that you have some very good products ... "
The supplier is a real person, just like you and me. Don't be afraid to jump in and start the conversation.All details about glassware can be learned from it.
Tip # 3: Excessive Friendly Selling Needs Decisive Rejection
Some suppliers are almost too friendly. This may be due to cultural differences, but when I said it was too friendly, I meant to send 2-3 emails every day asking if you want to explicitly refuse or not
Say 3-4 times before viewing or purchasing certain content.
Editor's note: I never use my main email address to communicate with Alibaba to avoid being sent spam by suppliers.
Although I am sure that most of these people have good intentions, but this kind of frequent promotion is still very annoying.
Trust your intuition. Give people the benefit of doubt, but be consistent with your intuition.
Hint: If you are trying to purchase custom glass mugs and the supplier is trying to sell you cat beds for the fourth time in 5 days, then you have time to click on the spam button.
Tip # 4: Communicate as concretely and efficiently as possible
Customize supplier inquiries for specific product categories. This may sound obvious, but from the very beginning, you will know very specifically what products you want to buy, including product type, size, post-processing technology, etc.
For example, I am looking for all kinds of decal wine glasses. When I sent an initial email to a glassware manufacturer, I accidentally received photos of non-violent glasses, which caused some problems.
Chaos.
I also recommend using email templates, but please make sure to customize 10% email templates for each vendor. If you want decals, please indicate in your email that you are looking for polyester.
Small parts.
Otherwise, like me, you may receive different and most likely cheaper products or materials than you expected.
Don't assume anything about product details.
Hint: Very specific and requires suppliers to confirm product specifications before production and delivery.
Charges To Import From China And Alibaba By Air And By Sea
Tip # 5: The supplier's goods may not meet your expectations 100%
For Alibaba and global sources, "what you see is what you get" does not necessarily apply. Although I did all the things mentioned above, I did not order the samples I received several times.
A sample of.
When I asked the supplier why the product was different from the one I ordered, the typical response was: "the product has been discontinued or we only have another product to ship ... etc.,"
You will never have a second chance to make a first impression. Don't be afraid to let suppliers take responsibility. Some people may not agree with this, but my idea is that if they cannot get a simple one
The sample order of is correct, and the possibility of screwing up the batch order may be higher.
Prompt ☞: Confirm sample orders before delivery and request sample photos to ensure its accuracy.
Tip # 6: Most suppliers expect wire transfers
Pay! Most suppliers allow you to pay through PayPal. Some people have PayPal, but they won't tell you unless you ask, so be sure to ask. In fact, for most suppliers
For example, I used the following wording: "Our company policy stipulates that PayPal will be used to purchase samples for the first time".
Although most suppliers accept purchases through PayPal, they certainly prefer and default to T/T (wire transfer) or Western Union remittance. I paid a supplier through Western Union remittance and did not
Any questions. I find it as simple as PayPal, but for Western Union remittance, you cannot get a refund. Once the money disappears, it disappears.
Moral of the story-PayPal is used to pay for most samples, but don't be afraid to remit money by wire transfer or Western Union. This is not the end of the world.
Hint: I suggest you pay with a supplier by wire transfer (T/T). If it makes you feel better, please select the supplier that you will pay less for the sample. Although it is only a suggestion
However, doing so will help you become familiar with all routes and logistics related to international wire transfers.
If you decide to pay by wire transfer, please ensure and confirm that you have the exact wire transfer information, including beneficiary information, address, shortcut code and account number. This point is not emphasized enough.
I learned a lot from a supplier, and I spent $75 on wire transfer. If one character is incorrect, the Bank of China may transfer your funds within an uncertain period of time.
Gaps in China's banking industry. In addition, you have to pay extra fees to the bank to recall or modify the wire transfer.
How To Pay Your Supplier in China + Alibaba Supplier Payments Tutorial Guide
Tip # 7: Any important link needs to have real samples.
The sample is an investment. Pharmaceutical companies are notorious for spending millions of dollars on research and development every year. Most drugs cannot pass clinical trials. Some drugs will not be approved by FDA, but a few do
Drugs that can surmount all obstacles will make the investment worthwhile.
Although buying samples looks daunting, please be sure to keep perspective. Compared with the initial investment of subway or UPS store franchise, the risk/return rate of online store is much higher, not to mention life.
The difference in methods.
Don't be afraid to spend money on samples. You must know what you are selling before you can sell it. You will learn a lot in the process. Be wise according to your budget, but don't be afraid of losing.
Lose and shrink back. The sample of glassware is very important. You can see whether the colorant and packaging of glass are correct, which will affect the future sales of your products.
Hint: Ask suppliers about the sales of their top five products. Take some time to find your favorite products, because there will probably be more products you want to see with your own eyes than those you are willing to pay for.
Products. According to photos, product descriptions and supplier suggestions, choose the best.
Tip # 8: Pretend to be a big buyer
Please use "us" instead of "me" and "ours" instead of "mine" in your email to suppliers. Sam emphasized this point many times in his lessons. This not only makes your
The company looks bigger than it is now, and it also shows a sense of teamwork and unity.
Hint: This is the actual email I sent to the supplier after receiving the sample. Pay attention to the use of the words "we" and "ours".
Hi Tina,
We want to confirm that we received the sample today. In the next few months, we will meet with many customers to discuss your products and potential plans to advance bulk purchases. We will definitely let you
Understand our plan.
During this period we did encounter some problems:
1) Do you provide OEM service (logo)?
2) Can you make it according to the specific size and color requirements? (For example, if we want to buy 5 different products, each product has 3 colors and 2 sizes. )
3) What is the minimum order quantity and delivery time for batch orders?
4) How do you deal with product quality problems? For the product GB03056908, this glass's color, heat resistance and packaging safety.
Tip # 9: Understand the differences between manufacturers and trading companies
Generally speaking, it is easy to judge whether the supplier is a manufacturer or a trading company (wholesaler/retailer). However, I noticed some very obvious trends between manufacturers and trading companies.
As a general rule of thumb, companies that say "import/export companies" are probably not manufacturers, even if their company profiles indicate manufacturers.
With obvious things such as price and minimum order quantity differences, trading companies certainly have more ways to promote sales, while manufacturers seem more eager to build relationships.
However, at the beginning, you may be interested in buying from trading companies because they will provide a lower minimum order quantity (MOQ). As long as you know the trading company's FOB price (price per unit) will be more
High, and there are more mixed possibilities, such as inventory depletion (if they do not create products, then their control over the amount will reduce the inventory in stock)
Moral of the story-know who you deal with in terms of supplier types and the pros and cons of working with manufacturers and trading companies.
Hint: In some cases, I politely asked some suppliers about the percentage of their business in the manufacturing and wholesale industries. Most sales representatives are very happy to share this information.
Which business is better manufacturing or trading business? Know in details
Tip # 10: Prepare to ship the goods to your country
Oh, the fun of international air transportation! Most suppliers will set the freight for you. All you have to do is provide your shipping address and phone number for confirmation. Just know in advance that it will cost you and your arms and
Legs, and the transportation cost may actually exceed the cost of the actual sample.
In addition, it is a good idea to confirm the transportation cost before paying the samples. Some suppliers confuse the two costs, while others separate them and surprise you at the last minute.
It is very expensive to transport samples. If this makes you feel depressed, please remember that the sample (including freight) is an investment!
Hint # 11: For factories that are not sure about the quality, please check with the company.
Companies such as the Asian Inspection Company (now called QIMA) will send representatives to your factory to check some of your goods according to your quality control list. The cost of this service is about 300 US dollars.
Yuan, the cost is very worth it. Once your goods pass the inspection test, you can finally start selling!
Tip # 12: Try to find a professional forwarder for freight transportation.
Professional freight forwarders are conscientious and responsible, and can play a very good role as a bridge. For the cross-border logistics market, the basic large quantities of goods are transported through dedicated lines, air routes, sea routes, railways and other channels.
There will be many risk problems among them. Freight forwarders can solve all potential problems, large and small. It is normal to have more problems in the whole logistics process. They can handle problems professionally.
Tip # 13: Quick Selection of High Quality Glassware Suppliers
If you search for a glass, glass bottle, glass jug, etc, there will be a large number of suppliers, so how can you quickly select them?
First of all, we should choose the gold medal supplier with badges, preferably with trade guarantee. The advantage is that if the supplier fails to meet the terms of the order contract, Alibaba will guarantee your refund, and then from
Price, MOQ, etc.
Tip# 14: Be sure to check carefully the goods received.
The factory has a strict packing system, and the average worker is relatively experienced, but we usually need the factory to send the packing photos at that time. Sometimes the truck tilts or pulls the goods when lifting the cabinet.
Force majeure factors, such as sudden braking, occurred when the child arrived at the port, which all require good communication with suppliers. Glass products are inherently easy to break, so it is very important to ensure the safe arrival of the goods.