Pulished on Mar. 22, 2019
In daily life, we like to customize our special items, and the glassware customization with logo is also popular nowadays. Beside the simple laser engraving to make the logo, also can decal .This process is decaling the pattern to the glass surface and then bake with high temperature to form their specific logo pattern. Today we would like to tell you about the differences between glassware printing and decals and which classical styles worth to own.
One. Technological Process
1. Decal process
Firstly,clear the glassware, and soake the pattern paper in the pure water to the saturated condition. Secondly, attach the paper to the surface of glass cup, then use an elastic squeegee (or wet sponge) to scrape back and forth to squeeze out water and air while keeping the paper wrinkle-free and the pattern unbroken. Thirdly, after the pattern drying, send the glassware to baking.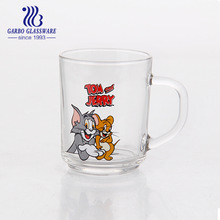 2. Printing process
Firtly,place the prepared glassware in the place where the glass cup is to be printed, and the pattern will be automatically printing on the surface of the glassware. In here, require the glass cup in a normal shape. If there is a glassware with a handle, the machine can only rotate to a certain position, because the handle will block the area which close to it.
Secondly,after printing, transfer to baking to stable the molding.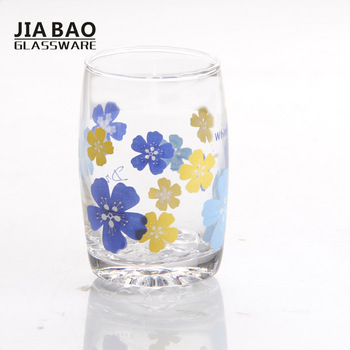 TWO. The Difference Between Printing and Decals
1.Machine automation
The decal produce process is currently unable to achieve mechanized and automatically, requiring manual participation in decals, and printing directly by the machine automatically.
Like below printing glass drinking cup,its shape is easy for the machine do it automatically: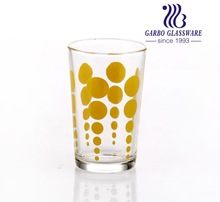 2.Complexity of production
The decal process requires manual decals section, the production process is increased and complex.
Like below decals glass mug,it should hand make to attach the pattern to the glass cup , then baking.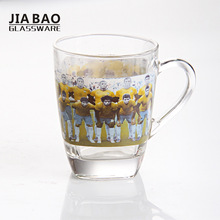 3.Consistency of finished products
Decals are greatly affected by visual and operational influences, no easy to achieve the exact same appearance of the product.
4.Three-dimensional sense
The printing look very attached to surface of the product, and in the edge of the hand making pattern,can feels noticeable thickness.
Looking at the below decal glass mug, don't you think it just like a real picture showing on the surface of the glassware?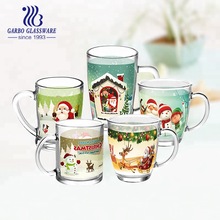 5.Colorful
Decal allow more color, can be more gradual and colorful. printing is directly operated by the machine the color is required to be within several different colors.
Just like the below decal design, it can allow colorful, and the printing just allow four different colors in one glass cup.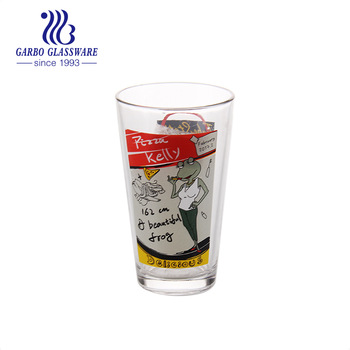 6.Price
In same area, decals are more expensive than printing, because the process and the person participation components are different.