Pulished on Jun. 21, 2021
Glass bowls are beyond your regular usable kitchen items. It reflects a premium lifestyle and speaks volumes of your aesthetic choices. Be it a dinner party or a formal occasion, a glass bowl full of desserts is just the right thing to end with.
However, you can pick up the best lots of high-quality glass bowls from several wholesalers. Here we'll list down the 8 best glass bowls of wholesalers for you. Read on.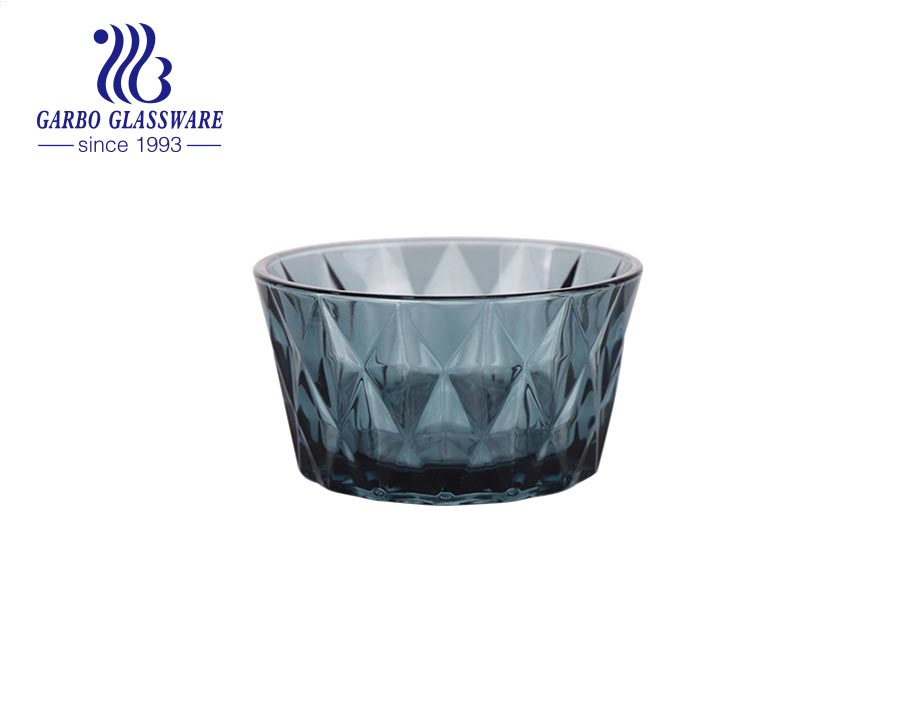 1. Gray Blue Solid Colored Diamond Design Glass
It is one of the most favorites of wholesalers. The item is a sturdy and solid glass bowl that comes in a solid bluish-gray color. It is a heat-resistant material, and you can use it for a microwave oven. Without any harmful chemicals, the bowl is perfect for keeping food items. The diamond design makes it look appealing, and you can serve salad, desserts, etc., in the bowl. Customized packaging and multiple color choices are among its many great features.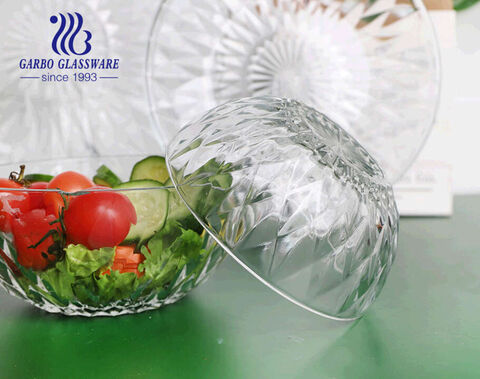 2. Classical Diamond Design Glass Fruit Salad Mixing Bowl Glass
Yet another glass bowl for kitchen daily use is this 400ml mixing bowl. The material is soda-lime glass, and the bowl comes in a classic diamond textured design. The size is about 9 inches, and the color is transparent. You can use the bowl for salad mixing or as a dessert serving bowl. The inner surface is smooth. Hence, it's easy to clean. You can also get customized designs along with variable sizes.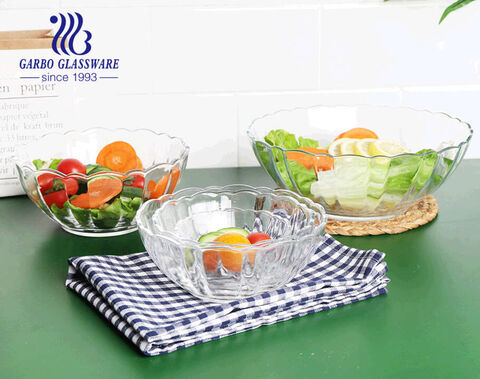 3. Transparent Big Capacity Glass Salad Fruit Bowl
It is a high-quality transparent glass bowl that comes in a package of 6 pieces in a box. The material is soda-lime glass, and the size is 7.09 inches. It is a 1000ml capacity bowl that you can easily use for keeping fruit salads, desserts, etc. The bowl comes with a lotus flower pattern, and you can also get the color spray, golden rims as customization. It is microwave oven proof and easy to wash with a dishwasher.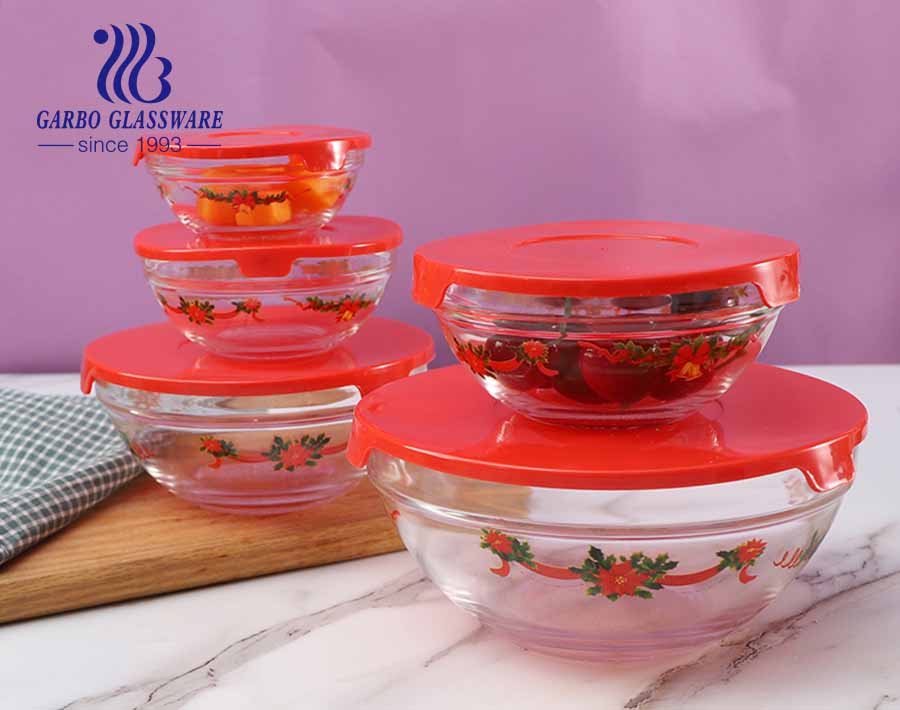 It is one of the most popular glass bowls. The package comes with 5 pieces of transparent bowls of different sizes. The bowls are with logo and tight lids. The material is soda-lime glass, and it is perfect for daily household uses. You can use the bowls for microwave warming and put them into the dishwasher machine. You get customizable printing on the lids. The product is perfect for gifting or keeping salads and desserts.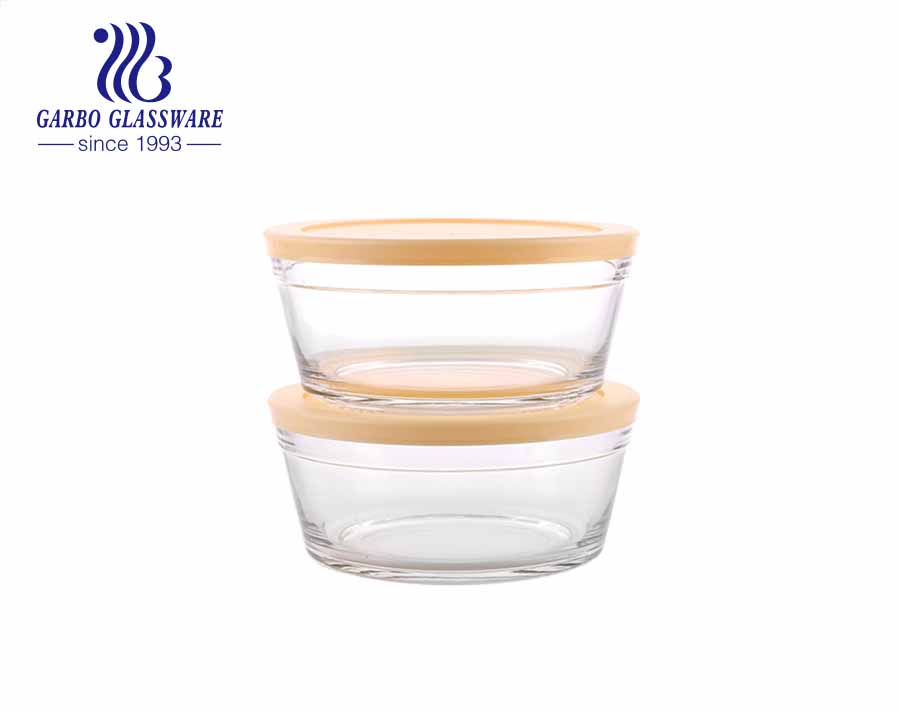 5. 2 Pcs Transparent Round Glass Mixing Salad Fruit Bowl Set
A set of two transparent round glass mixing bowls is yet another popular choice among buyers. The material is soda-lime glass, and the package comes with 2 pieces of the same size. You can use them for preserving salads, vegetables, desserts, and for mixing purposes. It is colorless with a sturdy lid that comes in different colors. The heat resistance feature makes it perfect for microwave oven uses.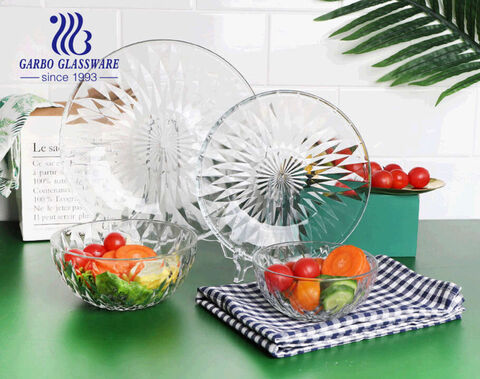 Yet another glass bowl with a classic diamond design is this home use salad glass bowl. It has a high-white glass material that has no harmful chemicals. It is safe to use as daily household kitchenware. You can put salads, desserts, and other food materials in it. The material is heat resistant as well as transparent like crystals. The packaging comes with 6 pieces in a box, and the size of each bowl is 8.86 inches. You can gift a set of these bowls on any occasion.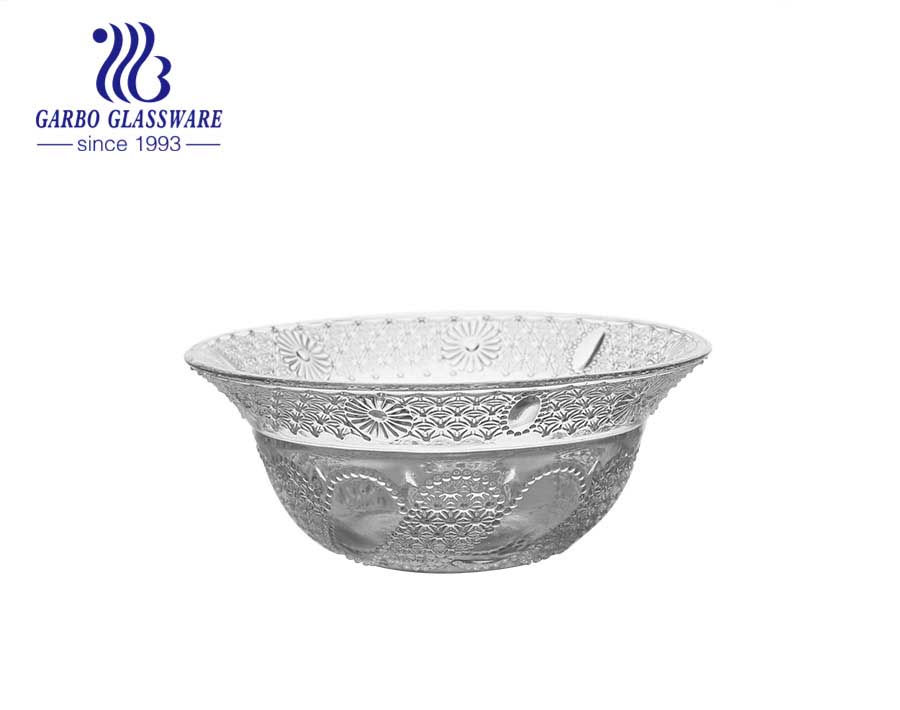 7. 5inch Wholesale Machine-Made Engraved Sunflower Pattern Glass Bowl
It is a small glass bowl with machine-made engraved patterns. This beautiful bowl is 5 inches in size and generally comes in sunflower designs. The package contains 6 pieces in a box. The material is soda-lime glass, and the product is transparent. You can customize it with spraying color, ion-plating, or gold-plating, according to your choice. It is an excellent choice for gifts, and you can serve desserts in this beautiful bowl.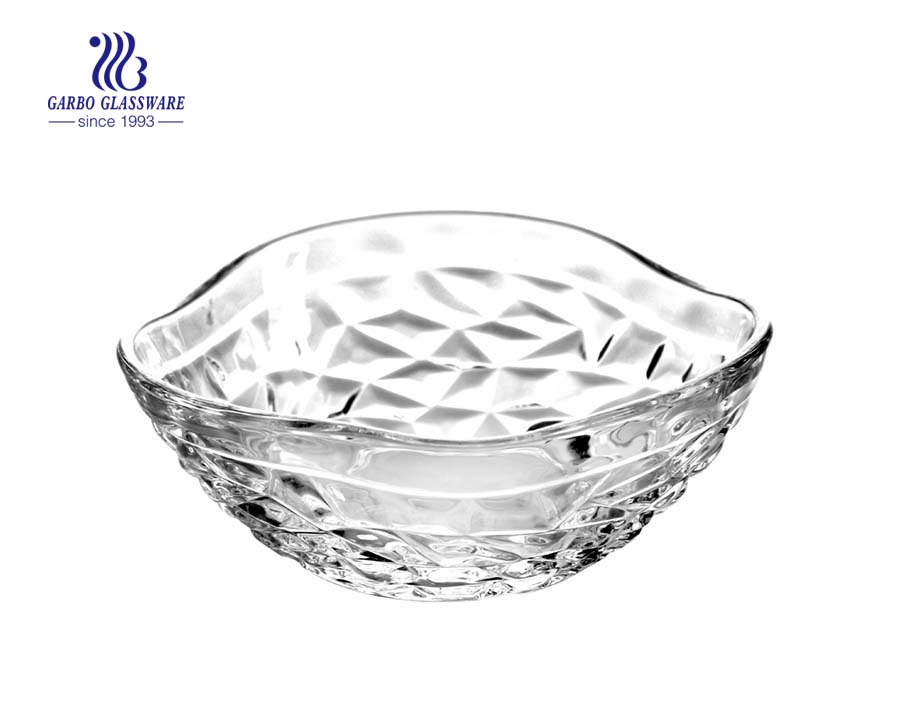 8. Wholesale 5inch Unique Shape Clear Crystal Glass Salad Bowl
This beautiful glass bowl comes in unique shapes with a constant size of 5 inches. The outer surface has gorgeous designs and thus, makes it a perfect choice for gifts. You can serve ice creams, desserts, and other food items to your guests. The color is transparent like crystals, and the material is soda-lime glass.
The Final Note
These are some of the best glass bowls that you can purchase from wholesalers. These are sturdy and stylish at the same time. Hence, you don't have to worry about handling carefully. However, avoid them from falling. Else they will break.