Pulished on Jun. 25, 2021
Glass hotel supplies series is an important product line of Garbo glass products. Today, what I would like to introduce to you is the bathroom accessories set in the hotel supplies series. Bath sets sell well in the South American market and are popular with consumers. They are not only popular in supermarkets, but also the choice of hotel suppliers. Let's take a look at Garbo Glass's bath sets that are worth buying.
1.This bathroom three-piece set is one of our company's most classic products, pressed by the machine, the appearance has a retro pattern. The three-piece set includes a bath bottle to hold liquid soap and shampoo, which can be easily squeezed out because of a metal pump, a soap dish that can be used to put soap without soaking in water, and a toothbrush cup that can be used to brush teeth and hold toothbrushes. The most classic colors of this bathroom set are purple, yellow, and blue, these are the three best-selling colors because this is a color spray product, you can also choose your own favorite color spray on this product.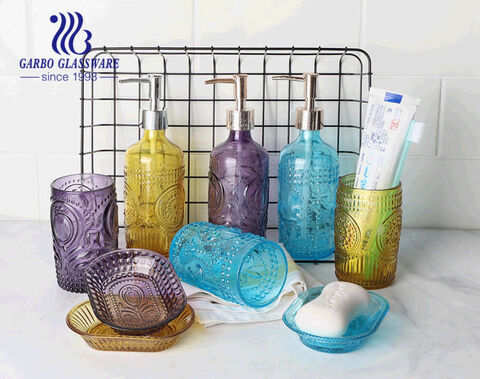 2. We also have a transparent three-piece set, the liquid soap dispenser, the soap dish, and the toothbrush cup are all transparent and smooth. A silver pump head on the shower bottle makes it more convenient to access the shower gel because the bottle body and the cup body are transparent and smooth. We can often make customized designs on it to make the suit more unique and beautiful. Because the glass bottle is transparent, we can also see clearly how much shower gel is left in it so that we can add it in time.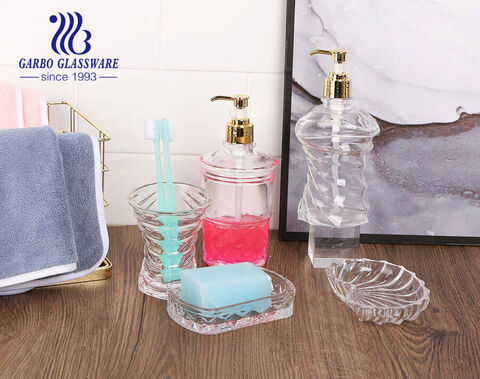 3.In addition to the three-piece set, we also have a five-piece set, which is more suitable for the hotel than the three-piece set, which contains a large glass tray for other products, a shower bottle, a soap dish, and two toothbrush cups. This is suitable for you and your friends or when you and your lover go out to stay in a hotel. Similarly, we can also help you do all kinds of your custom designs on it, so you can customize your own bath set. We will also provide gift boxes and ordinary packaging for you to choose from.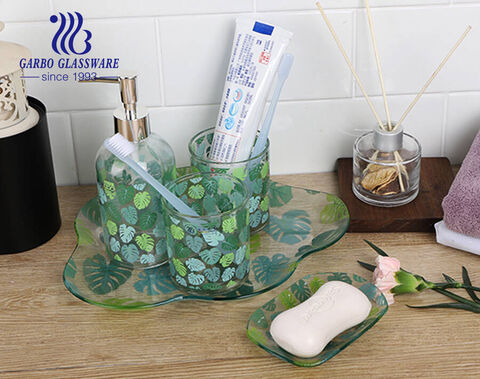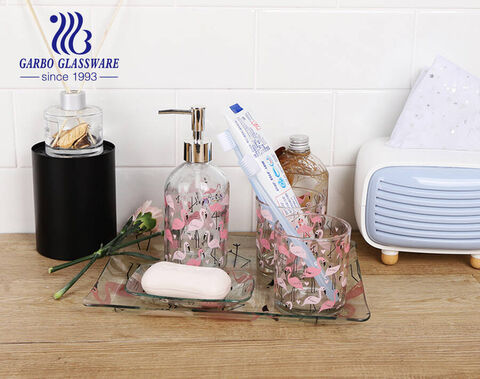 4. If you only use it for home use, we can also sell shower gel bottles, soap dishes, and toothbrush cups separately, and you can buy one or two of them separately. Here are some uniquely designed bath bottles. You can choose either transparent or opaque ones.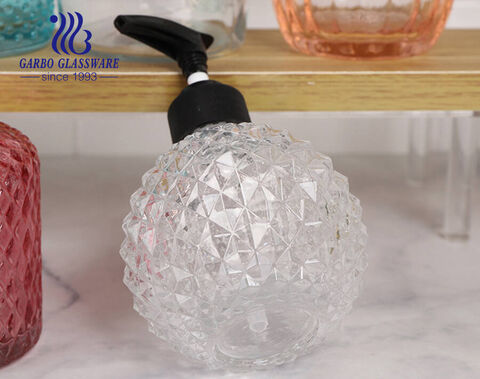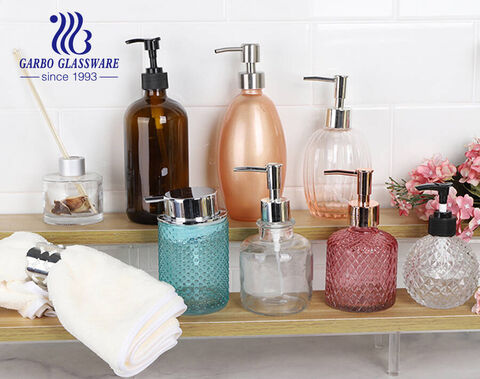 We have more designs for you to choose from, if you are interested, please contact our email, we will send you a catalog for you to choose from and provide you with quotation services.