Pulished on Jul. 05, 2021
Coffee, has been always the first option against tiredness during busy and rush office hours in modern days due to the globalization. There're different coffee cooking methods depends on consumers, from the very traditional handmade coffee grinder to the modern electric machine and latest Capsule coffee machine. To be honest, they bring us very tasty one and we love them all. If we need to keep us awake during office hours especially it comes to 2pm in the afternoon, why not try a glass French press instead whilst we have tons of works in hand that need to be finished and submitted to our manager or boss before 5pm. Glass French press might not bring a pleasure like grinder does, but it does effectively save us a lot of time.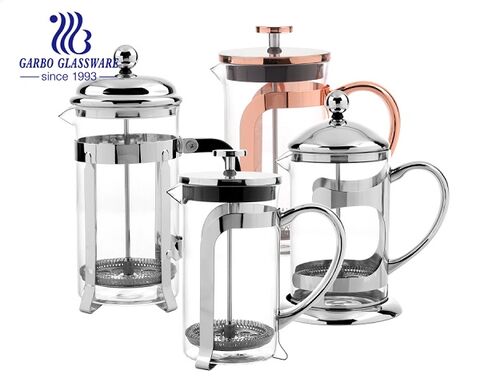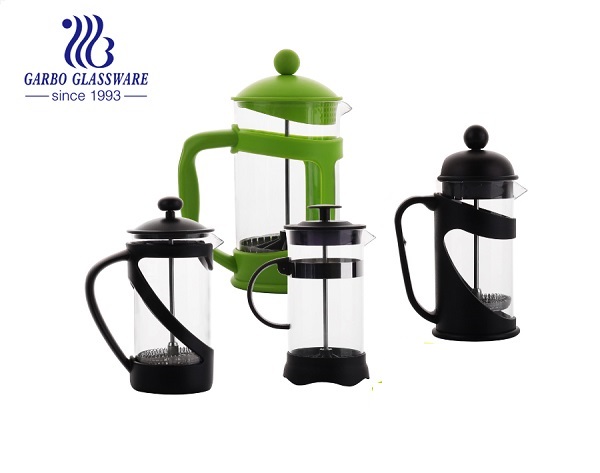 Garbo Glassware manufacture two types of French press coffee pots defined by glass raw material, one is from pyrex borosilicate glass which is heat resistant for even oven and the other from normal soda lime glass which is fairly competent with boiled water for coffee. There's not much difference on appearance or function at all, first one costs higher, by handmade craft with lower MOQ such as 2000pcs-3000pcs, for clients who is engaged in high end markets, whilst the second one costs much lower by machine massive production for markets in economical purpose.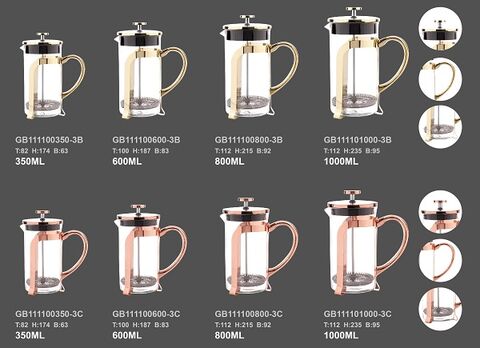 For borosilicate glass French press, Garbo Glassware currently have launched 2 types in accessory range which is the most popular for worldwide market. There is pryex glass French press with 304 stainless steel holder as accessory and cheaper option with PP plastic holder that can be customised colours according to pantone codes provided by clients, both of which contain premium 304 stainless steel strainer for the press part. Besides, we have multi sizes at your option. The most hot sale capacities include 300ML for one person, 600ML for 2 persons, 800ML for 3 persons and standard 1L for family or a small group of colleagues in office.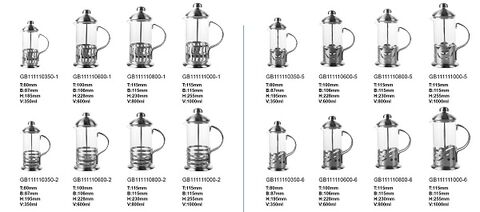 For machine made glass French press with massive production purpose only, we have same accessory options as pyrex glass above and basically same sizes. But the main difference between them is MOQ issue, thus massive production French press is usually recommended for commercial promotion in huge quantity with cost price orientation or markets like Africa, Latin America and Southeast Asia countries where there is consuming advantage on population with lower purchase budget.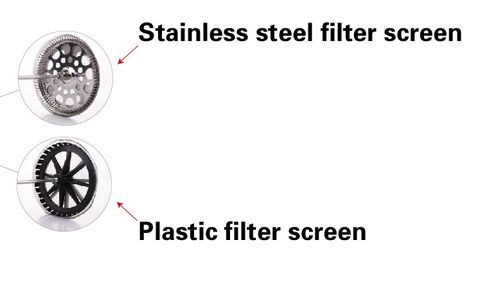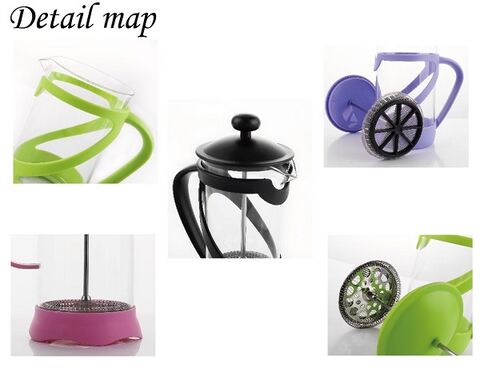 Our glass French press does not only bring quick convenience for making coffee during busy office hours, but also guarantees convenience on cleaning. You will have a cup of tasty coffee within basically 2 minutes, as you just need to put your ground coffee and hot water accordingly all by once whilst our stainless steel strainer with solid density perfectly stops any residue. It is easily cleaned by tap running water that you may need to press in and out to flush away the granule remained inside strainer. Perhaps you'll need to clean the strainer after a long time, but don't worry, a screw driver will do or even by hand to take it apart for a complete washing.