Pulished on Jul. 07, 2021
Hi everyone, it's been a long time since I saw you all, and it's our weekly promotion column again. I don't know if any readers continue to pay attention to our column. We are committed to providing you with the latest GARBO glassware product consultation and keeping your information updated. Half of 2021 has passed, and for some foreign customers, the biggest holiday is Christmas.
Christmas is of great significance to some countries, it is equivalent to the Chinese New Year, and represents the people's good wishes for the new year. To commemorate the birth of Jesus. Christmas is also called Christmas Day, translated as "Christ Mass". It originated from the Saturn Festival when the ancient Romans greeted the New Year. It has nothing to do with Christianity. After Christianity prevailed in the Roman Empire, the Holy See followed the trend. This folk festival is incorporated into the Christian system to celebrate the birth of Jesus at the same time.
This time I would like to introduce GARBO's Christmas series products, including the best-selling glass products and some of the latest Christmas designs.
First of all, you can take a look at the following promotional pages, which contain the glass product models and the latest Christmas decorations that I will introduce this time.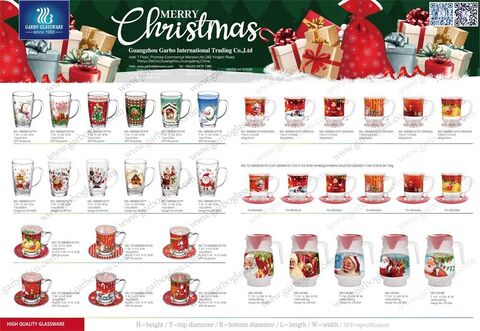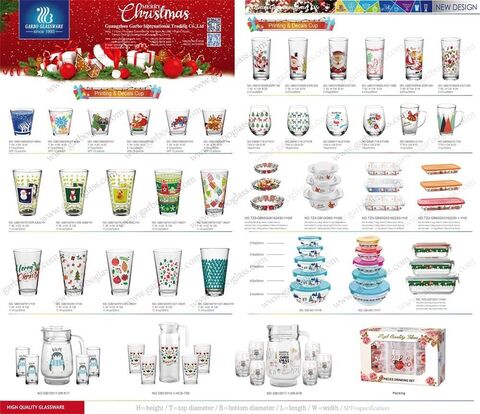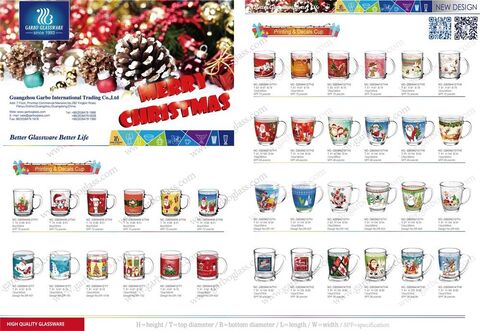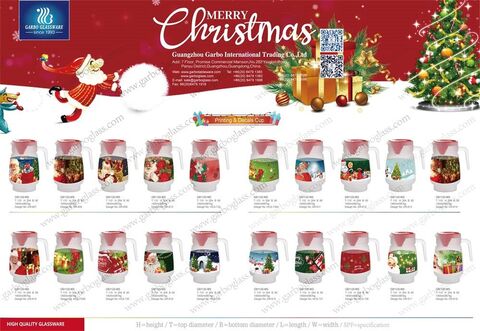 From these promotional pages, it is not difficult to find that from ordinary highball glass to cups, to kettles, bowls, etc., we can let him paste Christmas designs. The glass products in the picture are also our company's best-selling styles, as well as more classic styles, especially the highball tumbler and the handle cup, which are basically the most classic. We also have many glassware wholesale customers who buy these models.
Secondly, you can see from the pictures that we have a lot of different Christmas designs, and basically every one of them is different. This is enough to prove how professional and powerful GARBO's design team is. Yes, that's right, GARBO's design team consists of 10 people. Whether it is graphic design or product model design, we are very professional. Therefore, if you have any needs, you can tell us, and we will serve you wholeheartedly and design a satisfactory color and style for you.
If you need to purchase Christmas glass products, please contact us directly. In addition to all the glass products and designs shown in the pictures, we can also make other products and design exclusive designs for you according to your ideas. As long as you have needs, we can meet you