Pulished on Mar. 31, 2022
Garbo glassware/tableware, established in 1993, is a leading household ware supplier in China, we have thousands of glassware in our showroom with a different design. No matter it is clear glass, solid color glass, spray color glass, printing glass, or any other shiny golden glass. You can find it easily from Garbo.

If you think that Garbo only has regular glass cups, that is nonexistent. Just follow me and take a look at the popular special glass cups.
Hand made personalised highball glass straight zombie and Collins cocktail drinking glasses with mouth gold rim
You can see there are 4 glasses in the pictures with the same Spiral pattern design around the cup body, just different shapes for different functions. Take the highball drinking glass, for example, it is a handmade soda-lime glass with a mouth gold rim with around 15oz capacity.
And the mouth gold rim adds elegance to this zombie glass with modern luxury style on the high ball cocktail drinking glass you have every day.
How practical, beautiful, modern, elegant, luxurious, creative this handmade glass. Just add something different on the plain cups. You will see the new thing.
Mountain design double wall glass coffee cups heat resistant unique design skull glass tea cup for hot water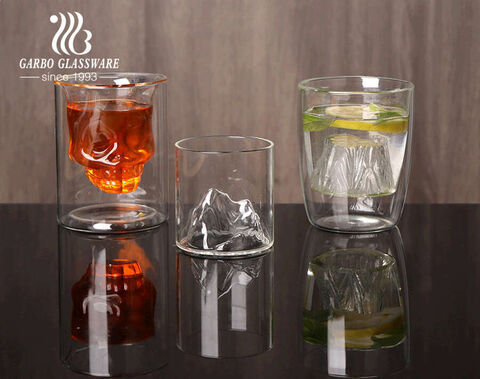 There are 2 layers on these cups, not just a plain cup, there is a skull, a mountain shape of the inner layer, what a wonderful design on it. It can be other designs you need. Even add some decoration on the inner side or on the gap.
It is made of borosilicate glass, which is heat resistant and can hold boiled water, not unlike soda-lime glass (Thermo shock 60 degree) only for a cold drink.
We can accept customized designs of the double wall glass teacups. MOQ is only needed 1000-3000pcs, depending on the sizes.
So we can do the cat caw cup as Starbucks have, you can have beer cup, dot caw cup, pig cup, dolphin cup...no matter what you like.
Next time I can share you with another new and special design from Garbo glassware, just waiting for it. Welcome to contact our sales or subscribe for more details.