Pulished on Mar. 21, 2022
Type of Must-have glass dispenser jar for summer parties
Now it's end of March, and summer is coming . With the arrival of summer, many people have prepared many activities, such as travel, surfing, parties, etc. This will be a vibrant summer. So what do we need to prepare for this summer on the party?
On a hot summer day, when we have a party, juice is of course essential. So what kind of container do we need to hold the juice that will catch the eye at the party? For environmental quality, our first choice is glass material, the glass dispenser jar for juice is our best choice.
The following three styles we introduce to you are very good-looking, cost-effective and attractive styles.
The first one is a very popular style on the INS platform, the capacity including 2L, 2.5L, 4L, 5L, etc. If you need a larger size, you can also buy two jars, you can use different colors juices in clear dispenser jars such as lemon juice, watermelon juice, orange juice, etc. There is also a small blackboard on the surface of the jar to write on, so guests can know what juice is inside. There will be a plastic tap, so it is very convenient and hygienic when guests come to fill the juice. In addition, it is also equipped with a stainless steel shelf, which can be customized according to the capacity of your jar, which can increase the height of the jar so that the glass will not be too high to be filled in the process of filling juice. You can see that this juice jar also comes with the same style of mason jars, each with a handle, straw, and lid.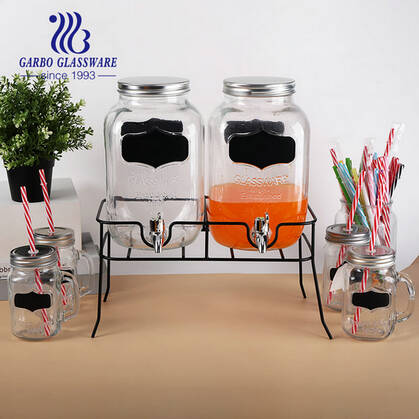 The second one we are going to introduce is a very popular style in South America. It is also available in multiple sizes, including 2L/3L/4.5L. You can find that it is made of soda lime glass as a whole, including the lid and base, and the plastic tap is also very tight and will not leak juice. The most eye-catching part of it is that its surface is ion-plated, so we see that its surface is gold, silver, pink and even colorful. I believe you will all be very concerned about a question, is it poisonous? The answer is that it is not toxic, the ion plating process is done in a vacuum, it will not fade and it can pass food grade tests. Please enjoy the pictures below.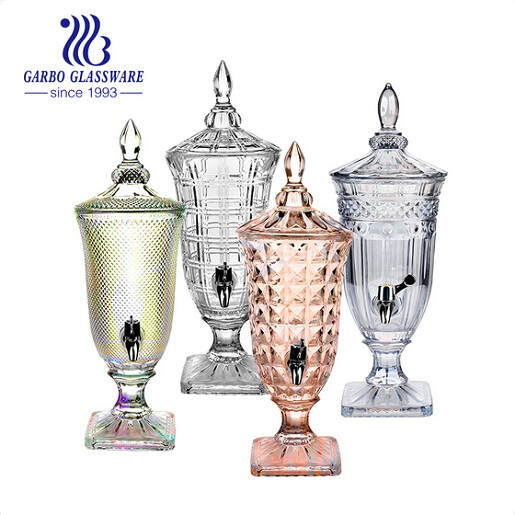 The last one is also the most special one. The first two we have introduced are relatively conventional and hot-selling styles. The next one is unique in shape and is also the most eye-catching style. The overall shape is the shape of a cactus, and the outside is sprayed with green. So the part in contact with the juice is still hygienic. Also special is that its cover is also made of silk screen cactus. For straws, we also made a cactus hook.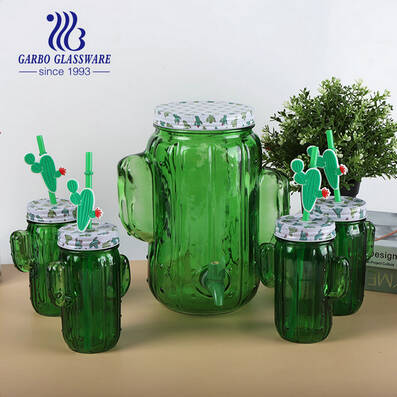 Which one of the above is your favorite? Get these jars ready as soon as summer arrives.