Pulished on Feb. 27, 2020
Garbo Glass in the UK glassware market
Garbo Glass exports glassware to the all over the world, we have our special advantages in each market. This year, we paid a business trip to the UK for visiting our clients, including the top famous local chain supermarket stores like TESCO, M&S and Debenhams.
Just like the other Europe market, UK market trends to sell the classic transparent rock glass cups and machine blown highball glasses in several hot sale sizes. For the rock glass in supermarket, it is much easier to sell as retail in bulk pack that we exported to the UK, because supermarket staff could just list the glasses to the selling shelf by taking off the outer cover board for international shipping pallet. Whilst the machine blown glass is sold as a set in a colour box, as it is usually designed for a family by 4pcs/set or 6pcs/set. Garbo Glass is proud of our jobs for providing our chain store clients top quality glassware in the UK.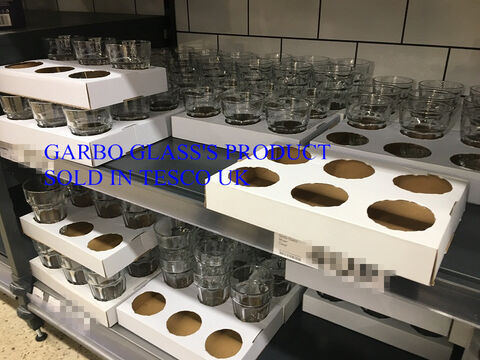 Besides, the wine glass and champagne flute are so very popular that they can be seen from TESCO to a street corner community grocery. We were so happy to see the glassware products listed there to be sold, every colour box from the design to the quality is almost perfectly close to the art. And we can also see our handmade glass set in some luxury mall, which consists of Pilsner glass, martini glass and champagne flute set.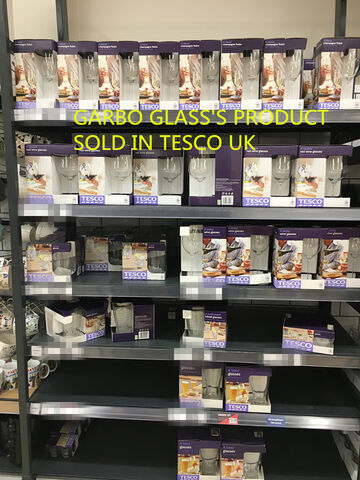 The next part is glassware with delicate custom designs, this one is the most beautiful part of Garbo Glass's business exported to the UK market. This product requests strict quality standard because of the painting material, plated material etc which concerns to the food contact issue. What we are proud of is that Garbo Glass has strict quality control system and assessment to our glassware products, our products can meet LFGB, SGS, FDA, CE and EU export&import quality standard level. This kind of glass does not request big quantity for MOQ, so it is very good for the UK market where population is not as big as China.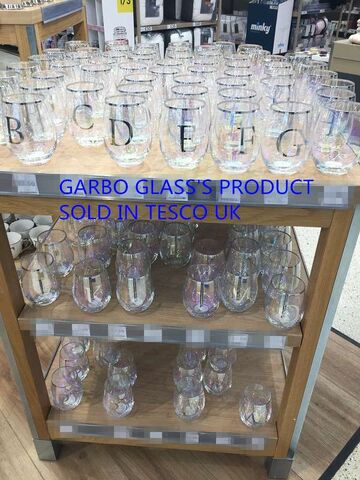 We were also glad to see our in stock glassware products are sold here as pretty souvenir and gift with all kinds of lovely printings of local culture elements. For example, this little shot glass with Scotland designs look beautiful, doesn't it? If you are in the UK and you want to start glassware business, just do not hesitate to contact Garbo Glass at anytime.