Pulished on Jul. 05, 2022
Hello everyone, how are you doing?
When it comes to a whole set of dinner tableware, what is the first thing that comes to your mind? It could be a whole set of ceramics, it could be a whole set of glass right? In addition, there are also many mix and match styles, such as glass cups with ceramics and stainless steel tableware, or opal glass dinnerware, which has become very popular in recent years. Its aesthetics can also be comparable to ceramics, so many countries also use this opal glass dinnerware instead Ceramic, then there will be a combination of opal glass dinnerware, glass and stainless steel cutlery. Today I will introduce some of our cross-category dinnerware sets, I believe you will also be interested.
The first is the following set. There is a combination of white opal glass dinnerware and glass, and stainless steel cutlery. The glass plate is an 8.5-inch deep plate, the cup is 400ml, and the knife and fork is a dessert spoon with a plastic handle. I believe you can see this set, we use the same color combination, the colors of the opal glass dinnerware are pink and purple, and there are corresponding displays on the glass and the knife and fork. The matching of the same color is the most basic in a set, otherwise how can it be called a dinnerware set, right? Of course, we are totally open to customization. We have a professional design team that can customize for you, and we can also provide samples to show you the actual combination effect.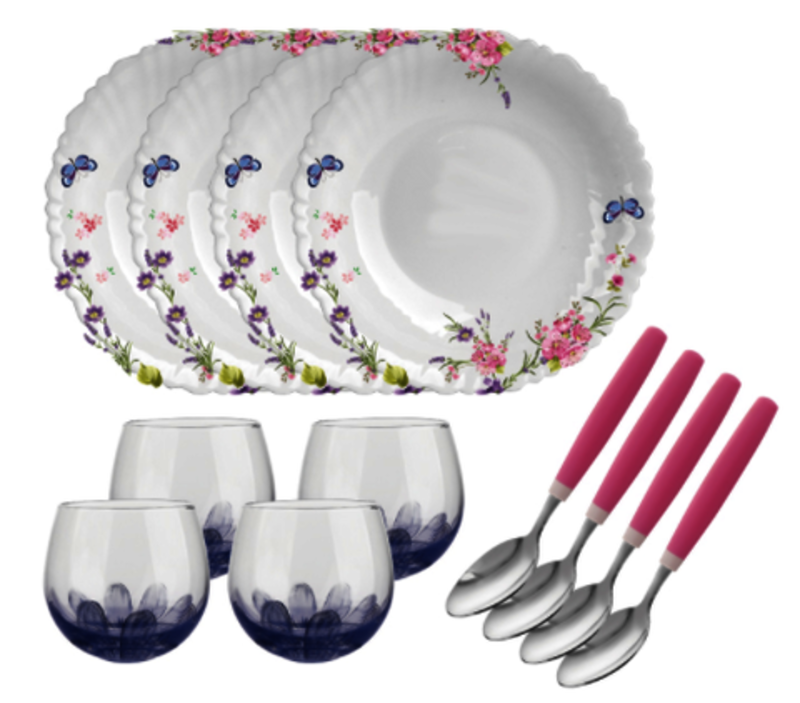 Next, let's look at the second set, which still uses a combination of white opal glass dinnerware, glass, and knife and fork. The bowl is a relatively special shape, 8 inches. The cup is also a more classic style, which is 250ml. The spoon also has a plastic handle, but you can tell it's different from the previous set.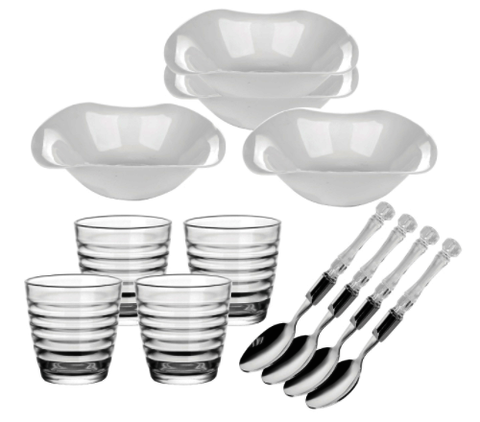 The third set is different from the combination of the previous two sets. First of all, the bowl is different. This bowl is black opal glass dinnerware, which is a 7-inch bowl. The cup is 200ml, and the spoon is also black.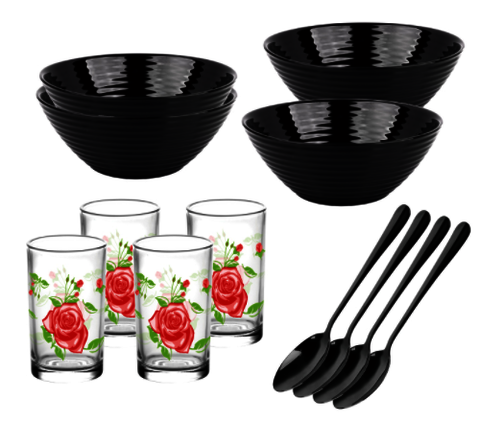 The fourth set is a more exquisite salad serving set. This set consists of a large bowl plus 4 small bowls, plus a food holder. The bowls are 1500ml and 380ml respectively. Bowls are a very popular hammer pattern style in recent years.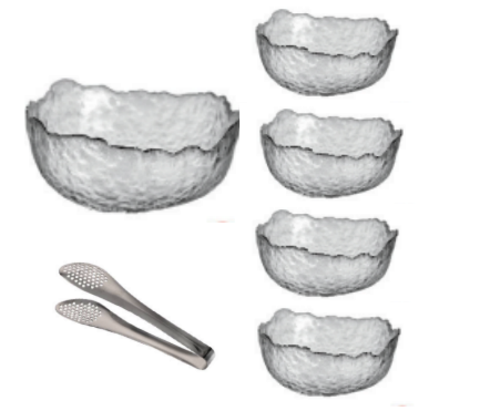 Well, just briefly introduce it to you here. Like I said, we are fully able to accept customization, we can provide many different combinations, as long as you need it, I believe we can provide you with the most perfect service.