Pulished on Sep. 24, 2022
Garbo glassware company is one of the biggest glassware exporters in China. We always choose some hot sale and classical glassware items to do regular production as our stocked items for customers to select. This article aims to introduce some of our promotional hot selling items. Because these items are all our hot sale glassware items. So most of them are always in stock. Here below are some hot sale glassware items that we would like to share with you.
1. Embossed glass drinking cups:
This kind of embossed glass cup is one of the most popular glassware items in our company. We can use this glass cup to drink water, beverage, and any liquid. The material is based on high-white transparent material. So it looks very high-end and looks like crystal. With the engraved patterns, they will make this embossed glass cup more beautiful and unique. We have many patterns for you to choose from. If you are interested in them, you can also tell me and I will send a catalog for you to select. For this kind of embossed glass drinking cup, we always pack 6pcs in a color box pack. If you can reach the quantity of massive production, we can also help you do your customized pakcages.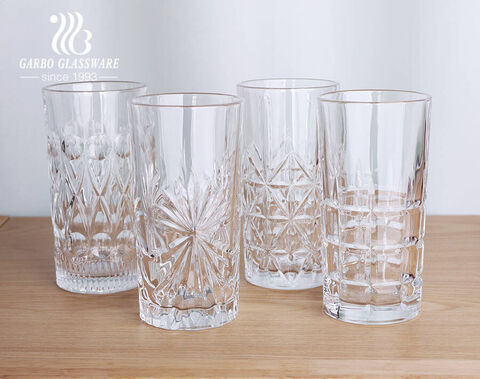 2. Ice cream bowls:
We have many kinds of ice cream bowls in stock. This kind of ice cream bowl is suitable for holding dessert, ice cream, and milkshakes. It's suitable for you to use them in your home, office, party, dinner time...Different designs make them not only just ice cream bowls but also good decor for your dinner table. The normal package for this kind of ice cream bowls is 6pcs in a color box pack.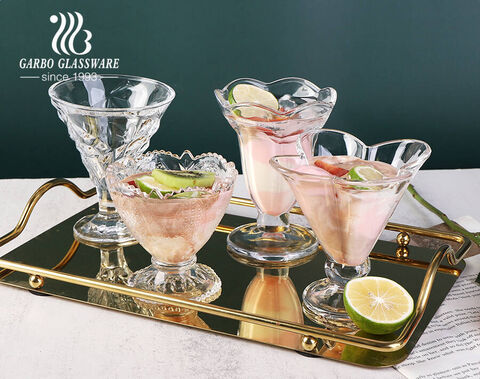 3. Beer mug:
The beer mug is also one of the hottest sale kinds in our company. This kind of beer mug is a hot sale and popular all around the world. We have many classical designs for you to select. You can mix several designs in one container to test your market and then decide which one you want to order for your markets and customers.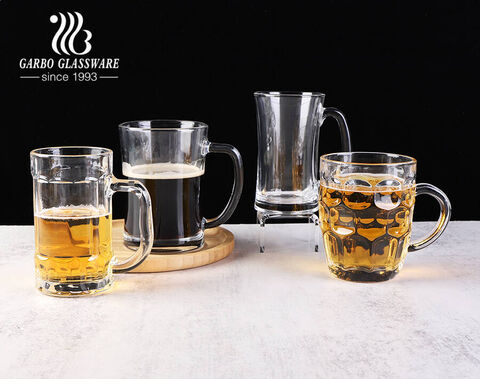 If you are interested in our stocked items and want to order these glassware items, you can contact us and we will send our stocked list and catalog to you.