Pulished on Mar. 18, 2022
Hello everyone, it's really been a long time since I saw you. Our weekly promotion column seems to have stopped for a few months. How are you all doing? It's already the third month of 2022, how is everyone's business? Hope you all are well. From now on, our weekly promotion column will officially return, but it will be a monthly promotion, that is, only once a month. I will continue to introduce more hot sales and novelties of our GARBO GLASSWARE to you.
Today, I would like to introduce to you two types of products that we have focused on promoting recently. They are all very good, attractive and colorful glasses. If you're interested, just watch it with me.
Luxury Handmade Japanese Style Carved Cut Glass Cups or Candle Holder
First of all, as usual, check out the promotional image below.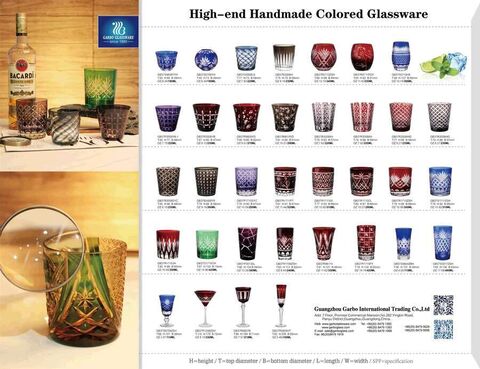 These glasses are beautiful, right? They look luxurious, right? Yes, these glasses are high-end because of the complexity of their craftsmanship. For example, these glasses are hand-made, and the color is also SOLID COLOR, which is a food-safe glass. The color will not fall off. Because his color is already in the raw material, it is not sprayed on the clear glass after processing like spray color. We usually call these glasses Japanese Style Cut Glass. Do you know why they are Japanese style? Because these cups originated in Japan, in Japan, the craft of these cups is called Edo Kiriko, which was gradually formed in Edo (now Tokyo) at the end of the Edo period. As the name suggests, "Kiriko" should be related to cutting. It is a process of cutting and grinding with metal sand discs or grinding stones in the cold working process of glass. The glass carving process comes from this. In the later period of Edo Kiriko, Japanese craftsmen introduced Western-style cutting techniques under the guidance of British technology, and most of the techniques that were passed down were mature at this time. A brief introduction to Edo Kiriko, I hope everyone understands the complexity of this craft. Now, we have also mastered this technology in China, and we can start to produce exquisite glasses, and the price is much cheaper than that in Japan.
As you can see from the picture above, we have a lot of different styles and designs. There are flat-bottomed glasses and goblet glasses. The sizes are also different, which can be used by customers for different occasions. The colors are also different, there are blue, red, brown, etc. At the same time, we also accept customized styles, sizes, colors, etc. And some people are using this kind of glass cup as a nice candle holder. Because you can see they are carved, so if the candle inside, the light will show and reflect the designs of the glass cups, which will be very beautifu. Moreover, due to the complex process and pure hand-made, the MOQ of this type of product only needs 200 pieces each. If you are interested, leave us a message and we will quote you as soon as possible.
Hand Print Colored Engraved Whisky Glass
Secondly, I would like to show you the following pictures.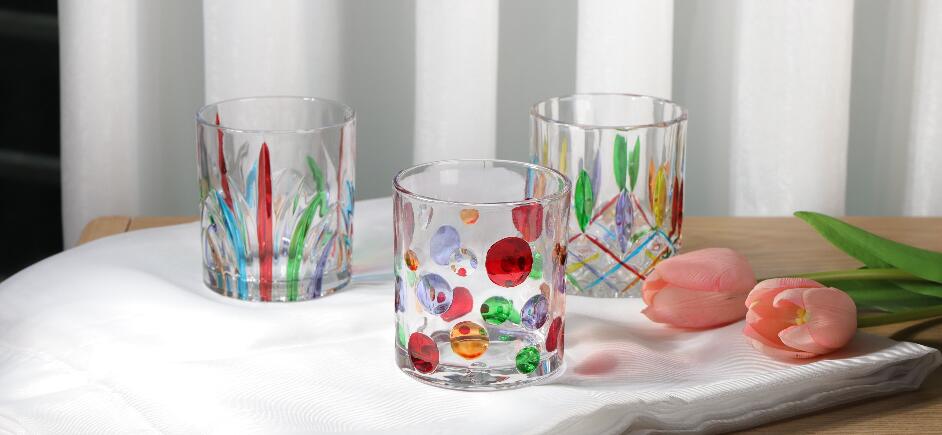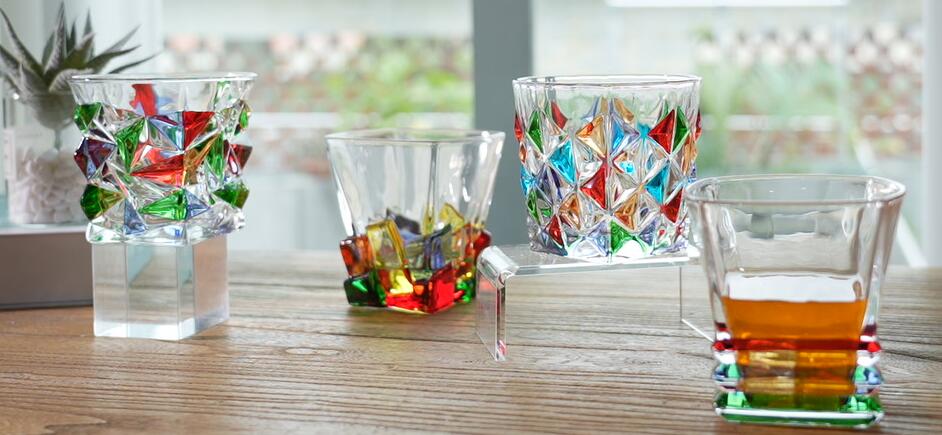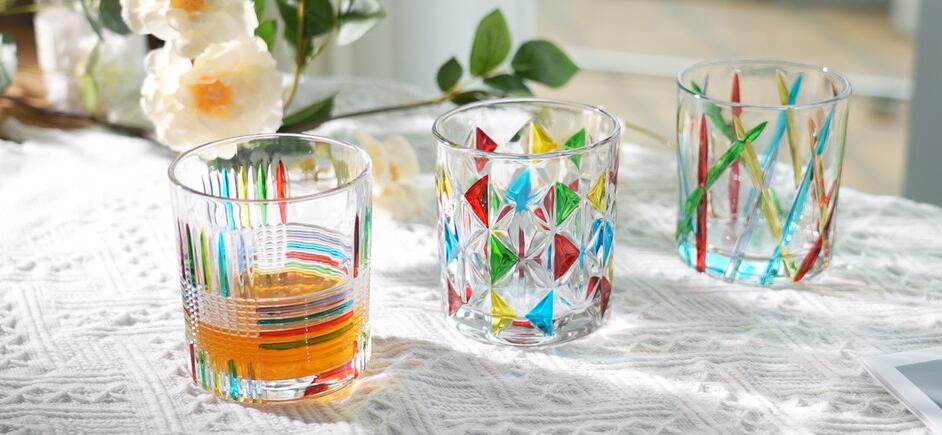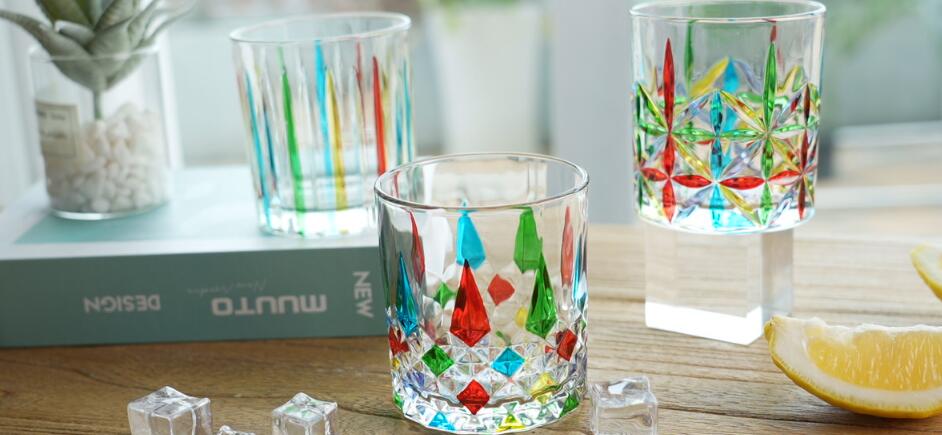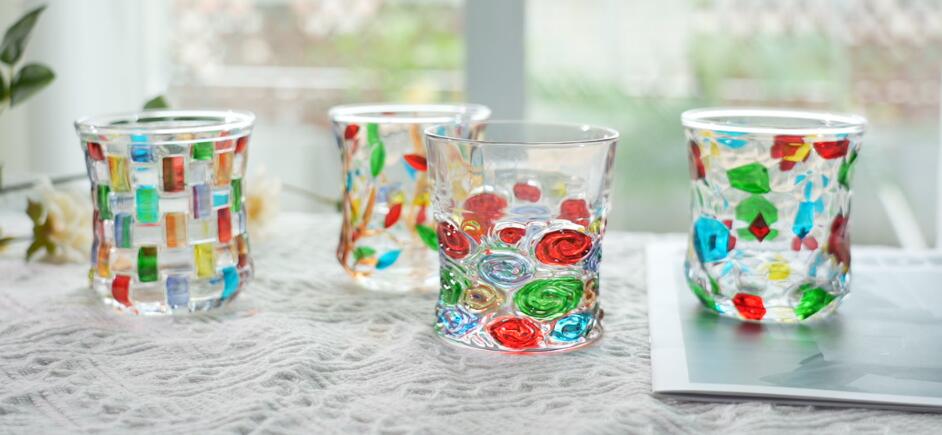 This style of whisky glass is really popular recently, and it is also very popular in China. Because on the basis of clear glass, it has gorgeous colors, and these colors are also hand-painted and semi-handmade. If you like it, please leave a message to tell us your needs, we will quote you as soon as possible according to your needs.
Well, the monthly promotion of this issue is over, and I look forward to seeing you next time.