Pulished on Mar. 18, 2022
Since starting in 1993, Garbo has been in supplying glassware for more than 19 years. With business development, we are expanding different kinds of tableware which can be made by glass, ceramic, and stainless steel.
But the position of leading glassware supplier is still there. We usually create new designs based on market trends and needs. I am gonna introduce the newest engraved and popular glass cups for your reference. If you like it, feel free to make an order from Garbo glass.
No.1 Garbo Glassware exclusive 4 mold designs engraved glass cups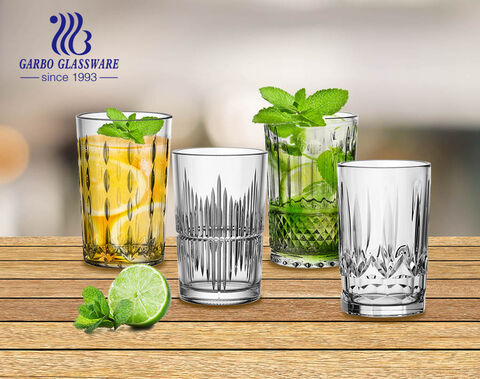 These 4 design is created by Garbo Glassware which is the engraved glass cups with 4 similar mixed mold designs. This means that you need to take orders with 4 designs at the same time.
It is made of high white glass, can be used for tea, beverage, and all kinds of hot and cold drinks serving or tasting with a capacity of 180ml.
Another advantage of the Mixed mold designs for engraved glass cups is very common to save cost from every party during a sale and purchase activity since the MOQ of a machine-made glass cup is always over 50000pcs. By the way, we also accept custom engraved designs if you have any idea and the quantity is considerable.
No.2 Europe style 10oz vintage engraved rotating whisky glass cup with 3 designs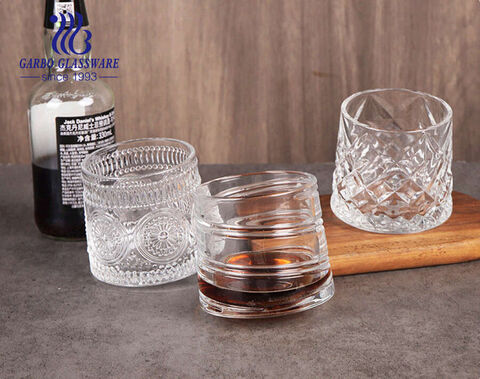 The main market of this super high white transparency material rotating whisky wine tumbler is like Europe America retail business. We use natural soda-lime glass for this rotating whisky glass cup and pure machine press craft without post-processing, 100% safe for dishwasher and food contact.
It is clear, special, old fashion design, and well accepted by the wine lover.
The special design is around a smooth bulge on the glass bottom base to keep the whisky glass standing like a tumbler and spinning without falling.
No.3 60ml engraved glass teacup clear embossed glass cawa cups for Arabic markets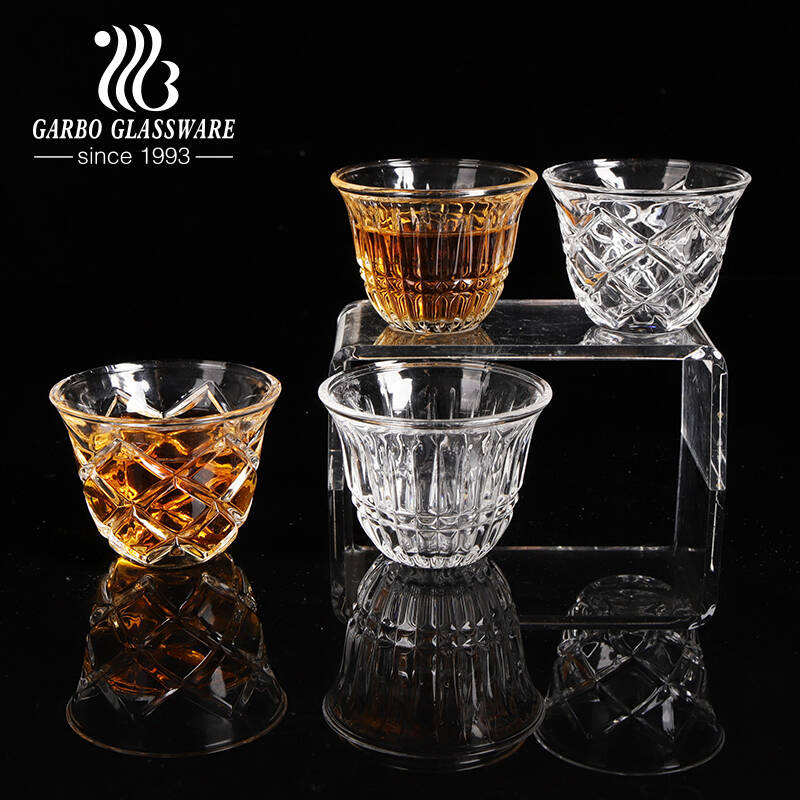 This clear glass teacup is about 60ml, and you can see we have different designs and patterns to choose from. It is also created by Garbo's designer. The mix mold cawa glass cup.
This shape of glass cup is very popular in Arabic markets and some Middle East countries, which is called cawa tea glass. The traditional one is clear, to add some engraved design on it to show the difference and special design on the market, is not a good idea? The high white material is totally for the high-end events.
There is more options in Garbo, welcome to contact us with more details.